Older Archived Reviews
This is an older archived review. The Search Feature on this page may not work. To search this site, please return to our Home Page and try your search from there.
---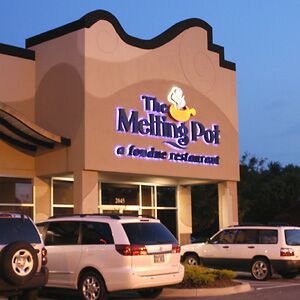 82

The Melting Pot
2045 S. Hurstbourne Parkway
(502) 491-3125

Website:
http://www.meltingpot.com/LouisvilleKY/home.html
<!REVIEW GOES HERE!> The fondue pot, that classic wedding gift of the '70s, is back with a whole new look at The Melting Pot on Hurstbourne, where it's all fondue, all the time. A substantial buzz attended the May 2004 opening of this upscale eatery, and by all accounts, capacity crowds have been filling the place every evening. (It's open seven days a week, only for dinner.)
The fondue fad never faded, as far as this Tampa-based fine-dining chain is concerned: Fondued, er, founded in 1975, its menu has expanded but stayed faithful to its original bill of fare - cheese fondue, beef fondue and chocolate fondue - as the chain grew to some 75 properties from coast to coast.
We dropped in recently for a molten meal ("Fondue" comes from the French for "melted") and enjoyed a pleasant experience with good food and mostly attentive service. First-time visitors should know, though, that despite its strip-center location, this is not an inexpensive eatery: Dinner for two can easily rise past the three-figure mark, and the wine list, to be blunt, is one of the most pricey in town, with many bottles marked up to four or five times their wholesale cost.
The Melting Pot is located on Hurstbourne not far south of I-64 and a mere dinner-roll's throw beyond Walmart, anchoring the other end of the smallish Cherry Springs strip center from Moe's Southwest Grill, along with a Cold Stone Creamery and a discount mattress store. Welcome to the suburbs!
Although Melting Pot occupies a space similar to Moe's, the decor is distinctly different: The front doors open into a small vestibule facing another pair of doors, these discreetly frosted glass; pass on through and enter a tastefully decorated, dark and clubby lobby with a maitre-d's station and a large, imposing free-standing wine cellar with glass walls to display the restaurant's collection, stacked vertically on their sides with the labels turned outward for easy viewing.
They've done a very good job of turning strip-center space into a fairly upscale dining room, using room dividers and a small central bar to break up the interior into a half-dozen intimate sections. Most seating is in large, upright brown-upholstered booths, plus a few four-top tables set with comfortable wooden chairs. The decor is tastefully simple, not overwrought, featuring earth tones of lemon ice and café au lait. Clear glass wine bottles filled with colored liquids are backlighted in shadow boxes to provide bold spots of color and light; a few modern-art prints hang in simple black frames.
The tables are topped in glossy jet-black tiles with glittering specks of gold and set with slick black polyester napkins rolled around heavy Paul Revere-style flatware and a couple of fondue forks, color-coded so you can tell yours from your neighbor's.
Centered on every table is a black heating surface, carefully printed with warnings in four languages ("Hot!" "Chaud!" "Heiss!" and "¡Caliente!"), and set with a heavy pewter fondue pot with a broad, hard-to-tip base. No lightweight Harvest Gold or Avocado pots here, just high-tech matte-finish metal. Steam rises from the pots on other diners' tables, adding a festive note and a distinctive scent ... throughout the dining rooms a lingering scent of broth prevails, not unpleasant but a little odd. You can't get away from it.
Indeed, you can't get away from fondue here. The old Swiss favorite - melted cheese in a pot, with bread to dip it up - has evolved into a wild variety of hot-pot dishes and goodies to dip in them, from cheeses to meat, poultry, seafood and fish - and chocolate, of course - but everything on the menu except maybe the salads involves cooking at the table by forking and dipping into hot fluids.
The signature dish, featured up front on the 10-page menu and wine list, is called the "Big Night Out," featuring a cheese fondue, salad, main-course fondue and dessert fondue. It's $79 per couple ($39.50 for one) for "The Winner's Circle" with beef, chicken, ahi tuna and a lobster tail, or $69 a couple ($34.50 a person) for scallops, shrimp, pork and sirloin and more. While this seems a bit spendy, bear in mind that this option covers every course of an expansive dinner, everything included but beverages, tax and tip.
Other fondue dinners for two, featuring cheese fondue, salad and main fondue course (but not dessert) offer a "Signature Selection" of beef and pork, chicken, shrimp and fish ($48 for two), the "Pacific Rim" (beef, pork, shrimp, chicken and duck, $52 for two), and "Surf & Turf" (filet mignon, lobster tail and a portabello mushroom, $72 for two). Eight other signature entrees, also cook-your-own at table, fondue style, range from $16 (for fondue-style chicken breast) to $45 (for twin lobster tails). Fondues may be ordered with your choice of four cooking styles: Fondue Bourguignonne, the classic beef fondue, for deep-frying your tidbits in sizzling (cholesterol-free) canola oil, with assorted frying batters; Fondue Court Bouillon, low-fat vegetable broth; Coq au Vin, a red-wine-based cooking liquid; and Mojo Fondue, a garlicky, spicy cooking bouillon with a Caribbean accent.
For lighter eaters, it's also possible to order cheese fondues alone ($14 for a pot for one or two, $7 additional per person for larger parties), in your choice of Cheddar, Swiss, Wisconsin or spicy "Fiesta" cheese. And to tickle your sweet tooth, diners are also welcome to drop by for a dessert fondue, choice of eight chocolate dipping confections at $14 for small (serves one or two), $28 for large (serves four).
Now, let's have a look at that wine list. The see-through wine cellar puts an imposing row of Bordeaux first-growths and other high-end wines up front. Most of them are recent but not top vintages - a 1998 Chateau Latour, a decidedly immature wine from an "off" vintage that retails in the $100 to $150 range, is listed for $499. The 1997 Chateau Haut-Brion, a great producer in a very "light" vintage, retail $100, is offered here for $389. Recent vintages of Chateau Beychevelle, Chateau Cheval-Blanc, Chateau Cos d'Estournel and others are also listed, without vintage information, along with the sought-after Opus One (no vintage listed, $185) and Far Niente Cabernet Sauvignon ($169).
Markups at the low end of the list are even worse, with the simple, amiable Louis Jadot 2000 Bourgogne Pinot Noir ($15 retail, about $10 wholesale) listed for a startling $39, and Jadot's nice Beaujolais-Villages, an $8 retail wine, offered here as one of the most affordable wines on the list at $25. In its length, its high-end pretentiousness and its markup, Melting Pot's list reminds me very much of Ruth's Chris, and that's no compliment. Full bar service also includes mixed drinks and a variety of signature-style martinis, margaritas and piña coladas, $7 to $9 or $20 for a shared pitcher.
There's no refuge in the beer list either: A short list features only mass-market brews by the bottle, with Bass Ale and Guinness for those who insist on something more interesting than Bud Lite. "We're really more of a wine place than a beer place," the server explained. I didn't even ask the price but decided to go non-alcoholic this evening, and we were rewarded with tall, icy tumblers of fresh, well-made iced tea with lemon ($2).
We ordered the "Pacific Rim" fondue for two ($52), choosing the Traditional Swiss cheese fondue as our starter course. It was made at tableside, a process that takes a few minutes. The server acted as chef, heating the fondue pot and pouring in a small cup of white wine, asking about allergies and dislikes before he proceeded. Then, with permission granted, he added in chopped garlic and a blend of Swiss Gruyere and Emmentaler cheeses, stirring briskly and adding more cheese, a little at a time, until the fondue melted into a smooth cheesy lava; flavor touches of Kirschwasser (cherry brandy) and grated nutmeg completed the dish.
It was just fine, seemingly as authentic as the real Swiss thing, and was accompanied with pewter bowls of three colors of bread (dark pumpernickel, light rye and white) in bite-size pieces. I'd love to see an artisanal bread like Blue Dog's used here in place of the grocery-store breads offered, but that's picky ... the cheaper stuff did the job of bearing cheese from pot to mouth, as did crisp raw crudités of celery, carrot and cauliflower and chunks of tart green-skinned Granny Smith apples. We made short work of it, finishing up just as our salads arrived.
A choice of salads is included with the dinner, and mushroom salad came as a pleasant surprise: A base of fresh romaine with a bit of crisp red cabbage was completely covered with a very generous ration of thin-sliced white domestic mushrooms with a mild, passable "Parmesan Italian" dressing. The "California Salad" was well-handled, too: A good portion of mixed field lettuces was topped with three juicy rounds of plum tomato, a mixed crumble of blue cheese and chopped walnuts, and a sweet-tart and deliciously fruity, not-too-sweet "raspberry black walnut" vinaigrette.
A small shaker jar of garlic-and-wine seasoning mix, Melting Pot brand, was offered with a strong recommendation. It was OK, mostly salty, but having a dispenser bottle with a commercial label banged down on the table seemed a little funny given The Melting Pot's upscale airs. I halfway expected a bottle of Heinz 57 ketchup to follow.
After salads, the cheese pot was whisked away, replaced by a main-course pot delivered in an odd steel contraption that clamps a lid tightly over the pot with a heavy vise-like handle, ensuring that no steaming broth or searing oil gets spattered on unsuspecting diners when hot stuff comes through.
Our main course ingredients were prettily arranged on a large oval white plate decorated with a red radicchio leaf, and included a good ration of bite-size pieces of raw meat, poultry and seafood - four shrimp, four chicken-and-vegetable potstickers, and a half-dozen bites each of raw chicken, marinated pork, sesame-seed-dotted teriyaki beef and dark duck breast, all nicely cut, almost sashimi-style, fully lean and trimmed of all visible fat. A separate bowl provided vegetables for fondue-style cooking ... broccoli florets, sliced summer squash, big mushroom caps and halved redskin Bliss potatoes, partially cooked but not sufficiently so - in one of the meal's few failures, we found that even a half-hour's simmering in the broth left them hard at the center.
Everything else was fine, though, with the important caveat that you do need to take serious responsibility for cooking time: Our server advised us to cook meats and poultry for two minutes and seafood for a minute-and-a-half, but I think these times would be more suited for the deep-fry fondue (which presumably sizzles at 350 to 400F) than the broth simmer (which perks along at a gentle 212); they proved seriously insufficient for the "court bouillon" broth cooking process, and we quickly learned to cut into the chicken to see if it was still pink, and put it back if it needed more time. Rare beef and duck suit me just fine, but rosy-pink chicken and undercooked pork don't tickle my taste buds. The server also briefly advised us to take care not to eat from the fondue forks and to keep the fondue forks separate from our pewter dining plates and utensils to avoid "cross contamination," but it's really the diner's responsibility to cook and eat safely. It's worth repeating: If you enjoy a Melting Pot fondue, please take extra care to keep raw meats separate from your plate and to ensure that your chicken and pork in particular get all the cooking time they need.
Except with the all-inclusive "Big Night Out," the chocolate fondue desserts are extra, but it's hard to imagine dinner here without it. A selection of eight chocolate fondues, all $14 (for small, serves 1-2) or $28 (for regular, serves 3-4), includes the "Original," milk chocolate and peanut butter; and the self-explanatory "Amaretto Meltdown," "White Chocolate," "Cookies and Cream," "Marshmallow Dream" and "Flaming Turtle," plus the "Yin & Yang" (white and dark chocolate swirl) and "Chocolate S'mores" (milk chocolate and marshmallow cream). Finally, there's a build-your-own option, and the pristine "Pure Chocolate," your choice of unadorned milk chocolate, dark chocolate or white chocolate. "There is no debate," my wife said. "That is the only choice." Dark, of course.
Happily, it proved to be a generous portion without wretched excess, attractively arranged on an octagonal plate dusted with powdered sugar - a half-dozen pretty strawberry halves; four banana slices; four fresh pineapple wedges; a thin wedge of dense, tart cheesecake topped with a chocolate-dipped cherry; four small marshmallows topped with chopped peanuts; and two small squares each of rich, eggy pound cake and rather dry brownies, all ready for fork-dipping into a small pot of warm, smooth chocolate syrup. (It was pure dark chocolate as promised, but a bit on the thin and drippy side. Something with a little more full-bodied stick-to-it-iveness would have been welcome.)
After-dinner coffee ($2) was served in large, attractive ceramic mugs. Cappuccino ($3.25) was OK, hot coffee with milk, topped with a foamy cap of froth.
A very filling dinner for two came to $79.77, to which we added a $16 tip. A bottle of even the Melting Pot's most modest wine would have pushed the price of the meal well into three-figure territory. $$$$
(June 2004)
ACCESSIBILITY: The Melting Pot is fully accessible to wheelchair users, with the footnote that most of the dining tables are in booths. It would be prudent to reserve a free-standing table if wheelchair access is needed.
<!REVIEW ENDS HERE!>