Older Archived Reviews
This is an older archived review. The Search Feature on this page may not work. To search this site, please return to our Home Page and try your search from there.
---
<!REVIEW GOES HERE!>
CLOSED:
Storefront empty and for rent in August 2004.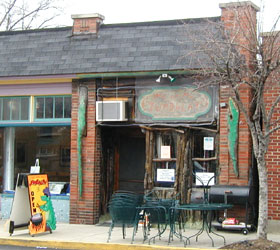 *** Me Oh My Jumbalay
2339 Frankfort Ave.
(502) 895-5034
If you're thinking about dining at Me Oh My Jumbalay - and believe me, this is not a bad thing to think about doing, if you love good food - I strongly advise that you first get familiar with its rules.
One sample, posted in large letters on a bright orange laminated sign, pretty much makes the whole thing clear:
DON'T LOOK AT MY DAMN POTS AND DON'T ASK AND DON'T STAND OVER MY STEAM TABLE!
And then it adds, "Thank you ... Intisar," with a smiley face.
This place has written rules, and it has unwritten rules. Some of them are stated in forthright terms that some diners might consider, well, rude:
SIT YOUR ASS DOWN, THIS AIN'T NO BUFFET. THANK YOU. INTISAR.
And this one:
MY FOOD IS FRESH EVERY DAY, AND THAT'S WHY THERE ARE NO MENUS. STOP ASKING FOR DAMN MENUS. THIS IS NOT A MONKEY DAMN RESTAURANT. THANK YOU. :)
Intisar, the owner, is clearly a woman who speaks her mind, who holds opinions - strong ones - and isn't shy about saying so. If this is a problem for you, you may prefer to dine elsewhere. But stick it out and you'll be glad you did, as I was after a slightly rocky beginning. (Me: "Hi! We stopped by yesterday, but you were closed." Intisar: "Are you calling me a liar!?" Me: "No, but the door was locked and the chairs were up on the tables." Intisar: "Nobody was here, so I went home early.")
No, it is clearly not a "monkey damn restaurant," which Intisar defines, more-or-less, as "monkey see, monkey do, just like all the others," including a few competitors who she's not shy about naming, but we'll just draw a discreet veil over that.
It all comes down to this: Intisar is a forthright woman, far from shy, who takes a little getting used to. But beneath that noisy and admittedly opinionated exterior beats the warm heart of a woman who has built an extremely loyal clientele by creating some of the best Southern country-style cooking I've ever tasted. It's a cuisine informed by a range of cultures from the Mississippi Delta to Cajun country to Jamaica and Haiti, with a vibrant African thread running through it all, and it's a unique and welcome addition to the culinary mix on Louisville's Frankfort Avenue strip.
Take note, by the way, that it is not "soul food," as Intisar will tell you in no uncertain terms: "Soul food is nothin' but grease," she barks. "It gives you high blood pressure. All that old hog maw and chitlins and stuff, I don't eat it."
Step into the small, crowded room and it's as if you've somehow found your way into one of those hole-in-the-wall joints tucked into narrow side streets well off the beaten tourist paths in New Orleans. One side of the room is bright orange, the other bright lemon. The walls are crammed with Intisar's neatly printed rules, along with dangling Mardi Gras beads, chili-pepper lights, and handcrafted plaques. There's also an odd collection of old-fashioned Southern advertising posters carrying messages about Aunt Jemima and watermelon and "pickaninnies" that might seem inappropriate in modern times ... but Intisar explains it, if you ask, by saying that she put them up as a proud way to show her 11-year-old son how things used to be and aren't going to be again.
Pale orange and yellow fabric hangs from the ceiling in long parachute arcs, and a half-dozen tables crowd the tiny room, with Intisar's steam table (don't get close!) and cash register at the back, and an even tinier kitchen (keep out!) behind it.
Somewhere between a smiley-faced warning sign and a piece of folk art there's a small blackboard listing the day's entrees. Be warned, though, that it's not a menu, and may not reflect what's actually available. Intisar makes a variety of dishes each day, as the spirit moves her, and she'll tell you what's for dinner when you sit down. You won't find out the prices until after the meal, but lunch dishes and sandwiches appear to be generally around $3 to $4, dinner dishes around $7 to $10 with vegetable side dishes in the $3 range.
Drinks are limited to canned Sam's Club soft drinks. There's no tea or coffee ("I don't have time to make coffee"), but you're welcome to bring your own beer. You could bring wine, too, but bring your own glasses if you do, as the only glassware available is a mason jar. Beer is really a better match with this spicy, aromatic and earthy food, anyway.
And speaking of the food: In a word, it's incredible. Beef chili was thick and rich, hot as fire but much more subtle and complex, with a wild chorus of spices that sang to a reggae beat.
Red snapper gumbo featured small chunks of succulent white fish in a savory, tomato-based soup that was spicy hot but not as fiery as the chile. "Hey! There's meat in this gumbo," my wife said. Intisar laid down the law: "Gumbo means everything."
The diversity of herbal and spicy and smoky flavors in every dish is just amazing. We chat her up: "I'm taking to a lot of different spices," she says. "I do a lot of different variety in spices." One unfamiliar spice looks like a juniper berry but without juniper's Christmas-tree aroma and taste. Clove, my wife says. No, not quite. "It's called 'pimento'," Intisar says. Aha ... it's the ripe berry of the allspice bush, a Jamaican spice that we see more often in its dried or powdered form.
There's nothing gourmet-style about Intisar's ham sandwiches (which are actually turkey ham, as she doesn't serve pork products or use lard in her interpretation of Muslim dietary tradition). They're basic grocery-store wheat bread, deli lunchmeat, sliced American cheese, fresh tomatoes and ballpark mustard. But watching her make the sandwiches is a revelation, showing a combination of a chef's moves and a mother's care, as she carefully slices the meat and cheese so each slice fits the bread just so; neatly and quickly reducing a fresh tomato to a stack of perfect slices.
Sweet potato pie was hot and fresh, with a luscious custardy filling, subtle and delicate, on a crisp, buttery crust.
"Come back for dinner," Intisar invited, setting up a pair of drum smokers on the sidewalk out front, hatching plans for an all-smoked-meat evening menu. "No reservations, just come on in."
And so we did, returning for dinner after digesting a hearty lunch.
"We got jambalaya, smoked jambalaya, smoked creole, smoked beef and lamb and chicken, and we got jerk chicken, smoked jerk chicken, fried cornbread," Intisar recited to the small, happy crowd that showed up that evening. "We got cabbage, red beans and rice and pinto beans - mixed, OK - and we got blackened whitefish." Prices? Don't ask. You'll find out after dinner.
First the vegetables came out on large white plates: A mound of long-simmered cabbage, tender and long-cooked to a buttery-pale color and almost ethereal texture, touched with black pepper and bits of okra. A thick, flavorful white-corn pancake. And a mound of white rice, cooked so each grain is shiny and separate, topped with a mound of tender red beans and pinto beans in a light sauce that's gently sweet and spicy enough to make you break a sweat.
Main courses followed quickly, served in oval dishes that look small until you realize how full you're getting. Smoked meat- a mix of lamb, chicken and - don't be afraid - goat - featured small chunks of meat, smoked for hours until they were tender enough to eat with a spoon, served with lots of sliced onion in a gentle sauce with a remarkable blend of spices and subtle smoke flavor. This has to be one of the best meat dishes I ever ate, at any restaurant, anywhere.
The restaurant's namesake smoked jambalaya was good, too, medium-grain rice with a spicy tomato base and chunks of chicken, showing a distinct smokiness that somewhat dominated the other flavors in the dish. As usual, every dish was suffused with the aromatic flavors of fresh herbs and spices, including the pimento allspice berries, bay leaf, fresh cardamom pods, and more.
"This is what's called down-home cookin'," Intisar tells the guests at another table. "This ain't soul food," going on to her standard rap about hog maws and grease.
Dessert was bread pudding, a remarkable concoction of brown bread (perhaps the same grocery wheat bread used for sandwiches) elevated to near heavenly status with coconut, fresh bananas, chunks of pineapple and raisins, all baked together into a sweet, steaming porridge.
No coffee. "I ain't got time to make coffee." No credit cards, no debit cards, no checks: "In God we trust," another sign warns; "all others pay cash," along with an exhortation to tip generously.
If you want white tablecloths, slick service, fancy fare, go to a damn monkey restaurant. This is eatin' ... and we'll be back. A heartier lunch than we needed was $18.55 plus a $3.45 tip. An excellent dinner was $34.95, and we left the change from $40. $$

<!REVIEW ENDS HERE!>