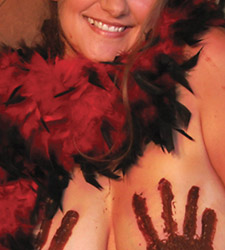 Mrs. February, Brandy Allgeier, formerly chef at Westport General Store, sports a pair of chocolate paw prints.
What a deal for six more months! Buy it, take it to the restaurant, get the chefs to sign it for a fun foodie collectible!
When a local family with long ties to the restaurant community faced catastrophic medical expenses, a dozen local chefs took it all off, or most of it anyway, posing for a tongue-in-cheek wall calendar, a PG-13 12-pager in which they display just about everything but artfully concealed naughty bits.
The resulting full-color calendar, "Louisville Chefs' Best Kept Secrets," now on sale for just $5 (plus $2 postage), is "very tasteful but very naughty." It seeks to raise money for Christina Bayens, 26, a graduate student at Spalding University finishing her doctoral degree as a clinical physchologist. Bayens, who has had cystic fibrosis since birth, received a double-lung transplant in St. Louis last summer, a costly venture that her parents, Mark and Linda Bayens, said "was too much for us to bear alone."

Linda Bayens, a real-estate agent who also coordinates cooking classes at Campbell's Gourmet Cottage, is the daughter of Fred J. Kunz Jr., long owner of Kunz's the Dutchman, which is now operated by her brothers, Fred and John Kunz.
"The outpouring of love and support of the restaurant community has been unbelievable," Linda Bayens said. "Christina has made a full and miraculous recovery, and we are home enjoying every minute of our new life!"
The calendars are now on sale for only $5 (plus $2 for postage) at LouisvilleHotBytes.com. If you'd like to buy it online – all proceeds go direct to the Bayens – you can use the "Buy it now!" button below to reach our secure online shopping cart.
Louisville Chefs' Best Kept Secrets, NOW $5! (Plus $2 postage)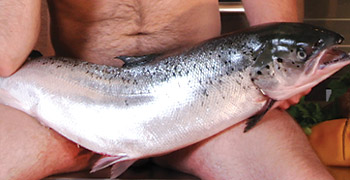 Mr. September, Danielle's Chef Josh Hillyard, poses with a strategically placed fish.