Older Archived Reviews
This is an older archived review. The Search Feature on this page may not work. To search this site, please return to our Home Page and try your search from there.
---
<!REVIEW GOES HERE!>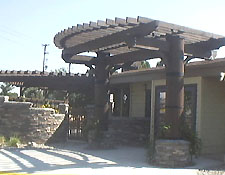 86

Napa River Grill
3938 Dupont Circle
(502) 893-0141

Considering that California's wine heritage is strongly Italian, with names like Mondavi, Martini, Sebastiani and Gallo dominating the history of America's best wine, it seems entirely reasonable to watch Louisville's fondly remembered old Mamma Grisanti transform itself from a family Italian restaurant into the city's first shrine to Napa Valley cuisine.
Louisville bid farewell to Mamma's last spring, and the movers have packed away the old Italian-American furniture and wicker-wrapped Chianti bottles. Now in its place stands a conscious and surpisingly faithful imitation of a California wine-country eatery, something like Tra Vigne and something like Mustard's. From the baby grapevines growing around the circular building to the soaring back-bar wine rack and mostly-California wine list, serious oenophiles will find themselves at home in the Napa River Grill.
Soaring to a ski-lodge ceiling inside, the Grill is decked out in vinous colors that could be described as "Chardonnay" and "Pinot Noir." Hard floors, high space and hard edges, softened only by white tablecloths and mustard-color napkins, make for an edgy and rather noisy scene, with adequately spaced tables in two rooms surrounding a large central bar with a striking primitive-style wine-country mural and a massive wine rack that reaches to the ceiling. (Smoking is limited to the bar and outside patio areas, but the ventilation could be better, as smoke does drift annoyingly from the bar into the purportedly non-smoking areas.)
Executive Chef Jeremy Kelly's menu is intriguing, California-style entrees with a hint of Pacific Rim "fusion." My only gripe is that relatively few items on the menu go well with red wines, and Kelly's free hand with vinaigrettes and sweet flavors yields many entrees that don't come across as wine-compatible. Salmon calls for Pinot Noir, but salmon with a pink peppercorn strawberry vinaigrette calls for iced tea.
Still, there's variety here to suit just about everyone, with starters ranging from $5.95 (for ancho calamari with banana ketchup and tomato basil sauce) to $8.95 (for applewood smoked salmon with baby greens, sour cream and wasabi, the pungent green mustard served with sushi). Those with lighter appetites will find a dozen soup, salad, sandwich and pasta items from $5.95 (for a Caesar salad) to $17.95 (for a grilled veal chop topping a field greens salad or a wok-seared seafood dish featuring lobster, scallops and mustard with a Thai curry coconut sauce over linguine). Entrees round out the lengthy menu with choices from $10.95 (for a ground-ribeye cheeseburger) to $24.95 (for a 20-ounce ribeye steak with garlic mashed potatoes and onion rings).
The wine list is a good one, with quite a few interesting items among its 80 choices, which range from $18 to $60 at markups that appear to be a little less than double retail. About half of the wines (the less interesting half, sadly) are available by the glass from $4.25 to $15. A "proprietor's list" of more upscale wines ranges from $33 to $160; I didn't see anything compelling enough to lure me away from the more affordable list.
We began with a sashimi appetizer ($6.95), a food-as-art starter with a sheet of ultra-thin won ton wrapper formed into a tulip-shaped edible basket, filled with diced, fresh raw tuna and yellow bell pepper with a citric-spicy dressing so tart that it had started to "cook" the fish, seviche-style. It was presented on a large white earthenware plate with a bit of fiery red-chile sauce for decoration and flavor.
Carrot-ginger soup, the soup of the day ($4.25) was spectacular! Deep, earthy carrot flavors and a sharp, lemony ginger flavor danced a pas de deux in a steaming puree, with a drizzle of rich coconut milk splashed across the top to add a tropical accent. Earthy, sweet, sharp and rich ... a fine balance of flavors, a truly excellent soup.
The mixed field greens salad ($4.95) was impressive, an oversize shallow bowl piled high with frizzy frisee, crisp radicchio, tender mache, yellow bell-pepper rings, slivered toasted almonds and a light sweet-basil vinaigrette.
No bread was served with the salads or throughout the meal; crusty bread with good green olive oil for dipping is such a durable wine-country tradition, we were surprised (and disappointed) by its absence.
Although the Portabello sandwich ($8.50) is listed as lighter fare, it made a full dinner for my wife. A meaty grilled mushroom filled two chewy triangles of focaccia bread, smeared with a surprisingly hot mustard, good but so piquant that it put my wife off wine for the duration of the course. It was garnished with thin green beans and rations of carrot and zucchini. (The menu mentioned taro chips, but none were forthcoming.)
Jambalaya risotto with "fighting" prawns ($16.95) featured two very large grilled shrimp, tucked together into a wrestling pose, perched with an asparagus-spear garnish atop a mound of slightly undercooked risotto-style rice studded with bits of chicken breast meat and slices of a sausage that seemed milder than the promised andouille. The rice was surrounded by a pool of a mild Cajun-style barbecue sauce made with a reddish roux. It was much closer to Louisiana than Italy in spirit but made a hearty dinner either way.
We tried three red wines by the glass and particularly appreciated the fine, oversize glasses that allowed plenty of room for swirling and sniffing.
Desserts (all $4.25) ended the meal on a high note. They were attractively plated and served with flowers tucked in at unexpected places ... I almost ate a bachelor's button. Peanut butter creme brulee was straightforward and toothache sweet, peanut-butter cream under a crisp caramelized surface, hiding a layer of rich, sweet chocolate at the bottom: an upscale Reese Cup. "Strawberry Fields" was a pagoda of cinnamon dusted wonton crisps layered with sweet-tart mascarpone cheese and fresh strawberries topped with strawberry ganache and whipped cream. It was kind of difficult to disassemble and eat, but well worth the effort.
With a small, shared pot of press pot coffee (Heine Brothers' Costa Rica Tarrazu, $2.95), our dinner for two came to $77.86, plus a $12 tip for competent and professional service. $$$ <!REVIEW ENDS HERE!>