!REVIEW GOES HERE!>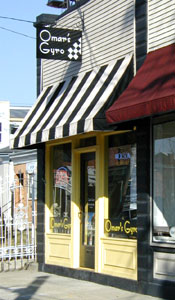 *** Omar's Gyro
969 1/2 Baxter Ave.
(502) 454-4888
E-mail: omargyro@hotmail.com

Believe it or not, it has been almost 25 years since the late and lamented Papa Toosweets Deli at Fourth and Broadway introduced Louisville to the joys of the gyros in the late 1970s ... and after all this time, a surprising number of people who love this Greek-American pita sandwich still aren't sure how to pronounce it.
So let's get this straight at the beginning: It's not a "guy-rose," and it's not a "jeer-ose." And you don't leave off the final ess, even if you're only having one: "gyros" is singular. If you want to say it as the Greeks do, let "Yee-rohss" roll trippingly off your tongue. Or say it American-style "Ghee-rohss" with a hard "G" or "Jee-rohss" with a soft; either way, you'll get your order on your plate without any confusion.
And however you pronounce it, I don't think you'll be disappointed with the gyros served up at Omar's Gyro, a tiny shop that got its start last year as an urban pioneer on the East Main Street strip near Slugger Field but that has now moved to Baxter Avenue in the Highlands.
Omar's new quarters are about the same size as the old place on Main, perhaps a little more permanent looking, with bright vermilion and ballpark-mustard-yellow walls with attractive local art-for-sale on the walls. Heavy marble-topped tables on cast-iron bases look as if they might be 100 years old. The floors are shiny black and white tile; reggae music plays in the bachground.
Omar's, in the person of its chef and co-owner Angelo Boone, shows off the skills that Boone honed at Louisville's Utopia Cafe, turning out a simple, short and inexpensive bill of fare that seldom fails to please.
The centerpiece is the traditional gyros, a hearty sandwich-on-a-pita featuring the classic round of mixed shaved lamb and beef formed into a vertical cylinder that rotates in front of an electric broiler, cooking to a turn while its fat drains off below. The chef paints a round of pita bread with tzatziki (a creamy yogurt sauce with cucumbers and garlic), then shaves long, thin vertical chunks of tender meat off the roast, gives them a quick sear on the grill, and places them on the side of a round of pita bread along with a ration of crisp lettuce and diced cucumbers and tomatoes. Roll it, wrap it in foil, and lunch is done.
The menu is a little longer and a buck or two more than at the former location: $4.95 for the traditional lamb-beef or chicken gyros, $3.95 for a vegetarian model with grilled peppers and red onions in place of the meat. Other pita sandwiches, all $4.95, include The GQ, chicken in barbecue sauce; The Rasta, with jerk chicken and onions; or Morocco Falafel, with vegetarian chickpea balls in place of meat. A plate of hummus (chickpea dip) with pita is $3.50, and you can get Baklava ($1) or a Baklava Delight ($2.95) for dessert. If you want a side order, you can have a pack of kettle-fried potato chips; and standard soft drinks plus a few ethnic oddities are served out of a cooler box. (I sampled a Vimto sparkling fruit-flavor drink in a can with a swash of Arabic lettering, made in Chicago, a fruity and oh-so-sweet soft drink with a flavor that reminds me of Peruvian Inca Cola ... or Juicy Fruit chewing gum).
Service is excellent, with the caveat that this may not qualify as fast food; it's a one-man operation, and Boone takes care to prepare each item to order, fashioning simple Near Eastern fare with the same competence that he has brought to fancier spots around town.
A quick lunch for two - two sandwiches, two drinks - came to $14.78, plus a donation to the tip jar on the counter. $

<!REVIEW ENDS HERE!>
---