Older Archived Reviews
This is an older archived review. The Search Feature on this page may not work. To search this site, please return to our Home Page and try your search from there.
---
<!REVIEW GOES HERE!>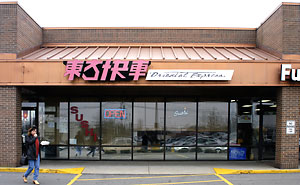 87

Oriental Express
12567 Shelbyville Road
(502) 244-9838

Let's be frank about this: Even those of us who love Chinese food might be wearing out a bit under the remarkable proliferation of fast-food chopsticks eateries and all-you-can-eat Chinese buffets, virtually all of them seemingly decorated by the same stylists and acquiring their menus from the same industrial kitchen. They're fun, but after a while they all start to run together.
Well, most of them.
But as if to disprove the rule that it's possible to "curb-appraise" a Chinese spot without even parking and going in, along comes Oriental Express. This new spot in Middletown stands a cut above its shopping-center status in its atmosphere, and maybe two cuts above the median in its food, a smorgasbord of both Chinese and Japanese fare that is good enough to justify a special trip.
The sign out front offers the first clue, displaying the restaurant's name not only in English but in oversize Chinese characters as well.
Inside, the oversize space is simple but pleasant, with a six-seat sushi bar at the back of the room and plenty of amply spaced tables. The works of Asian art on the walls are more upscale than the 3D plastic art and lighted-from-behind photos that you'll find in most shopping-center Chinese eateries: These are attractive prints in bamboo frames that appear to have some artistic and cultural merit.
Service is pleasant, and the menu interesting. At lunch time, there's a choice of 20 Chinese lunch specials (including soup, egg roll and fried rice), all temptingly priced at $4.50 to $5.25; or if you prefer to go Japanese, you can pick from six lunch specials, three udon noodle bowls and six bento-style lunch boxes, all in the range from $5.95 (for chicken udon) to $7.95 (for the lunch boxes, seafood udon or a sushi platter. The sushi bar is also open at lunch, with about three dozen by-the-piece selections from $2.50 to $6.95.
The dinner menu is more extensive, with a mixed selection of Chinese and Japanese appetizers and soups, two dozen Chinese "Chef's Special" entrees from $7.50 (for cashew chicken) to $9.50 (for hot-and-spicy orange beef), plus a dozen noodle and rice dishes from $6.25 to $7.95. The Japanese evening menu offers 10 regular dinners from $8.95 (for many selections including beef, chicken or salmon teriyaki) to $12.95 (for a sushi dinner or a chirashi combination of sashimi-style fish and egg over rice). Four "super combo" dinners, all $13.95, combine tempura, entree and "California roll" sushi.
Based on a couple of tips from participants in the Louisville Restaurants Forum, we made the trek to Orient Express for lunch the other day, and left full and delighted.
My wife took the Japanese path through the menu, choosing a lunch order of Tempura udon ($6.95). A large plastic bowl held a generous portion of udon wheat noodles (much like extra-thick spaghetti with a softer texture) with thin, pink-rimmed white slices of exotic but mild-tasting fish ball plus chopped nappa cabbage, sliced pea pods and button mushrooms in a thin but very salty dashi-style (kelp and bonito) broth. Alongside came a plastic dish in the shape of a rowboat, bearing two oversize shrimp in a light, greasefree and sizzling hot tempura breading.
I tested the Chinese side of the menu and found Hunan beef ($4.75) significantly exceeded my expectations. Thin-sliced beef was sizzling hot but still juicy and tender, stir-fried with big chunks of crisp-tender onion and green pepper, pea pods, colorful slices of zucchini, canned bamboo shoot and water chestnut and baby corn in a thick brown sauce that left a lingering warmth, all bearing appetizing wok hai, that delicious smoky-aromatic quality of well-handled wok-fried fare.
The Chinese lunch accompaniments were fine, too. Hot-and-sour soup was thick and warming, showing a proper balance of spicy hot and tangy sour. The egg roll was a crisply fried thin-skinned tube stuffed with shredded Chinese cabbage and bits of carrot, laced with an aromatic anise-accented hint of five-spice. The fried rice was exceptional, not your usual dark-brown and greasy blob but a light and fresh mound of perfect rice grains gently fried pale-tan.
A short order of sushi was fully satisfying, too: A pair of saba (mackerel) nigiri-sushi ($2.95) was competently made with an almost oversize portions of perfectly fresh mackerel, silver skin artfully contrasting with meaty flesh over neatly formed balls of sushi rice. Fried shrimp roll ($4.95) featured crunchy fried shrimp rolled in sushi rice and sliced into six rounds, which were then drizzled with a light sweet sauce and sprinkled with sesame seeds. Salmon skin roll ($3.95), a maki-sushi roll made "inside out" with the rice on the outside, surrounded crispy, salty bits of fried salmon skin rolled with crisp cucumber.
Green tea ($1.25 for a pot) was served steaming hot, although MelMac pots and cups didn't hold the heat quite as well as ceramic ware might have done.
Service was cordial and competent in English, and the prices fair, although that being said, the sushi bill boosted our lunch price significantly above what you might expect to pay for Chinese or Japanese lunch specials alone. The total came to $26.30 (plus a $5.70 tip), but $11.85 of that was for the sushi. $$
(January 2003)
<!REVIEW ENDS HERE!>