Older Archived Reviews
This is an older archived review. The Search Feature on this page may not work. To search this site, please return to our Home Page and try your search from there.
---
<!REVIEW GOES HERE!>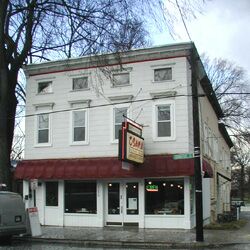 85

Osaka, a Sushi Bar
2039 Frankfort Ave.
(502) 894-9501

The Frankfort Avenue restaurant community was shocked by the sudden closing of Asiana earlier this year, the reported accidental death of its owner bringing a sad end to one of the city's best Korean restaurants and a personal favorite.
But life goes on, and recently the sturdy old building saw the grand opening of Osaka, a bright and cheery new Japanese restaurant and sushi bar named after Japan's second-largest city and the home of one of its most historic samurai castles.
Sushi Chef James Lae, who appears to have attracted a following from his days at Bonsai, presides over the sushi bar, and that's a good thing: Not only is he a first-rate sushi chef but a gregarious gent, whose welcoming presence and excellent English makes newcomers feel at home.
The inside of the building (which earlier had housed Bobby Soxers, a retro-'50s cafe) has been substantially renovated. The long room is now pale sea green over black, with brownish marble-look laminate topping the maple sushi bar and tables.
The sushi bar is a long one, with 12 seats and space for a pair of chefs. It runs from front to back along one wall, with a serving bar at the back of the room and about 15 tables divided into two sections separated by a waist-high room divider. The decor is spare and simple decor, with just a few Japanese prints and art objects around. It's a friendly neighborhood sushi bar ... and that's a welcome addition to to the Frankfort Avenue "restaurant row."
Chef James beckoned us to the sushi bar with a friendly wave, and we settled right in, enjoying steaming green tea from quaint little pots while we waited for our sushi.
The sushi menu is a bit longer and more varied than many, with more than 60 choices (not counting daily specials and whim-of-the-chef creations), ranging from $2.40 (for tamago egg-omelet sushi bites) to $10.95 for the American Dream Roll. Or put your fate entirely in Chef James's hands and order an entire "Sushi Chef's Smashing Special," from $50 (for the "Fifty Foot Yacht" to a cool $100 (for "The Titanic"). Lunch entrees are $5.75 (for tempura vegetables) to $9.95 (for unadon, grilled eel on rice, or a Bento box, an artful presentation of tempura, vegetables, seaweed salad, teriyaki or sushi roll and soup in an attractive black-lacquered wooden box). Dinner entrees are $9.50 (for chicken katsu, a breaded cutlet on rice) to $12.95 (for a tempura plate or broiled salmon). A couple of Korean dishes, perhaps a legacy of the former management, include Bul Goki (barbecue beef, $11.95) and Kal Bi (grilled beef short ribs, $15.95). Dinner sushi plates range from $7.50 to $13.95 for assorted combos, and there's a wide selection of appetizers, soups and salads for grazing with sushi.
We started a hearty lunch with a Japanese salad (included with entrees) that was above average for the genre, featuring crisp romaine and iceberg lettuce with a sweet-tangy Japanese dressing full of good orange and ginger flavors. Miso soup ($1.25) was salty and hot, a milky if rather thin miso (fermented soy paste) base with tofu dice and edible seaweed.
I got my hands on the sushi list and went a little wild, as I tend to do on a first-time visit, and ordered so much that they had to serve it in about four rounds.
The first batch came on a beautiful, dark brown earthenware Japanese serving plate, with well-fashioned, impeccably fresh sushi artfully arranged in a circular pattern: Two sushi-size bites each of mackerel ($2.80, meaty and delicious), tuna ($3.50, bright red and rich, like very rare beef), red snapper ($3, subtle and delicate), and a delicious creation, tempura asparagus roll ($4.40), two crisp asparagus stalks, tempura-fried and fashioned into an "inside-out" maki roll cut into 10 rounds, each topped with a dot of spicy orange mayo. It was my first time to try this goodie, but it won't be the last.
A seafood combo salad ($6.40, served in a dish shaped like a rowboat) featured sashimi bits of chewy octopus, a couple of tender crab "shapes" and three cooked, butterflied shrimp, spread over a bed of rice noodles and lettuce, tossed in a light rice-vinegar dressing and topped with a sprinkle of sesame seeds.
Another tray of sushi brought tuna roll ($3.80), straightforward and well-made, tight rolls of sushi rice around strips of beefy tuna, wrapped in crisp black nori seaweed. Hotetagai sushi ($3.30) was a ration of diced raw scallops, firm and sweet, diced in a light dressing of mayo and flying fish roe and stuffed into the tops of two large rice-and-nori rolls, served almost tooth-achingly cold, a nice touch.
A final sushi treat, rainbow roll ($7) looked almost too good to eat. It's a California-style rolls, but instead of being wrapped in black nori seaweed it's rolled in a colorful assortment of paper-thin slices of avocado, salmon, tuna and red snapper, making a culinary rainbow of sushi-maki that shades from pale green to orange to dark red to the palest blushing pink. It was almost too pretty to eat (and frankly, although everything about it is fresh and simple, the overall effect was just a trifle bland; perhaps it's the colorful look of the dish that made me expect more of a "wow!" effect on the taste buds).
A lunch-menu serving of shrimp tempura udon ($7.25) consisted of a big bowl of steaming, dark-brown broth filled with thick, tender white-flour udon noodles and rations of enoki mushrooms, seaweed, a wild mushroom or two and a couple of slices of pink-edged fish ball. A plate of tempura on the side featured two oversize shrimp, a couple of broccoli florets, carrot slices and a big slice of sweet potato all breaded and deep-fried tempura style. The tempura was the one disappointment of the meal, frankly. The shrimp and veggies were fine, but the batter was thick and doughy, falling well short of the crunchy yet light envelope that encases tempura at its best. Next time I'll stick to sushi.
Sushi by the piece seems affordable, but order a lot of it and the price mounts up frighteningly fast: Our lunch for two came to a breathtaking $43.95, with a tip for service and the sushi chef rounding the total up to $53. $$$
(February 2002)
<!REVIEW ENDS HERE!>