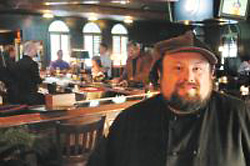 Photo by Kelly Mackey: John McCulloch is the executive chef at Stratto's, cooking in the 19th century mansion – now restored – where his great-great-grandmother once toiled.
(CHEF CHANGE: Chef Tony Efstratiadis, formerly with Napa River Grill and 316 Ormsby in Louisville, took over as chef at Stratto's in September 2006, and has made some changes in the menu.)
As far back as most of us could remember, folks in Southern Indiana who wanted to enjoy a fine-dining experience were pretty much obliged to hit the bridges to Kentucky if they wanted anything more sophisticated than diner fare or a fast-food chain.
It might seem rude for a Kentuckian to say such a thing, but let the record reflect that it's deeply rooted Hoosier John McCulloch saying this, pledging to make Stratto's – the fine new Italian eatery where he's executive chef – a dining destination that will raise the bar for gourmet-style dining on the Sunny Side.
Continue reading Stratto's boosts fine-dining on the Sunny Side →