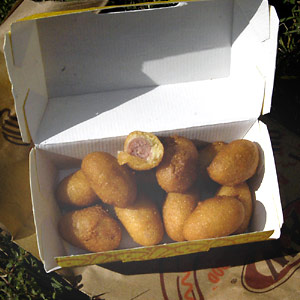 How does A&W get those little dogs to roll around in corn? Photos by Robin Garr
LEO's Eat 'n' Blog with Louisville HotBytes
(A&W's corn dog nuggets, White Castle's chicken rings; also Primo and more)
The life of a food critic is not all white tablecloths and fawning service and foie gras for breakfast. Take it from me, folks, sometimes I do these things so you won't have to.
Occasionally it becomes necessary to follow a food trend wherever it takes us, even when it takes us down a road that I would just as soon avoid.
Let us consider, then, the corn dog nugget.
As I reported in our State Fair feature in August, I feel a once-a-year craving for corn dogs that can only be satisfied with one, annual dog-on-a-stick. OK, maybe two.
But what if these crunchy, fatty delights were available year-round, as close as a familiar fast-food spot?
Continue reading Fast food follies →