I'm delighted to announce a new partnership between LouisvilleHotBytes and The Voice-Tribune, Louisville's suburban weekly newspaper. We'll publish monthly restaurant reviews and wine-tasting reports in The Voice, which is available on East End news stands and by subscription.
For many years, Westerners who craved a taste of truly authentic Chinese food have been pretty much out of luck. Even if we followed the traditional wisdom for tracking down the finest Chinese fare ("look for the places where Chinese people eat"), our round eyes and pink complexions gave us away.
Invariably, even the most impassioned request for those exotic, delicious-looking dishes we could see all around us would meet kind but firm resistance. "You won't like that. Try this."
But the times are a'changing as a new generation of Chinese-immigrant entrepreneurs comes into the restaurant business; and nowadays at least a few Asian eateries are willing to give diners of European heritage a peek at the Chinese-for-Chinese menu.
Here's news that may surprise you if you haven't been paying attention: One of the best places in Louisville to find genuine, home-style Cantonese fare the way the Cantonese like it is the Oriental House in St. Matthews.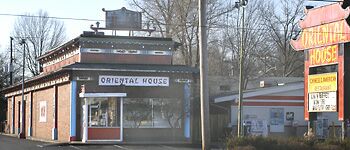 Continue reading

Old chop suey house goes authentic