Older Archived Reviews
This is an older archived review. The Search Feature on this page may not work. To search this site, please return to our Home Page and try your search from there.
---
<!REVIEW GOES HERE!>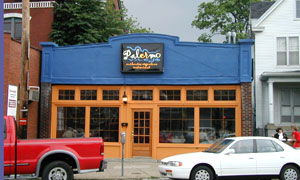 93

Palermo Viejo
1359 Bardstown Road
(502) 456-6461

Website:
http://www.palermoviejo.info/
OK, so Palermo Viejo, the hot new Argentine place, is supposed to be South American; but it seems to be named after a Sicilian city, and its menu features pasta and ravioli and other Italian-sounding fare. What's up with that?
It's simple enough: Like the United States, Argentina is a New World country with a rich European heritage. But in contrast with most of Latin America with its heavily Spanish ancestry, Argentina's settlers added a zesty Italian element to the blend (not to mention a United Nations of other European immigrants) in a healthy "melting pot" of heritages much like our own. Introduce yourself to just about any random Argentine, and chances are you'll find a few Italians perched in his family tree.
Palermo Viejo ("Old Palermo") is not only the largest city in Sicily, it's also a vibrant neighborhood in Buenos Aires, the Argentine capital, from which this lovable new local eatery takes its name.
Still a newcomer to the Bardstown Road scene, Palermo Viejo hit the ground running. It has been feeding noisy, happy crowds since its opening early in July, and our visit confirms what we've been hearing on the grapevine: It is already earning a secure place on the city's short list of four-star spots.
Large and remarkably scenic, Argentina stretches from Brazil almost to the Antarctic on South America's Atlantic coast; it reaches from the seacoast to the snowy peaks of the Andes, with plenty of room for prairies ("pampas"), a range where cowboys roam and some of the world's finest beef cattle thrive. Grilled beef ("parrillada") and seafood dominate a hearty cuisine that's much more European in style than many of the nation's Latino neighbors.
The menu at Palermo Viejo reflects this heritage, and so does the style of the dining space, which I would describe as "dressy casual," with red brick and light, unfinished oak defining a storefront dining room of modest size. Tables along the narrow back leg of the L-shaped room enjoy a close view of the open kitchen, while diners in the front are situated between a short, attractive bar and large windows overlooking the busy street scene out front. (When there's a crowd, which there usually is, the standing-room-only bar crowd swells into the dining space, which could be a little uncomfortable for diners at tables nearby.)
The menu, like the service and the atmosphere, is warm and welcoming, noting, "If you have any questions ... don't hesitate to ask. All the dishes have the phonetical spelling, and you're here to have fun, so just give pronouncing it a try."
The bill of fare isn't overly long, but it offers a good range of Argentine treats, some more Italian-accented than others. Five "aperitivos" (appetizers) range from $5 (for empanada turnovers or jamon crudo con melon, the Argentine equivalent of Italian prosciutto melone) to $7 (for camarones con salsa golf, shrimp with Argentine "golf" sauce).
A selection of "platos principales" (main dishes), all $10, include turnovers and a variety of "milanesa" dishes, which feature steak, chicken or fish in the style of Milan, very lightly breaded with flour and fried, plus empanadas (pastry turnovers), fideos (fresh spaghetti) and more. And then there's the parrilla, the Argentine charcoal grill, which the menu proudly notes is found only in Argentina - and in Louisville at Palermo! A special dinner of parrilla-grilled steak, sweetbreads and sausages is $30 for two, $60 for four; parrilla chicken ("pollo asado") is $15.
The wine list offers a delightful Argentine oasis in a city with way too many overpriced and boring lists. All three dozen wines are Argentine, and, although the markup adheres to the double-retail pricing that has become the local standard, Argentine wines are such good values that just about all are below $20. That includes some very good wines indeed at an affordable $12 or $13, a rate that won't get you anything but jug wine at most Louisville eateries.
What's more, Argentine wine and Argentine food make a natural match. Our choice, the fruity, tangy dark-red 1998 "Elsa" Malbec from the Mendoza region was a perfect match with everything on our table. (A word about wine glasses, by the way: Wine here is served in the same smallish goblets used for water, a practice that would inspire me to a rant at a fancier spot. I can accept it here, though, because this same casual service is routinely practiced in this kind of friendly, family-run trattoria-style restaurant in Italy - and, it's fair to assume, in Argentina.)
Bread is made on the premises, and it's quite good, a simple Argentine-style (which means Italian-style) white baguette loaf with a tender crust, served with whipped butter.
Salads ($2 a la carte but included with the parillas), offer your choice of any three from a grocery list of ingredients - I made a mix-and-match of lettuce (fine-shredded iceberg), tomato (thick-sliced plum) and hearts of palm, which came with a very light vinaigrette; my wife chose lettuce, tomato and cucumbers. Speaking of salad, if you have a hankering for green vegetables, you've come to the wrong place. You'll be hard-pressed to find a veggie here beyond iceberg lettuce. But meat, potatoes and pasta? No problem!
Our party of three shared a trio of appetizers, all artfully "plated" on metal serving dishes with trendy swashes and swipes of color-contrasting sauces.
Camarones con salsa golf ($7) consisted of five jumbo shrimp with their tails on. They were as perfectly prepared as any shrimp I have ever tasted, cooked just to the point of sweet, succulent tenderness and not one moment more, then chilled and plated on a lettuce leaf with a few hearts of palm and Jackson Pollock design of pinkish "golf" sauce that's very much like a remoulade.
Provoleta ($5), an Argentine specialty, is a disk of earthy provolone cheese melted into a soft mass, striped with grill marks and a crisscross of olive oil and sprinkled with a gentle ration of dried herbs, served with more Argentine bread.
Empanadas ($5 for an appetizer order) were attractive turnover pastry pies, a half-moon and a full moon, both golden-brown and flaky with shortening, one stuffed with startlingly spicy capicola (an Italian pork cold-cut similar to peppery ham), the other with tasty chicken and Havarti cheese.
The appetizers came in rational portions, large enough to seem generous but not so filling as to spoil dinner. That was a good thing since the entrees were every bit as good.
Canalones de Mariana ($10), a South American cousin of Italian cannelloni, was a tender pasta sheet (the menu describes it as a "crepe") rolled around a savory mix of fresh leaf spinach, chopped onions, ricotta cheese and a bechamel-style white sauce, all topped with a rough tomato puree, more of a fresh garden-tomato topping than an Italian-style red sauce.
Pescado alla Milanese ($10) was a fried-fish treat that wouldn't be out of place at a country cafe on Kentucky's Green River (and that's a compliment), with a light Latino twist. Three thin fillets of delicate sole were lightly dredged in flour and sauteed, creating a crisp grease-free coating as thin and tight as a coat of paint, lightly herbed and delicious. Make that fish and chips, with the addition of a generous platter of a la carte garlic-fried potatoes ($2) on the side, deliciously flavored with a lot of garlic and a more discreet shot of herbs.
The pollo azado ($15) provided a welcoming introduction to Argentine parrilla fare: A good-size half chicken, separated into breast and leg quarters, was drizzled with lemon juice and herbs and char-grilled to crispy perfection, then presented on a table-size black-metal grill the size of an unabridged dictionary. "Don't touch it - there's hot charcoal in there," our server warned. The meat bore a delicately smoky grilled flavor and a homeopathic touch of lemon and was tender as butter, so good that I resorted to fingers to make sure I pulled every last delectable bite off the bones.
Desserts? Of course! We couldn't stop short, finding everything far too good too good to depart without trying it all. Pasta frola ($5) was a deceptively small but rich square of thin, "short" pastry topped with a dense, jammy layer of quince, a Mediterranean (and Asian) fruit that in this setting could have passed for apple. Very good apple. "Grandma's chocolate cake" ($5) was a tall stack of chocolate and cream, featuring two layers of dark-brown chocolate sponge cake that was surprisingly light, more elegant than decadent, slathered with cloudlike puffs of fresh whipped cream. My choice, a traditional flan ($5), was a perfect circle of smooth, feather-light custard, rich yet delicate, baked with a caramel coating, painted with a light caramel sauce and served with a dab of thick, intensely sweet dulce de leche.
Two very fine decafs ($1.25), so clean and flavorful that it could have passed for high-octane, and one powerful espresso ($1), and a glass of strong, plummy Quinta do Noval "LB" non-vintage Port, made a civilized evening to a truly memorable meal, with flawless service - friendly but not pushy, on-the-spot but not intrusive - to wrap up an evening that earned a perfect four stars.
Dinner for three came to $96.99, with a well-earned $20 tip. The share for a couple would have been around $65 plus tip.
An afterword: Observing our great pleasure in the authentic Argentine cuisine, our server mentioned that some patrons in the early days have been complaining about that, asking for more "American" food, weaker coffee and less exotic fare. I hope management will resist the inevitable pressure to "dumb it down." I have to believe that exciting regional restaurants can find a home in Louisville ... and I certainly hope so. $$$
July 19, 2001
<!REVIEW ENDS HERE!>