Older Archived Reviews
This is an older archived review. The Search Feature on this page may not work. To search this site, please return to our Home Page and try your search from there.
---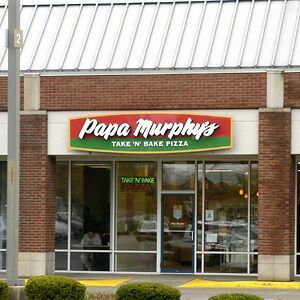 82

Papa Murphy's
291 N. Hubbards Lane
(502) 895-6363

National Website:
http://www.papamurphys.com/
<!REVIEW GOES HERE!> If you plan to dine in at Papa Murphy's, you're out of luck: This shiny new shop just a door or two down from the gigantic Woodlawn Park Kroger's on Hubbards Lane near Westport Road offers no table service. In fact, these friendly folks won't even bake your pizza.
This growing national "Take N Bake" phenomenon, a franchise operation out of Portland, Oregon, has been spreading gradually eastward since 1981 and finally reached Kentucky this summer. It offers a new twist on the old pizza concept: They'll put together a pizza while you wait, using fresh, uncooked pizza dough and quality sauce, cheese and toppings. You take it home, neatly cocooned in plastic wrap, and bake it in your own oven (preferably removing the plastic wrap first).
You gain the advantages of speed and simplicity without making the compromises (stale food, horrifying industrial ingredients) that we usually associate with frozen grocery-store pizza.
And if the notion of acquiring a traditional Italian-American treat from a store with an Irish name makes you uneasy, why, shure and begorrah and cushlamochree, there's nothing to fear: My first encounter with Signore Murphy yielded an estimable pie, not in any way artisanal but more than adequate to feed the inner person, with a crisp, crackery crust, tangy sauce and hearty portions of tasty toppings and creamy, stringy cheese.
The proprietors at the Hubbards Lane shop make customers feel welcome with a friendly word and a quick willingness to answer questions. The gent behind the counter shows the moves of an experienced pizza-maker, his hands flying quickly over the bins as he drops a round of dough onto a plate, spreads thick, dark-crimson sauce over it in a neat, expanding circle, then measures out toppings by the cupful and shredded cheese by the handsful. A quick double-wrap in plastic wrap and it's ready to take home, bake and enjoy.
The menu features about a dozen standard pizza combinations in medium, large and family sizes, from $5.99 for medium plain cheese to $12.99 for a family-size "Papa's Favorite" with just about everything in the house. "Gourmet Pizzas" (chicken garlic, classic Italian or "gourmet vegetarian") are $9.99, $10.99 or $12.99 depending on size. There's also a selection of calzone-style stuffed pizzas ($11.99 for large, $13.99 for "family"); a couple of "Deeper Dish" pies, Chicago-style, $9.99; and thin-crust "deLITE" pizzas with minimal dough for carbs-counters ($5.99 to $7.99, depending on toppings).
I passed on The Hawaiian (Canadian bacon and pineapple, $7.99/$8.99/$10.99) but couldn't resist letting Papa M. show me his stuff on a medium "Specialty of the House" combo ($8.99), a traditional Italian-American pie topped with tomato sauce, crumbled sausage, fresh button mushrooms, sliced black and green olives, herbs and mixed white and yellow cheeses.
Baking the thing is easy, even if you don't like to cook. Printed instructions are provided, but you'll also get a quick oral briefing: Don't discard the paper plate, which is lined with a glossy white plastic-ceramic-type material; it's designed to go into the oven and helps ensure a crisp, golden-brown crust, they say. Preheat said oven to 425F, then put the pizza in its tray (take off the plastic wrap!) on a shelf on the center rack. Take a peek after 10 minutes. If the crust has blown up any big bubbles, stab them with a fork. Bake for another 2 to 6 minutes: It's done when the edge is dark brown and the bottom (take a peek by lifting an edge with a fork) is golden brown. Take it out to a serving tray, cut into wedges (or whatever) and eat.
You can supply your own drinks and even raid your own wine cellar for something to go with, although Papa Murphy's makes it simple with a cooler box of soft drinks. They also offer salads-to-go ($3.49) plus "cheesy bread" ($2.99) and chocolate chip cookie dough ($2.49) that you can bake right along with the pie, if your oven is big enough.
I followed the procedure to the letter, and our pizza came out fine, a generous ration of straightforward toppings on a golden, thin and rather crackery crust. While you lose the pizzeria experience, you gain the comfort of dining at home, and the price is right. Chances are I'll go to Papa Murphy's again.
Our $8.99 medium pizza was plenty for two for dinner with a salad on the side, and it provided a couple of leftover slices for lunch the next day. $
(October 2004)
OTHER LOCATIONS:
ACCESSIBILITY: Modern shopping center with no steps at entrance.
<!REVIEW ENDS HERE!>