Older Archived Reviews
This is an older archived review. The Search Feature on this page may not work. To search this site, please return to our Home Page and try your search from there.
---
<!REVIEW GOES HERE!>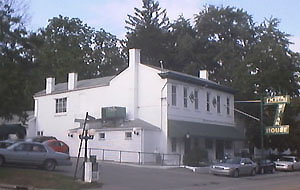 85

Pat's Steakhouse
2437 Brownsboro Road
(502) 893-2062

I won't say that a visit to Pat's Steak House is
exactly
like a trip back to the '50s, but when we ate there the other night, I could swear I saw Ozzie and Harriet dining at a table in the corner.
So much about this place evokes an earlier era, sometimes showing up in a startling political incorrectness that manifests itself in such unexpected forms as "lady" portions on the menu and an unapologetic smoke-wherever-you-like policy. Not to mention a deliciously filling meat-and-potatoes bill of fare that dismisses such fripperies as salads and vegetable dishes as well-handled but minor afterthoughts.
Bring cash!

In an unusual but firm and longstanding policy, Pat's does not accept credit cards, and there are no exceptions to this rule. To avoid embarrassment, come prepared to pay cash - or to send a member of your party out to a nearby ATM.

Established in 1958 as Min's in an old white building on Brownsboro Road, it quickly became a local landmark; and little changed but the name when Pat Francis took over the ownership during the 1980s. It remains a favorite special-occasion destination for Louisville families who aren't put off by its slightly downscale but old-shoe comfortable look and feel; and I'd venture the bold opinion that the combination of high quality beef and old-fashioned hospitality make it the best steak house in town.
The setting is clubby and dark, with almost black wood paneling on the walls and ceilings and blackish carpeting, dimly lit by old-fashioned chandeliers and wall sconces and tiny votive candles in cut-glass holders. Ancient ceiling fans turn almost invisibly in the smoky darkness overhead. With its walls covered with old photos and painting and many Irish touches around to celebrate the owner's heritage, it's an archetypal old Louisville eatery, evocative of the gone but not forgotten Hasenour's and earlier manifestations of Kunz's. Tables are draped in white (polyster, not damask), and sturdy wooden chairs are more functional than stylish: This is a place to eat a steak dinner among family and friends, perhaps for a special occasion; not a place to see or be seen.
The menus carry out that theme: Green on white and laminated in shiny plastic (and very difficult for middle-aged eyes to make out in the dim light), they seem more suited to a fast-food diner than an expensive eatery where the two-dozen entrees start at $14 for fried chicken and rise to an impressive $31.75 for special aged prime steaks. The aforementioned "lady" filet mignon is $21 and the "lady" New York strip steak is $21.25; a 14-ounce Porterhouse steak is $24.50. If anyone would venture to Pat's without getting a steak, other entrees include ground sirloin ($15.50), Irish meatloaf ($15.75), pork chops ($17.50) and chicken livers ($15.25).
A half-dozen appetizers run a short gamut from Irish stew ($4.25, a seasonal item) to a $14 seafood appetizer for two including frog legs, oysters and shrimp; frog legs alone for two are $12.75.
The wine list, incorporated in the dinner menu, is short but serviceable, with 21 red wines and maybe a dozen whites; a fair selection of wines by the glass in the $4 to $7 range. The most expensive item on the list, Moet et Chandon Cordon Rouge Champagne, is $55, and there are several offerings under $20, although the low end is rather grim, featuring industrial wines like Schmitt Sohne Riesling ($17) and Beringer White Zinfandel ($19). I recommend the Louis Jadot Beaujolais-Villages or, my choice with dinner the other night, Hawk Crest 1996 California Merlot (both $22), a dark-ruby red, blatantly fruity as Kool-Aid but a decent match with the steak.
We started by sharing an oyster cocktail ($8) that was plenty big enough for two. Offering great value for the money, it featured more than a half-dozen gigantic, impeccably fresh shucked oysters swimming in tangy cocktail sauce in a birdbath-size goblet.
Dinners come with dinner salad, two vegetables and rolls. The salads are composed on shallow, pale-green plates, a "combination salad" of iceberg lettuce, pale but crisp and cold, with a couple of tomato slices, remarkably juicy and red for the season. Blue cheese dressing was thick, creamy and sweet, with generous portions of tangy cheese that was billed as Roquefort.
The oversize (22-ounce) strip steak that tops the menu wasn't available, so I abandoned my plan to take home a large doggie bag and chose instead the regular New York strip, a mere 16 ounces of fine beefsteak, rare as ordered, beautifully seared to a dark brown on the surface, cool purple at the center, tender and flavorful and so delicious that I couldn't make myself leave any to take home.
My wife's choice, fried chicken, may just have been even better than the steak, a classic of the genre; moist and flavorful inside an addictive breaded coating that was thick and crunchy yet grease-free and light. This place may be a steak house, but I would nominate their fried chicken as the best in town.
Veggies were all fine, small but filling dishes that all fit the '50s style model: limas were salty and cooked to mushy softness; green beans long-simmered with plenty of bacon fat; hash-browns properly grilled, tender grated potatoes, creamy in the middle, crisp golden on the outside; and a baked potato, sans foil but holding a pool of melted butter, was just right.
Desserts sounded attractive, but we've seen them passing by en route to other tables and back off in trepidation: In size and richness, they rival the steaks, and after a meal of these dimensions, there's no way to make room for a huge dessert. I go with coffee instead and am rewarded with an excellent cup, rich and dark, so strong I know it's going to keep me up, but so good that I don't care.
Dinner for two, including the wine, came to a surprisingly affordable $72, and competent, no-nonsense service earned a $15 tip. (NOTE: Again, remember that Pat's does not accept credit cards, so come prepared to pay cash.) $$$ <!REVIEW ENDS HERE!>