Older Archived Reviews
This is an older archived review. The Search Feature on this page may not work. To search this site, please return to our Home Page and try your search from there.
---
<!REVIEW GOES HERE!>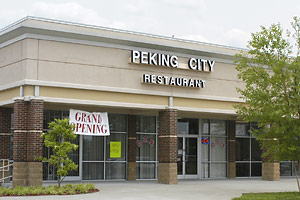 89

Peking City
3571 Springhurst Blvd.
(502) 425-0188

It looks pretty much like any other shopping-center Chinese eatery, with its big red chairs, red-draped tables and paper table mats printed with your Chinese horoscope. Sturdy knives and forks (but no chopsticks unless you ask) and a big menu that features all the Chinese-restaurant standards from moo goo gai pan to beef chow mein further enhance the illusion.
But if you're a foodie with a yen for the exotic, you'll want to take a closer look at Peking City: Just about any time you drop by for lunch or dinner, you'll find the room filled with Chinese families, scrutinizing a special menu all in Chinese, and happily tucking into some really interesting looking dishes.
Check ahead for Taiwanese

If you're intrigued by Peking City's Taiwanese goodies and want to give them a try, it might pay you to call ahead before making the trek to Springhurst.



Because these dishes require special ingredients, not all dishes are always available, so it's best to check. (On the flip side of this coin, your call may reveal plans for unusual off-the-menu specialties available on request.)

As it turns out, the big draw for our Chinese-American neighbors is an authentic Taiwanese menu - a regional cuisine new to Louisville - featuring the hearty, earthy and often rustic dishes of this island republic off the east coast of China, where Chiang Kai-Shek's Nationalist forces fled after the Communists took control of the mainland in 1949.
A few of the Taiwanese dishes may be challenging to the uninitiated, such as beef tendon (actually a surprisingly enjoyable item for carnivores); but others, including a spicy shredded cabbage dish and big soup bowls full of hand-made noodles, are easy for just about anyone to enjoy.
Even though the specialty menu is in Chinese only, don't despair: You don't have to speak the language to enjoy Taiwanese dishes here. Just ask for help - Peking City's affable hostess Mrs. Ren (formerly of the old Szechwan-Hunan Garden at Bardstown Road and Goldsmith Lane), will gladly translate for you and make recommendations. Before long, she said, they plan to add an English menu with photos of the Taiwanese dishes.
The owners, Chef Chen and family, are recent arrivals in Louisville from Richmond, Va., where they ran a popular Chinese restaurant for 10 years or so before taking a break.
The large shopping-center space is designed in standard Chinese-restaurant decor, not overly exuberant, with a grove of tall potted plant. Indeed, the art on the off-white walls is unusually classy - several Chinese paper scrolls, one or two of them featuring abstract motifs, the others traditional landscapes. Quiet Chinese vocal-instrumental music plays in the background, unobtrusive and faintly exotic.
The printed Chinese-American menu, as mentioned, is extensive and features just about all the traditional favorites. More than two dozen lunch specials are all $3.95 or $4.95, with main course, soup, egg roll and rice. The dinner menu includes well over 100 choices, including soups, appetizers and main courses that range from $5.55 (for numerous chow mein or rice and noodle dishes) to $12.95 (for "Treasure of the Sea" or several "skillets," the latter-day equivalent of the old Chinese-American "sizzling rice." A full family dinner for two, featuring two entrees, egg rolls, soup and rice, is $17.55.
We came for the Taiwanese dishes, though, and were richly rewarded. We told Mrs. Ren to surprise us and teach us the joys of Taiwanese, and she countered with a variety of goodies.
First came a couple of small plates that proved interesting both to look at and to taste.
A cold, spicy salad dish consisted of finely shredded, crisp cabbage tossed with fresh cilantro leaves and a few tiny piquant dried shrimp; a scant brownish sauce added an intriguing smoky, nutty quality infused with warm but not fiery spice. This Taiwanese specialty give new meaning to cole slaw. It's a fine dish but not a subtle one.
Beef tendon - yes, that's what I said - was thin-sliced and translucent. It looked almost like squares of browned, cooked onion, but it's meat all right, with an intriguing chewy texture (is "cartilagineous" a word?) and deeply beefy flavor. It was laced with bits of raw garlic and a tingly, prickly peppery heat that doesn't make you burst out in a sweat but distinctly tickles the back of your throat.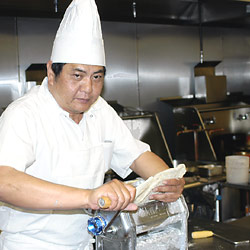 Bearing a coincidental resemblance to his Iron Chef namesake, Chef Chen makes Taiwanese wheat noodles on his Italian pasta machine.
Both these dishes indicate a serious chef at work, and in that way they remind me of a few other local ethnic favorites - Vietnam Kitchen and Mayan Gypsy, to name just two - where the chef shows a command of flavor, texture and balance that transcends any particular cuisine and simply stands as very good food, prepared with care and love.
Noodle dishes are a Taiwanese standard, and in a bow back to Marco Polo - the 13th century Italian merchant-explorer who according to legend discovered pasta during his travels in China and brought it back home - Chef Chen uses an Italian pasta machine to fashion the hand-made wheat noodles that are a Peking City specialty.
Two oversize noodle bowls formed the centerpiece of our meal, and they were fine - long and silken wheat pasta, tender to the tooth with just the hint of a chewy bite, swimming in flavorful broths and soaking up their flavors. A pork-chop noodle dish featured a pale, savory broth laced with a distinct note of anise. A thin, flavorful pork chop was served on the side, braised in soy sauce and covered with chopped scallions. Beef noodles came in a mahogany-dark and extremely salty broth with the deep flavor of dark soy sauce, and contained a generous portion of soft-yet-chewy, long-simmered boiled stewing beef and a good ration of fresh spinach leaves, barely wilted by the heat of the soup.
Completing the Taiwanese treats, we were handed a bite-size sample of a dessert item, a bite-size piece of banana deep-fried in a slightly sweet, thick but light deep-fried breading and served with a drizzle of honey. Hot and crisp, tender and sweet ... it made a more interesting finish than the usual fortune cookie (although we got those too).
Because of the personalized service and menu translation, we couldn't itemize the lunch, but it was certainly affordable: With iced tea and hot tea, a filling meal totaled just $19.96, to which I added a $4.35 tip. $
(May 2003)
<!REVIEW ENDS HERE!>