!REVIEW GOES HERE!> ** Ruth's Chris Steakhouse
Kaden Tower 16th floor
6100 Dutchmans Parkway
(502) 479-0026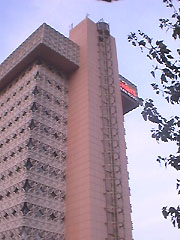 In its annual survey this year, readers of The Robb Report, a slick magazine devoted to the rich and famous and the things they buy, declared Rolex the world's best watch, Armani the best men's suit, Cohiba the best cigar and Ruth's Chris the best restaurant.
And therein, I think, lies a deeper story than the one that Robb reported: The people who swear by signature products like Rolex and Armani and BMW and, well, Ruth's Chris, tend to value reliable quality ahead of innovation and adventure.
Sweep to the top of Louisville's Ruth's Chris on the wall-hugging elevator that whisks diners to the top of the lacy suburban Kaden Tower, and you'll find yourself served an indisputably excellent steak in an atmosphere of elegance and luxury that will make you feel pampered without ever feeling threatened.
I escorted my wife to Ruth's Chris to celebrate our midsummer anniversary, and we certainly agreed that our steak-for-two was as good a 32-ounce piece of well-marbled prime beef as we ever ate. But just about everything else left us vaguely dissatisfied.

Perhaps it's just a Louisville native's resistance to the reality that one of the city's most expensive and popular restaurants is now a mere chain operation of a national franchise with more than 60 more-or-less identical properties from coast to coast that will sell 10,000 steaks this year and ring up more than $150 million in sales.
Or maybe it was the pricey, pretentious wine list, or the huge but forgettable side dishes, or the uncomfortable booth seating that might have come straight from Torquemada's palace, or the suburban rooftop view that you can't really see without getting up from the table and walking outside on the balcony.
When you add it all up, Ruth's Chris comes out like this: It's a four-star steak surrounded by a two-star experience.
The atmosphere is relentlessly beige, olive and ecru and unobtrusive. Most tables are lined up along the large, floor-to-ceiling windows, but the concrete "lace doilies" that give the Kaden Tower its unique exterior block the view for diners seated at the tables. I recommend avoiding the booths along the inside walls, which are boxy with oddly perpendicular seatbacks that force the body into a painfully uncomfortable position.
The menu is rather basic, this being, after all, a steak house. Steaks range from $21.95 for a petite filet to $58 for our choice, the Porterhouse for two. A few non-beef choices include a veal chop ($28.95), three lamb chops ($29.95), roast chicken ($17.95) or a Maine lobster ($29.95 a pound).
If you're a steak-and-potatoes person, you can match your steak with just about any imaginable style of spud: Mashed with garlic ($4.50), baked ($4.50 for a "loaded" one-pounder or $4.95 with cheddar and cream sauce), steak fries ($3.95), julienne ($3.95), shoestring ($3.95) or Lyonnaise sauteed with onions ($4.50). Whew!
Vegetable side dishes, salads and assorted appetizers round out the menu, which carries a faint New Orleans accent (gumbo, remoulade and barbecued shrimp) in honor of the first Ruth's Chris, an eatery in the City that Care Forgot that was named just-plain Chris until Ruth Fertel bought it 30 years ago and turned it into a national institution.
The basic menu carries a short wine list with many selections available by the glass, with bottle prices for mostly mass-market brands in the $20-$40 range. Ask for the "captain's list" and you'll get a leather-bound book that includes a good selection of half-bottles and a large but pricey selection of mostly standard and mass-market wines, dramatically overpriced at almost three times retail. It includes some big names for the Robb Report crowd, but they tend to be "off" vintages. Chateau Petrus 1993, for instance, both immature and a very poor vintage, lists for a stunning $884; the first growths of Bordeaux are represented by the 1994s, a mediocre vintage AND much too young, selling from $325 (for Chateau Lafite-Rothschild) to $440 (for Chateau Latour).
I passed on the high-end stuff and settled on a simple red Rhone wine, Delas Freres 1996 Crozes-Hermitage Les Launnes ($31), which was peppery and fruity and worked well to wash down our steak.
With conspicuous consumption of steak in mind, we decided not to waste the tummy room on appetizers, heading directly for the salad course instead. Wilted spinach salad ($5.25) was topped with generous portions of crumbled bacon and chopped red onion and hard boiled eggs. The dressing was copious and sweet and sour (but mostly sweet), with a smoky bacon flavor. The Caesar salad ($5.95) was also drenched in dressing, pleasant and creamy though lacking the traditional piquant anchovy flavor. Thin-sliced Parmesan cheese and crunchy croutons topped a mild, middle-of-the-road Caesar.
The star of the show was the two-pound Porterhouse for two ($58). It came to the table on a heavy earthenware oval so hot from the 800-degree broiler that the meat sizzled and continued cooking, swimming in a pool of butter. Ordered medium rare, the 1 1/2-inch two-pounder, although crunchy and blackened on the outside, was well short of rare in the middle, raw red and still cold. What, me worry? I like it like that.
The server assured us that the "New Orleans-style" portions of side dishes were so big that one order of each would be more than enough for two, and she was right ... the leftovers of mashed potatoes with roasted garlic ($4.50) and asparagus with Hollandaise ($6.95), fed us for days. The ends of the asparagus were carefully peeled, and it was steamed to perfection. The hollandaise appeared to have come from a jar. A Matterhorn mound of potatoes would have been enough for four. They were extremely rich with butter and cream, not noticeably garlicky, and very, very heavy.
We probably should have passed on dessert as we did on appetizers, but hey! A competently prepared, traditional creme brulee ($5.25) and the chocolate praline "encore" ($4.95), a sort of hybrid pecan pie and chocolate mousse, were too tempting to resist, and they both passed muster.
With a decaf ($1.50) and cappuccino ($3.95) to finish up, a very filling dinner for two maxed out at $134.70, with a $25.30 tip rewarding the server more for her polite enthusiasm than her skill. $$$$ <!REVIEW ENDS HERE!>
---