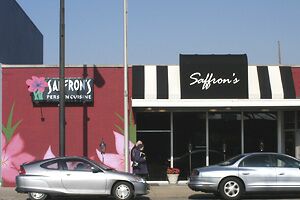 89

Saffron's
131 W. Market St.
(502) 584-7800

<!REVIEW GOES HERE!> UPDATE: Over the five years since its opening, Saffron's has built on this strong start and has matured into an even more stylish establishment that brings together proprietor Majid's strong front-of-the-house skills with a commitment to quality in the kitchen and on the dining tables. It's one of the relatively few local spots that I respect so highly that I return here often, even when I'm not reviewing.
--RG, January 2006

For more than 20 years there's been a strong Iranian accent in Louisville's high-end restaurant scene. A number of the key players in the city's best eateries trace their roots to the ancient Middle Eastern nation that went through disruption in the late '70s, prompting quite a few Iranian students at U of L to change their plans and make their homes and careers here.
Several local Iranians found their way to jobs in restaurants featuring Italian, Continental and other familiar cuisines; it's only in 2001 that we're finally blessed with a quality restaurant featuring authentic Persian fare (Persia being the ancient name for the country that we know in modern times as Iran).
So welcome Saffron's, a small but hopeful downtown spot just a step from the expanded Kentucky International Convention Center, founded by Majid Ghavami, a veteran of Casa Grisanti and Vincenzo's.
"I wouldn't have tried this five years ago," Ghavami said of his decision to offer an unfamiliar ethnic cuisine in Louisville. "But I think we're ready for it now."
Located in a small, modern building that shares an entryway with a Subway fast-food spot (don't accidentally turn right - the food's much better on Saffron's side), the restaurant fills a large, open room with a serving bar in one back corner and a large-screen television in another. The decor is spare but attractive, earth tones and black. Persian music plays in the background, easy-to-listen-to melodies with a sinuous Eastern sound.
Large black tables are comfortably spaced and set with salt, pepper and a Persian specialty, shaker jars of reddish-purple sumac, the ground red berries of the sumac tree, a spice that's granular like salt and adds a pleasant, delicately smoky flavor to the dish. "It tastes purple," my wife declared, and she's right, although this is not exactly a helpful description.
Saffron's is currently open only for lunch on weekdays with a short selection of Persian dishes plus pizzas. For a more serious exposure to Iranian fare, I recommend dropping in on Saturday, when a more extensive Persian menu is available through the afternoon and into the evening.
Prices are affordable, with appetizers in the range of $1.50 to $2.95 and entrees from $7.50 (for khoresht or stews) to $10.95 (for a beef and chicken kabob makhsoos). Only soft drinks, coffee and tea are served in the beverage department.
Our meal began with a sabzi plate ($1.50), an intriguing Persian starter that features a big bowl of mixed fresh herbs (mint, parsley and leafy tarragon) with a block of feta cheese, radishes, green onions and pita bread. Ghavami showed us how to take a pita wedge, put a bit of feta cheese in it, then roll it up with a ration of fresh herbs, a radish and a green onion to make a finger sandwich. Delicious!
An appetizer, Cashke Babemjan ($2.95), was made of chopped eggplant fried with yogurt and aromatic spices, topped with a dab of yogurt and herbs, with pita wedges for dipping. We had expected something creamy and rich like the Arabian baba ganoush, but the texture and earthy flavors of this Persian alternative quickly grew on us.
A main-course dish of Khoresht Ghaarch (chicken and mushroom stew, $7.50) hit the spot. It was a light stew, with yellowish saffron-hued chicken cubes so tender that they melt in your mouth like butter, with button mushroom halves and crisp matchstick potato sticks floating in a golden saffron broth with a sprinkle of sumac, and white basmati rice on the side. It was deliciously aromatic, not hot, with elusive wafts of Near Eastern spice so exotic that we don't even have names for them.
My entree, ground beef and flank steak kabob ($9.95) featured two generous kabobs, removed from their sticks, perched on a mound of deliciously jasmine-scented basmati rice sprinkled with a few bright-yellow saffron-colored grains and flanked by roast tomato wedges and a little garnish of tomato, red onion and cucumber dice lightly dressed with vinegar and parsley. Tender and grilled to perfection, the flank steak was crunchy on the outside, juicy in the middle; the ground beef, formed into a rough sausage shape, was juicy and flavorful, too.
We finished off with another surprise from the kitchen, a Persian tradition, rosewater and saffron ice cream with pistachios. The first bite was, well, odd, at least to Western tastes; the floral scent was so eerily reminiscent of hand soap that I felt I should be washing my hands in it, not eating it. But something seductive - the beautifuly pale-gold color, the floral roses, the earthy pistachios - drew me back for a second bite, and a third, and suddenly it was gone and I wished I had some more.
A filling lunch for two, really more of a Saturday midday dinner - delicious in its own right and doubly so for the adventure of discovering a new cuisine - came to $22.68, plus a $4.32 tip. $$

<!REVIEW ENDS HERE!>
---