Older Archived Reviews
This is an older archived review. The Search Feature on this page may not work. To search this site, please return to our Home Page and try your search from there.
---
<!REVIEW GOES HERE!>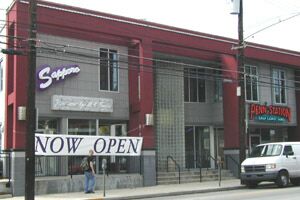 89

Sapporo Japanese Grill & Sushi
1706 Bardstown Road
(502) 479-5550

(See below for a review of
Sapporo's Middletown location
.)
Trendy, even glitzy, with hard-edged "industrial" decor, black marble and shiny chrome and glass and rippling purple and green neon, Sapporo's new entry on Bardstown Road is a welcome new addition to the city's growing cadre of sushi bars.
There's full table service (including Benihana-style teppanyaki grills with slice-and-dice chefs), but the sushi bar alone makes Sapporo a standout. Fashioned of shiny black-marble and glass in the shape of an elongated L, with 24 classy brushed-aluminum seats, it's clearly the largest in town, long enough to accommodate a trio of friendly, English-speaking sushi chefs. And best of all, the fare is right up there with the decor: In scope, decor, service and most of all quality, Sapporo ranks at the top of the local sushi standings.
I had previously assumed, based on its similarity to local sushi franchises, that the suburban branch of Sapporo was a cookie-cutter outlet of a national chain, but the manager here says that's not so: The restaurant is locally owned and operated, and this branch on Bardstown road fits into its urban setting as seamlessly as, well, the suburban branch fits into Middletown's miles of shopping strip.
It offers full lunch and dinner service as well as the teppanyaki grill. But the sushi bar is where it's at, and it's where we were, present and ready for duty during the restaurant's first week of operation. (It opened Sept. 19.)
The sushi chef greeted us with a complimentary bowl of cool cucumber julienne in a sweet-tangy sauce, topped with crunchy rice noodles, to enjoy while we perused the sushi menu. With more than 75 selections, it's clearly the city's most extensive, featuring scores of nigiri sushi (raw fish on balls of rice) from $1.25 to $5.50 for a pair; maki sushi (fish and other goodies rolled in vinegared rice and crisp black seaweed) from $3 to $10.25 for rolls cut into six bite-size rounds; hand rolls (like sushi ice cream cones in edible seaweed) from $3.75 to $4.50; and sashimi (artfully cut and displayed raw fish) from $7.50 to $10.
Using the tiny golf pencils supplied to tick off your menu choices, I quickly selected eight items - two nigiri, three maki and three specialty items, adding "That's plenty" with a satisfied grin. "It's more than plenty," my ever-vigilant spouse opined.
We began with Japanese miso soup in big white bowls. It was salty and "meaty" (actually made from high-protein fermented soybean paste and bonito dried flaked fish), loaded with tender seaweed leaves and minced scallions. It made a warm and pleasant way to start a Japanese meal.
The maki were presented on a shiny wooden tray, artfully displayed as sushi should be. Tekkamaki ($4.75) was fine, with generous bits of impeccably fresh raw tuna rolled in tart sushi rice and crisp black nori seaweed. A less familiar Negihama roll ($4.75) made a pleasant contrast, with delicate yellowtail and aromatic scallions wrapped in a sushi roll. A specialty maki, Yum Yum roll ($5.75), was made in the "inside-out" style with rice on the outside, seaweed rolled within, filled with crisp julienned cucumber and shredded crab marinated in hot sauce. It offered a stunning counterpoint of flavors and textures.
Spicy Green Mussels ($4.50) were really excellent, five oversize and perfectly fresh beauties, steamed, cut into chopstick-size pieces and reassembled in their shells in a tangy, vinegary marinade with an artful topping of what appeared to be carrots cut into perfect, tiny brunoise-style dice.
Nigiri sushi were beautifully formed and unusually generous in size, oversize rectangles of snapping-fresh tuna (maguro, $3.95) and mackerel (saba, $3) on balls of rice. The tuna was as tender and delicate as fresh rare filet mignon; the mackerel, as it should be, was meaty and full-flavored, without the slightest whiff of fishiness.
Salmon-skin salad ($4.95) made an intersting variation on the usual Japanese-restaurant salad. A good-size bowl of crisp iceberg lettuce with a sweet-ginger dressing was topped with crunchy bits of broiled salmon skin and bits of dried bonito in place of croutons. Japanese food being a treat for the eyes as well as the palate, it was presented with an artful display of long, thin strips of carrot and barely cooked asparagus.
The meal ended as it began with a complimenary treat, a display of artistic knife work on an orange half, cut apart, turned over and reassembled as a mini-fruit sculpture on a base made of the emptied orange rind. A taste of tangy citrus is appealing after a lunch of fish - raw or otherwise.
A very large sushi lunch for two came to $36.72; sushi is not cheap, but this is within reason by the standard of sushi bars in Louisville and elsewhere. We added $6 for the polite server who brought our soups and green tea and kept our water filled; another $5 went into the sushi chef's tip jar. $$$
(September 2001)
---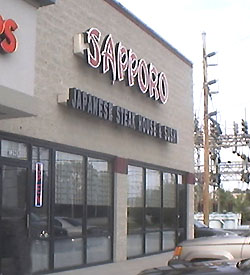 ** Sapporo Japanese Steakhouse & Sushi
12905 Shelbyville Road
(502) 253-0036
For centuries, poor people and peasants in Japan have enjoyed teppanyaki, a simple form of outdoor cookery in which a metal sheet is suspended over a fire and used as a cooking griddle. During the lean years after World War II, this cooking method evolved into okonomiyaki shops, modest eateries with a narrow serving counter along a long grill, on which the chef would slap together crepe-like dishes stuffed with goodies - inexpensive and filling food that he could produce while showing off his skill with the kitchen knives.

Then in 1964, Japanese businessman Rocky Aoki opened a restaurant in New York City that took this kind of cookery to a new level. His food-as-theater concept, Benihana of Tokyo, introduced a whole generation of Americans to what we thought was Japanese cooking but was actually more of an international hybrid like chop suey or pizza pie. And Benihana in its turn was so successful that it spawned a nationwide chain (even a branch in Tokyo called, inscrutably, "Benihana of New York"); and Benihana begat a variety of imitators.

All of this is by way of noting that another Benihana-style eatery has come to Middletown in Louisville's far East End, a shopping-center storefront in a small strip mall in the huge empty parking lot that served the now-vacant Bigg's.

Sapporo Japanese Steakhouse & Sushi isn't just for teppanyaki, though - it offers diners a choice.

For those who want the slice-and-dice extravaganza, four teppanyaki grills, each seating about eight, are placed under huge smoke hoods in a separate room behind shoji screens in the back of the restaurant, behind a small bar that serves primarily as a waiting area. Dinner at the grills is priced according to your main ingredient and will range from $11.95 to $22.95. In another corner, the L-shaped sushi bar houses about 20 diners who can sit and interact directly with the sushi chefs, pointing at various items and watching as they are prepared. The main room holds another 20 tables where you can order from the menu and, if you wish, enjoy tableside preparation of fancy dishes like sukiyaki ($17.95) or shabu shabu ($22.95).

The room is simple, almost spare, in Japanese style, with beige walls and light oak, paper shoji screens and a couple of large potted plants. Tables are large and undraped, with simple wooden chairs, and the Japanese servers generally have excellent English and are happy to explain the menu.

It's easy enough to figure out, anyway, even if you're not accustomed to Japanese food; every item is listed by its Japanese name with a simple English explanation. It includes mostly popular Japanese dishes without anything particularly adventurous, but everything we tried - and we tried a lot - was consistently tasty and well-prepared.

Nearly two dozen appetizers ranger from $2.25 (for oshi tashi, cold boiled spinach with bonito fish shavings) to $7.50 for sashimi, a meal-starting array of sliced fresh raw fish. Edamame (soybeans in the pod, pop 'em and eat 'em like peanuts, a popular bar snack), are $3; gyoza (fried dumplings) are $3.50, and breaded-and-fried oysters ($3.50), scallops and shrimp ($4.50) are also available.

A good selection of more than two dozen entrees breaks out into noodle dishes (like batter-fried shrimp tempura on a bowl of udon noodles, $12.95); combination dinners (from $14.95 for sweet-soy-sauced chicken teriyaki and fried tempura to $19.95 for teriyaki, tempura and an order of sushi); "regular dinners" from as little as $8.50 (for tonkatsu, a breaded pork cutlet) to $19.95 (for lobster and steak); and sushi/sashimi combos from futomaki (giant sushi roll) to extravagant "love boats" for two, massive sushi and sashimi displays that range, depending on size, from $24.95 to $44.95. All entrees come with hot miso soup, a fresh salad with house dressing, and steamed or fried rice. You can also order sushi a la carte to go along with your meal.

We put together a sushi order of three maki sushi (rolls) - kappamaki (cucumber roll, $3), tekkamaki (tuna roll, $4) and California roll (avocado and "crab," $4.50), each sliced into six rounds; and pairs of nigiri sushi (fish bites on balls of rice) - saba (mackerel, $2.75) and ebi (cooked shrimp, $3). Everything was well prepared and the fish was firm and fresh - critical for raw-fish sushi items.

Sushi takes a while to prepare, and it helps to understand that: On a crowded night, your order and a lot of other people's, too, will be made by hand, and even with three artisans at work, it can take a while. Still, a wait of at least a half-hour on a crowded Friday night was long enough to make us sit up and take notice, and long enough to prompt the manager to stop by and apologize. Then, when our sushi order finally came, it arrived almost simultaneously with the soup and the salad, which made for a bit of frenzied eating after a long period with nothing to occupy us but beer, water and conversation.

The dinner salad was simple but quite good, crisp and cold; fresh iceberg lettuce and a bit of shredded carrot and red cabbage with a standard Japanese dressing with ginger and orange. The miso soup was salty and hot, a thick bonito-laced broth with a few bits of tofu and seaweed leaves.

Japanese fare doesn't really call for Western table wines, and Sapporo's wine list is appropriately short, mostly mass-market stuff in an appropriately low price range from $10 to $20. The also offer a limited selection of sake (from $3.50 to $19.95) and plum wine.

After starting with a Sapporo beer in a big aluminum can the shape of a mortar shell, I switched to sake with my main course, choosing not the traditional warmed variety but an ice-cold Sho Chiku Bai ($9.95 for a 300 ml bottle with a plastic screw cap), which seemed more appealing on a hot summer evening. Labeled "Premium Ginjo Sake," it turned out to be a U.S.-made product from a firm called Takara Sake USA in Berkeley, Calif. Clear as water, it smelled like cold steamed rice and had a crisp, fresh flavor that reminded me a bit of a dry white wine and went well enough with the Japanese fare.

An appetizer order of shrimp and vegetable tempura ($4.50) featured eight big pieces of tempura, crisply breaded with egg and crusty panko (rice flour). Two very large shrimp and oversize pieces of broccoli, eggplant, onion ring, mushroom, zucchini, sweet potato, and a slice of green pepper were sizzling hot and grease-free.

My wife's main course, flame-broiled saba (mackerel, $9.95) was a beautiful piece of fish, cut across the skin side with a diamond slash pattern and broiled dark brown. It was served with roasted vegetables cooked just tender (roll-cut carrots, potatoes, cauliflower and broccoli), with a garnish of curly endive and an orange slice.

I chose a daily special, a bento box ($19.95). I remembered this custom with delight from a trip to Japan years ago: Every train station has food vendors selling these takeaway lunches, a box with multiple compartments, each containing an interesting tidbit, the whole making a beautiful, edible display of food-as-art.

This one was much more hearty than the delicate bentos I enjoyed in Japan, though. Another huge mound of tempura was piled in one compartment of an oversize lacquer box, surrounced by a trio of gyoza (fried dumplings), a chicken breast teriyaki-style, and two big pieces of salmon teriyaki, swimming in almost too much of a sticky, sweet soy-based sauce, with a pile of roasted vegetables and on oversize scoop of hot steamed rice.

Just about the time I started making inroads into this ration, along the server came with the rest of the course: a semicircular dish containing perfect sashimi: two pieces of bright orange raw salmon and three medallions of dark-purple raw tuna, arranged on a haystack of shredded daikon radish with hot green wasabe horseradish and pickled ginger.

We really ate more than we should have - I would never have asked for a tempura appetizer if I had known a pile of tempura was coming on the bento - and it was probably excessive of us to order a la carte sushi and appetizers.

But hey, it was all delicious, and we still kept the total down to $76.63 plus a $12.37 tip. It would be easy to enjoy a filling dinner here for a whole lot less. $$$ <!REVIEW ENDS HERE!>