Older Archived Reviews
This is an older archived review. The Search Feature on this page may not work. To search this site, please return to our Home Page and try your search from there.
---
<!REVIEW GOES HERE!>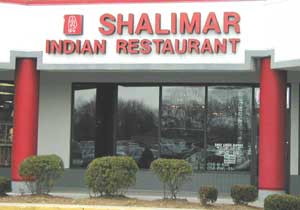 89

Shalimar Indian Restaurant
1820 S. Hurstbourne Lane
Hunnington Place Shopping Center
(502) 493-8899

Website:
http://www.shalimarlouisville.com
With more than a decade of experience pleasing the taste buds of Louisville-area diners, Shalimar has earned its place as the city's longest-lived Indian restaurant and stood the test of time.
There has been a lot of activity on the local Indian restaurant scene recently. India Palace has moved from Buechel to Hurstbourne and Maharajah, a sibling of Shalimar, has opened in the old Shariat's; not to mention last year's arrival of the lovable all-vegetarian Annapurna's Veggie Place and the buffet at Bombay International, and the recent closing of the short-lived Haveli Indian and its sister eatery Chutnee's.
Accordingly, this seemed like a good time to check out Shalimar again, along with visits to a couple of the newer spots. The results? Shalimar still holds its place as the city's top Indian table, although it's a very close call against the rejuvenated India Palace and the usually reliable Kashmir.
Shalimar anchors the corner of the L-shaped Hunnington Place shopping strip at I-64 and Hurstbourne Lane (near Liquor Barn), and its management also has an excellent Indian grocery just a few doors down the strip. Its corner space yields an unusual diamond-shaped room that begins at a narrow point and opens as you walk in, with a wall of mirrors across the back that make the room seem twice as big as it is. The decor is discreet, beige tones and attractive, understated framed Indian prints.
Three large brass chandeliers that would not be out of place in the foyer of a tract mansion in nearby Hurstbourne rather dominate the dining room. The chandeliers and art-deco wall sconces provide dim but adequate lighting. Comfortable booths upholstered with subtle red, green and gold stripes provide much of the seating, plus a few tables for four. Tables are draped in white cloths protected under glass, and are set with peach-color polyester napkins, blocky glass votive-candle holders and simple flatware. Indian music plays softly in the background, just loud enough to add to the exotic atmosphere but not sufficient to distract.
Servers are well dressed in the discreet and rather starchy style typical of British-Indian spots, jacketless white dress shirts with tasteful neckties; a few gentlemen sport Sikh-style beards and turbans.
As soon as we were seated, we were presented a pair of complimentary pappadums, the delicious Indian fried lentil crepe, paper-thin and glass-crisp, about as big as a dinner plate broken in half, dotted with bits of herb with an elusive aromatic flavor. It's a tasty, crunchy way to whet your appetite, and we munched them so fast that the server smilingly presented another complementary serving. (They're also available on the menu at $1.50.)
Shalimar's extensive menu includes eight appetizers, from $2.95 for vegetable pakoras (fritters) or vegetable samosas (pastry turnovers) to $7.95 for an appetizer sampler platter, plus soups for $2.25 to $2.50. More than 50 main dishes top out at $14.95 for a "thali" sampler dinner, literally served on a silver platter ($13.95 for the vegetarian-only version). Subdivided into chicken, lamb, seafood and rice specialties plus grilled meats from the clay tandoori oven and more than a dozen vegetarian courses, entrees range in price from $7.95 (for several vegetarian items) to $12.95 (for the house specialty Biryani rice, an overflowing bowl of basmati rice loaded with chicken, lamb, shrimp, veggies and white paneer cheese).
There's a short wine list, but to be frank, even the most enthusiastic wine nut is better advised to enjoy beer (or the non-alcoholic Indian yogurt drink, lassi ($2.25) with this ethnic fare. We split an oversize bottle of Taj Mahal ($5.95) and eventually split another. Like most tropical beers from around the world, it's light and gently hoppy, not at all exotic, in the style of the lager beers of Germany. Happily, it seemed fresh, a tribute to the benefits of modern transportation networks. (Ordering Indian beer in Indian restaurants in the U.S. was a sure ticket to skunky, stale brew a few years ago, but thankfully no more.)
We began with a vegetarian platter appetizer ($6.95), a generous plate that provided plenty for two to share. Two paneer pakoras, 1 1/2-inch squares of lightly breaded and deep-fried paneer, the simple mild Indian white yogurt cheese, resembled nothing so much as mozzarella sticks, but woke up with a spicy red onion chutney, hot-sweet green mint chutney and clear, brown sweet-sour tamarind sauce in place of the marinara sauce that accompanies its Italian cousin. Five veggie pakoras were crunchy and addictive, hush-puppy-size dark-brown fried rounds of spicy batter and shredded vegetables. A golf-ball-size somosa consisted of pastry wrapped around a spicy blend of potato-and-pea puree with cilantro, fried into a crunchy vegetarian treat that could probably have passed for a ground-meat turnover if we weren't paying attention.
A main dish, seekh kabab ($12.95, one of the tandoori specialties), came out sizzling loudly on a red-hot metal platter seated in a protective wood holder. It was weighted down with at least a dozen good-size cylindrical chunks of ground lamb, pulled from the skewer, tender and flavorful, not at all fiery but suffused with lemony ginger and the other elusive, exotic flavors that I love in Indian food. It was surrounded with a mound of crisp squares of almost raw red and white onion that made a surprisingly good foil for the lamb.
Another entree, shrimp jalpharezi ($11.95) was served in an oval metal dish that looked small but proved to contain an ample portion of this rich dish. At least a dozen pieces of good-size shrimp were tender and not overcooked, tossed with broccoli florets, chunks of green pepper and onion in a rich, spicy brown vegetable puree suffused with garlic and fresh ginger and a distinct edge of peppery heat.
Keema naan ($2.95) was listed under tandoori breads but proved to be almost a main dish in itself. Sort of like a very thin lamb sandwich or a hamburger that's been run over by a bulldozers, it was a thin circle of nicely charred naan flatbread, split and filled with finely ground cooked lamb and a rich taste of butter (or maybe clarified ghee) and cut into serving quarters.
A cup of raitha ($1.95), a cool soup of creamy yogurt with a relatively few shreds of fresh cucumber swimming therein, made a cooling palate-soother after fiery fare.
Dal, the basic Indian lentil soup that accompanies most entrees, was thin but flavorful, too, a "meaty" brown vegetarian soup with a few tender lentils at the bottom of the cup.
Basmati rice, also prsented with meals, was perfect: Hot and tender and every grain separate, infused with an appetizing floral scent of jasmine.
I love Indian desserts and desperately wanted to try one, but we had eaten so much by this point, even with a doggie bag to take home half the lamb and a good portion of the rice, we just couldn't find the tummy room. Next time!
Even at the upscale level, Indian food remains relatively affordable in Louisville: A hearty dinner for two, really more than we needed, came to $51.57, with a tip to round the bill up to $60. $$$

(January 2004)
ACCESSIBILITY: Modern shopping center space affords full, independent access to wheelchair users.
<!REVIEW ENDS HERE!>