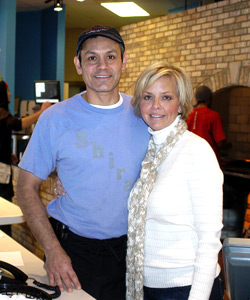 Ramin and Cheryl Akrami at Shiraz Mediterranean Grill in Holiday Manor. Photo by Robin Garr.
(Shiraz Mediterranean Grill, Voice-Tribune, Dec. 13, 2007)
If you love a good success story, consider Shiraz Mediterranean Grill. It would be hard to find another modest restaurant in Louisville that started so small and grew so fast.
It seems much longer than just a year and a half since Ramin Akrami opened the first Shiraz, a tiny, four-table eatery almost hidden in a row of frame huts on lower Brownsboro Road. It quickly outgrew those quarters, and within six months Akrami moved to more spacious modern facilities in the new Clifton Lofts complex on Frankfort Avenue. Now Shiraz has come to the East End, with a shiny new branch in Holiday Manor Walk, an expansion that Akrami hopes will be a link in a growing chain.

Shiraz features the cuisine of Persia, from where Akrami and his parents migrated in the 1970s after the Ayatollah Khomeini's revolution in their native Iran. His father became famous among Louisville's sizable Iranian community as a high-quality caterer; now Ramin joins a crowd of other Iranians in Louisville's restaurant business who are making this aromatic, subtle Southwestern Asian cuisine almost as familiar as pizza or sweet-and-sour chicken.
The new Holiday Manor Shiraz imparts a new look to the space that had previously housed a Dooley's Bagel and a chain pizzeria. Bold walls of tomatoes, saffron and sky blue and an oversize Persian carpet contribute to a warm atmosphere, and a stone wall behind the sleek aluminum counter frames a large charcoal grill. At the back of the room, a private nook is attractively decorated, with a striking, pool-table-size art-glass lighting fixture overhead that Akrami built into an old pizza oven vent hood.
Put in your order, get your own fountain soft drinks and take a seat at one of the pretty pastel-look tables while you wait for someone to bring out your meal. It won't take long, and it will be an excellent repast.
Appetizers come with crisp, oversize rounds of Persian lavash, a kissing cousin to pita, flaky white oven-roasted flatbread that's both chewy and tender.
Shiraz eggplant ($4.99), a great vegetarian option, is a textured, coarse mash of grilled eggplant, scrambled egg and aromatic spice, with smoky, "meaty" flavors hard to imagine in a meatless dish.
Tabbouleh ($2.99) is green and fresh, crunchy grains of bulghur wheat mixed with fresh parsley, diced tomatoes and onions and a light, tart-sweet dressing.
New to the menu is the Shiraz roll ($3.99), a ration of sabzi – a mixed Perzian blend of tart and peppery fresh chopped herbs – rolled up on a lavash round with creamy, tangy Bulgarian feta cheese and diced tomatoes, then cooked on a panini grill until it's hot and crispy. Dusted with sumac, the salty-smoky, purple Persian spice, it's a crisp and addictive hot vegetarian sandwich.
Mahi kabob, the most pricey item on the menu at $11.49, justifies the expense with 1-inch cubes of fresh, juicy fish, dusted with spice and grilled crisp over oakwood and coals. It's served with an oversize mound of tender herbed basmati rice.
Koobideh kabob ($3.49), one of my favorites, consistes of a foot-long, flat strip of intensely flavored, textured ground chuck, laced with herbs and onions, grilled until it's seared and juicy, stretched across a lavash half-moon with a dark-charred grilled tomato, crisp strips of raw white onion and fresh parsley. I was just about to roll it in the lavash when Akrami, who constantly patrols the floor to make sure everyone is happy, came over to demonstrate the Persian way to eat this dish: Take a plate of tender, saffron-scented basmati rice and eat a bite of beef, a bite of tomato, a bit of onion and parsley and a forkful of rice all at the same time. Amazing! The flavors pop like fireworks, and you can save the lavash for last.
Shiraz Mediterranean Grill
Holiday Manor, Suite No. 1
426-9954
www.shirazmg.net
(Another location: 2011 Frankfort Ave., 891-8854.)