Older Archived Reviews
This is an older archived review. The Search Feature on this page may not work. To search this site, please return to our Home Page and try your search from there.
---
<!REVIEW GOES HERE!>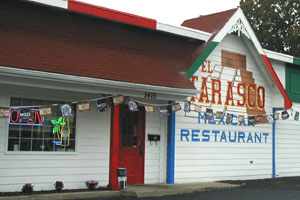 86

El Tarasco
5425 New Cut Road
(502) 368-5628

Louisville's growing cadre of Mexican restaurants seem to fall into three rough categories: The traditional local spots like Tumbleweed and the now-closed Chico's, which are pleasant but more "Mexican-American" than Mexican, toned down for cautious palates; immigrant eateries like La Tapatia and Santa Fe, where the chow is truly ethnic and so is the clientele, where Norteamericanos are welcome but may have to master Spanglish to take full advantage of the menu and the service; and a delicious new blend exemplified by Los Aztecas and El Nopalito, a happy new genre of restaurants run by Latinos and offering authentic Mexican food and atmosphere, but that reach out to Anglos and make it easy for us to enjoy a South-of-the-Border culinary adventure without the compromises of the more gringoized joints.
Now, standing out in the city's increasingly multicultural South End, add one more winning entry in the last category. It's no coincidence that El Tarasco bears more than a passing resemblance to the excellent Los Aztecas: They're owned by the same people, a server confided.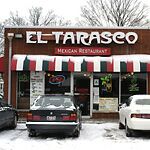 EAST END LOCATION:
El Tarasco
110 Fairfax Ave.
(502) 895-8010
East Enders accustomed to trekking out to the South End for El Tarasco's flavor of Mexican were delighted to welcome the opening of its sister eatery in St. Matthews in the winter of 2004.



Boasting a similar selection of authentic Mexican fare (more than 100 selections, most under $10, plus filling lunches for $4.75 to $6.50 and just $3.99 for specials), the new spot is attracting happy crowds in a virtual feeding frenzy.



It looks small from the front, anchoring one end of an unassuming shopping strip, but inside it extends back through two large rooms with simple, bright green-and-yellow decor, paintings of Mexican scenes and the requisite sombreros and serapes. Latino staff are cordial and speak English fluently, and the food is first-rate.



We enjoyed hearty lunch specials of carnitas ($6.25, fork-tender chunks of succulent pork, not unlike Kentucky "pulled" pork barbecue but without the smoke, served with three hot tortillas and deliciously smoky-spicy tomatillo salsa, creamy beans and Tarasco's excellent tomato-accented Mexican rice) and a burrito carne azada ($5.99, an oversize flour tortilla rolled around beefy strips of shredded skirt steak and topped with a glaze of melted queso blanca, accompanied with rice and a ration of homemade pico de gallo accented with fresh jalapeñoes and cilantro over shredded iceberg lettuce. The complimentary tortilla chips are addictive, crisp golden crunchies served with mild and hot homemade salsas.



A substantial lunch for two, with iced tea and a soft drink, rang up to just $15.84, plus a $3.16 tip for careful and smiling service. $

(January 2004)
The decor and style are typical of the genre. Housed in the large family-restaurant building that previously housed A Drive Through New Orleans, El Tarasco offers rows of large, comfortable booths surrounded by rather basic decor: A few Mexican-style paintings and lots of lighted beer signs. The bouncy strains of Mexican music (or Latino television on the big screens at either end of the room) add a Latino flair to the high sound level.
New arrivals are quickly greeted with generous bowls of crispy tortilla chips and excellent salsas, not chunky but almost purees of tomatoes and chile flavorings that come in both mild and hot. That's HOT ... be cautious if you don't like it piquante.
The menu is very similar to Los Aztecas, featuring a very large, if oddly organized, selection of close to 100 choices, subdivided into "especiales," "Grande Tlaloc" (enchiladas), dinners, burrito dinners, quesadillas, vegetarian specials and combination dinners. The one common and attractive feature is that almost nothing is priced over $10, and many filling dinners can be had in the $6 to $7 range.
On one brunch-hour visit, I risked Huevos con Chorizo ($4.99), dry-scrambled egg mixed with a very generous ration of rich, spicy chorizo sausage meat dripping a scary orange-colored grease. It probably wasn't good for me, but what a wonderful brunch. The accompanying beans and rice were exceptional: a thick, creamy and steaming puree of long-cooked frijoles was topped with a pool of molten queso blanco, and delicate rice was suffused with the subtle flavors of tomatoes, green peppers and onions and chilies that sing with the rice but don't drown it out.
Carnitas ($8), one of our favorite Mexican dishes, was a large portion of long-cooked pork, large cubes cooked until tender and flavorful, served with the same excellent beans and rice. Both meals come with plenty of hot flour tortillas on the side.
Our first impression was so good that we couldn't resist trekking back to the South End another day, and were just as impressed. This time we went a la carte with tacos ($1.50 each, three for $4.25). Large, paper-thin and glass-crisp fried corn tortilla shells were packed chock full of spicy ground beef, crisp shredded iceberg lettuce and pleasantly earthy queso blanco. In an olympic event they might have taken a close silver to El Nopalito's gold, but that's being picky: They were fine, and prompted us to look down the block at the neighboring Taco Bell and wonder, "Why would anyone make that choice?"
Guacamole ($2.75) was fresh and obviously home made, a chunky mix of mashed avocado that retained some of its texture, with dashes of cumin and chile powder to give it personality. A beef tamale ($1.95) seemed a bit more Norteamericano in style. The tamale was fine, a small amount of tender meat and gentle spice packed in a baked cornmeal tube; but without being requested, it was buried under a mild chile sauce, enchilada-style. It wasn't unpleasant, but I had my taste buds set for a tamale au naturel, maybe in a corn shuck.
The first day's lunch was $15.67 plus a $3.33 tip for a meal so large that we literally skipped dinner that night. The next lunch, a bit more rational, was $13.77 plus a $3 tip. $
<!REVIEW ENDS HERE!>