!REVIEW GOES HERE!> Tea, glorious tea: A tasting lunch at Limestone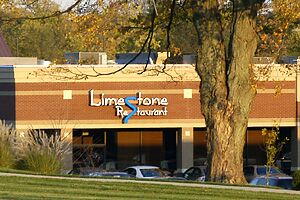 Visualize, if you will, the winning bill of fare in an Iron Chef battle based on tea: Brewed tea as a flavoring, tea reductions in sauces, even tea leaves as ingredients in dishes. Then add an international tasting of hot teas chosen to match each of four dishes in an innovative, eclectic luncheon menu.
Bizarre? Maybe. But delicious, too, as executed in a midday Saturday affair at Limestone restaurant in Louisville's eastern suburbs, where creative chef-owners Jim Gerhardt and Michael Cunha came up with unusual dishes based on high-end teas. Tea expert David Lange, vice president of Consumers Choice Coffee, a local wholesale firm, served as "tea sommelier," serving teas that he, Gerhardt and Cunha chose to match each course.
Lange also presented a quick, simple tea tutorial, accompanied with dishes of tea leaves passed around for sniffing. The event was sponsored by the American Institute of Wine and Food (AIWF), a non-profit educational organization founded in 1981 by Julia Child and Robert Mondavi, now based in Louisville, with the mission of improving the appreciation, understanding, and accessibility of food and drink.
Gerhardt and Cunha, formerly chef and sous chef at the Seelbach Hotel's Oakroom, opened Limestone last autumn (in fact, the Jan. 17 tasting marked the restaurant's 100th day of business, Gerhardt said). Ranked among the city's top chefs, they showed their stuff at this luncheon, coming up with delicious, well-balanced dishes that weren't thrown off their stride by a decidedly offbeat theme ingredient. By and large, each dish showcased tea flavors as an accent or a spice, without dominating the presentation.
Lange's tea selections were chosen well to match the foods, although for educational purposes I would have enjoyed a tasting that featured various tea varieties, allowing us to compare black teas, green teas and oolongs, for instance, or Keemun and Assam, genmaicha and pu-ehr and so forth.
Following are my brief notes on each luncheon course and the teas that accompanied it.
Aperitif tea: Green tea with toasted rice (Genmaicha). Very pale in color, delicate and herbal, with an attractive, nutlike quality from the toasted rice particularly evident in its aroma.
Appetizer: Tea smoked diver scallop with tea butter. Two huge scallops almost the size of golf balls were cold-smoked over Earl Grey for 20 minutes, then served on a colorful bed of briefly marinated ("fresh-pickled") julienne red bell peppers, carrot and other crisp vegetables, sauced with an extremely rich butter sauce flavored with an intense Earl Grey reduction. The scallops were perfect, cooked just opaque and gently infused with spicy smoke. The accompanying tea for this course was not a tea but a herbal tisane, a tangy, slightly medicinal-tasting infusion of chamomile and citrus.
Salad: Kentucky Bibb lettuce with tomato and spiced pecans. Crisp, tender Bibb lettuce leaves in a circular arrangement, topped with a rather pale winter-tomato concassé and finely diced pecans, dressed with a rich, earthy rice-wine vinegar and extra-virgin olive oil vinaigrette flavored with a pinch of sugar, twice-steeped green tea and a few of the crushed steeped tea leaves. Lange chose a spicy orange jasmine tea, a blend of black and green teas, flavored with jasmine, vanilla, orange peel and oil of bergamot.
Main course: Tea-crusted medallion of beef. A spectacular use of tea to accent a savory dish, this was the highlight of the meal for me (not that the other dishes weren't memorable). A petite Black Angus tenderloin had been crusted with a mixture of crunchy, needle-like emerald-tip green tea leaves, crushed fennel seed and coriander seed and pan-seared medium rare, topped with crisp fresh watercress and plated on Limestone's rich, creamy grits with a veal demiglace flavored with - you guessed it - a reduction of emerald-tip green tea. The flavors were spectacular, the crushed tea-and-spice coating adding an attractive herbal bitterness to the beef, and a wisp of tea flavor lifting the sauce. Gerhardt likened the green tea to tarragon, an analogy that he said guided him in choosing this variety for the dish. This course was served with the only straight-up, unflavored tea of the meal, a strong and hearty cup of English Breakfast Tea, an Assam and Keemun blend.
Dessert: Oolong tea ice cream and red-currant tea syrup with dried tropical-fruit biscotti. Served in a wine glass, a small scoop of off-white ice cream bore a distinct tea character from the Yellow Jade Oolong it was made with, and the tea flavor was reinforced by a thick, sweet sauce made by an intense reduction of strong red-currant tea "sweetened like Turkish coffee," in Gerhardt's words. Crisp fruit biscotti dipped in dark chocolate made an addictive crunchy accompaniment, and a Moroccan black tea infused with mint, almost too minty on its own, came into perspective when sipped with the dish.
Pacing and service were fine, a leisurely lunch and casual lecture taking about two hours out of a drizzly January Saturday. Still, it was an educational edible experience: Kudos to all the sponsors for coming up with a memorable program.
Information about AIWF: (National) and (Louisville).
(Jan. 17, 2004)
<!REVIEW ENDS HERE!>
---