Here's one of those dark secrets that culinary experts usually speak of only in muted tones: You know the classic Danish pastry, the delight of pastry lovers and brunch fanciers for nearly two centuries? Listen close, I'm going to whisper: It isn't really Danish. It's Viennese.
Depending on which story you prefer, it's either a matter of corporate spying (Danish Royal baker Christian Ludvig Olsen "borrowed" the recipe from an Austrian baker he met in Germany in 1834 and brought it home), or of management union-busting (the Danish King summoned "replacement workers" from Vienna when his bakers went out on strike, and the strike-breakers brought the secret of this tasty delight along).
Either way, the Danes have made this succulent pastry their own, and you'd be hard-pressed to find a better model in the Old Country today than you can have right here in the Derby City at Danish Express, (102½ Cannons Lane, [502] 895-2863).

"Danish," after all, is this cozy spot's given name, and the Danish pastries here are as good as I ever ate: tender, rich pastry pillows the size of a fielder's mitt but much more savory, laced with a delicately crunchy mix of sugar and fine-chopped nuts and stuffed with the filling of your choice … my choice is invariably smooth, sweet cream cheese, although you can get cinnamon, apple, apricot, cherry, strawberry or blueberry too, $1.85 per as long as they last. (Come early, as they're baked fresh daily, and supplies usually run short by late morning.)
That would be a disappointment, but not the end of the world, since Danish Express also offers a half-dozen appetizing breakfast options, all in the affordable range of $3.25 (for an egg-and-bacon croissant sandwich) to $5 or so (for a well-stuffed omelet).
Danish Express is in relatively new quarters since the spring of 2005, having lost its lease in its former Lexington Road location to make way for Lotsa Pasta's recent expansion. The new spot seems popular, though – it was jammed, with a short wait, on a mild autumn Saturday morning.
It's a bright storefront with large windows to let in the light, olive-green walls decorated with large, attractive paintings of impressionistic wetlands scenes, and at the back of the room, a glass-front pastry case topped with a small white-cross-on-red flag of Denmark.
We enjoyed a "brown derby" ($4), which consists of a perfectly poached egg, the yolk just firming up but still creamy, perched on a slice of rather sweet Swedish rye toast and coated with a reasonable amount of an appetizing cheese sauce with just a piquant hint of cayenne to catch your attention. Two fine rashers of lean bacon, lettuce and tomato as a garnish on the side. A cheese omelet ($4.50) was well-made in the griddle style omelet, thin but tender, rolled around a good ration of melted yellow American (or very mild Cheddar) cheese, with four thick rectangles of very fine homemade white toast on the side.
Breakfast is served throughout the day (open 7:30 a.m.-3 p.m. weekdays, 8 a.m.-Noon Saturdays), and a short lunch menu is available at midday, including sandwiches (the usual suspects from pimento cheese to BLT, all $4.95, on your chose of homemade white, Swedish rye or croissant) as well as a collection of other goodies including a Hot Brown ($6.25) and another historic Louisville tradition stunningly misnamed "Lexington Green," Benedictine and bacon on rye.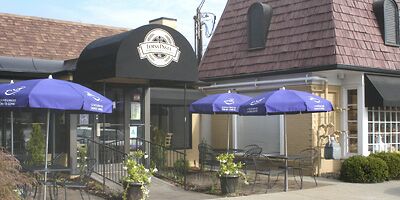 While we were in the neighborhood, we strolled around the corner for a coffee drink at the expanded Lotsa Pasta (3717 Lexington Road, [502] 896-6361), which has made splendid use of Danish Express's old quarters, which are now much renovated in a more discreetly tasteful Euro-style, decorated in earth tones toward the beige and taupe end of the spectrum. It's not really a restaurant so much as a pastry counter (with estimable looking muffins, scones, cakes and other goodies that we were way too full to try), with excellent coffee (from Consumer's Choice) and espresso drinks. You're also welcome to bring sandwiches or cold cuts over from Lotsa Pasta's retail side and enjoy them in comfort. It's another fine addition to the St. Matthews-area dining scene.