Older Archived Reviews
This is an older archived review. The Search Feature on this page may not work. To search this site, please return to our Home Page and try your search from there.
---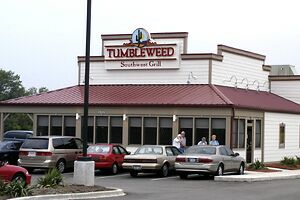 78

Tumbleweed Southwest Grill
8609 Citadel Way
(502) 493-0905

Website:
http://www.tumbleweedrestaurants.com/
<!REVIEW GOES HERE!> OK, let's have a peek at the menu ... this looks good: "Pacific mahi mahi with ancho lime seasoning on a bed of Cajun crab stuffing."
This does, too: "Tequila salmon, a meaty 8-ounce salmon fillet, mesquite grilled and served with tequila cream sauce."
Or how about this? "A meaty one-pound six-bone rack of baby back ribs, mesquite-grilled to be falling-off-the-bone tender."
Wait a minute! This is Tumbleweed?
Well, yes. But it's not your parents' Tumbleweed. The recent news that Tumbleweed has been selected to build a spiffy, glass-walled eatery on the banks of the Ohio in Louisville's Waterfront Park, and the concurrent announcement that when this new spot opens in 2005, Tumbleweed's familiar old quarters on Mellwood will close, doesn't really represent a new direction for this Louisville-based chain as much as it shows off an evolutionary change that was already well under way.
For those of us who remember when the Mellwood spot was the only branch of a Tex-Mex empire that has grown to 57 properties (including 32 company-owned units in six states), it's not easy to get your mind around Tumbleweed as a slick, chain-style "upscale casual" restaurant with a concept that's more southwestern bistro than the old cowboy-grub theme. But it's not hard to swallow, literally, if you give it a try.
On the advice of Rick Schardein, a friendly gent whose Louisville public-relations firm, CurrentMarketing, Inc., speaks for Tumbleweed, we dined recently at its relatively new Stony Brook property, which opened in March 2004, to get a reality check on the 'weed's new direction.
Now dubbed "Tumbleweed Southwest Grill" in full, with the matching slogan, "The best of the new southwest," this good-size building just off Hurstbourne Lane near Taylorsville Road is a boxy, franchise-look building with white-clapboard siding and a screened veranda, a somewhat Disneyfied take on a storefront saloon in an Old West town.
There's a large bar up front and a large, comfortable main dining room within. One wall preserves a taste of the old 'weed, with rough stone, knotty pine and cattle skulls; the rest of the room, though, conveys the new-Tumbleweed brand with a more soft-edged "Southwestern" feeling. It's upscale family chain-style with polished wood and exposed brick and beige walls adorned with framed family-room art with cowboy themes. Sturdy booths surround the perimeter of the room with freestanding tables in the middle, topped with laminate in an attractive reddish-brown burled grain look and set with old-fashioned wooden office chairs.
A free-standing black-steel fireplace in the round stands in the middle of the room, with antique-look Southwestern chandeliers made from antlers overhead. Big windows are shaded with heavy dark-wood venetian blinds, which is just as well since the busy suburban strip outside doesn't offer much in the way of a scenic view.
The large, multi-page plastic-laminated menu artfully carries out the Southwestern theme with a wild horse photo and barbed-wire motif on its glossy black cover. There's plenty to study inside, and we made good use of a 20-minute wait on a crowded week night, studying the goodies while waiting for our assigned pocket pager to flash and buzz to signal that a table was ready.
The menu begins with starters, many of them ample for a light-meal or barfood snack. Nine choices range from $4.99 (for chile con queso to $10.99 (for either of two appetizer samplers, the "Taste of Texas" with Buffalo-style chicken tenders, baby back ribs and "Arizona egg rolls" stuffed with smoked chicken and cheese; or "Best of the Southwest" with Tex-Mex bites including quesadillas and mini beef and cheese chimichangas and more).
Salads are $2.99 (for a baked potato "loaded" with bacon, colby and monterey jack cheeses) to $8.49 (for chicken pasta salad).
The dinner portion of the menu features an invitation to trendy Atkins or South Beach dieters: "Make it low-carb with grilled vegetables, mushrooms or a dinner salad and leave off the toast!"
The "Mesquite Grill" menu page features more than a dozen steaks (USDA choice, most accompanied by two side items), from $8.99 (for an 8-ounce "Border Burger" to $19.99 (for a 22-oz "cowboy rib eye"). A small 6-ounce center-cut sirloin steak is $9.99, and what you might call "surf, turf and barnyard" combos include steak and shrimp for $14.99 and steak and chicken for $12.99. A variety of steaks can be "topped" with grilled onions and jack cheese, seasoned mushrooms or bacon-and-blue-cheese for an extra $2.50; sundry toppings for the Border Burger are $1.49 each.
Another menu page offers 10 more entree options in the ribs, chicken, seafood and fish department, from $9.99 (for a single 8-ounce pork chop; get a pair for $13.99) to $19.99 for a "cowboy" double order of baby backs, a dozen meaty bones. Three seafood dinners, all $13.99, include the aforementioned mahi mahi and salmon and skewers of mesquite-grilled shrimp rubbed with ancho-lime seasoning.
This array of goodies has come a long way from the old 'weed, but if you're nostalgic, the "Flavors of the Southwest" page is reminiscent of the original Tex-Mex favorites. Fourteen dishes range in price from a taco dinner for $6.39 to sizzling steak fajitas with peppers and onions, $12.99. Or try just about all of it with a "need-the-Weed" sampler with a junior beef burrito queso-style (topped with mild cheese sauce, peppers and spices), a junior bean-and-beef burrito enchilada-style (topped with mild red-chile sauce and jack cheese) and a mini beef-and-cheese chimichanga with the queso on the side, all for $11.99.
Speaking of all that queso, I couldn't help noticing one slightly disconcerting note: This Mexican, er, Tex-Mex, uh, Southwestern restaurant boasts, "We proudly serve quality Wisconsin cheeses."
The menu's back page, "The Coyote Saloon," features the beverages department. You'll find lots of mixed drinks, particularly in the Margarita department. The standard "Tumblerita" is $4.50, add 50 cents for strawberry, raspberry, banana or peach. Have it made "Pure Gold" with Cuervo gold and Grand Marnier for $5.75; add another half a buck for Cuervo 1800. The "Texarita," the menu reports, comes in a 45-ounce vessel, "big enough to share." Hell, that's big enough to bathe in.
The beer list features mostly mass-market brands at $2.75 for a bottle of domestic beer, $3.50 for "premium imports." Draft beer is $2.25 for a regular mug, $3.25 for a 25-ounce model, $4.25 for a 32-ounce draft and $6.25 pitcher for a pitcher. "Ask about the local beers we serve," the menu invited. That sounded good, so I asked. This procedure earned me a deer-in-the-headlights look, followed by a tentative, "Bud and Bud Light?" Uh, no. She asked a supervisor, who announced that they used to have local beers but not any more.
The wine list is short and mostly mass-market, with about a dozen items by the glass for $4 to $6.75, and a few by the bottle for about $18 to $22. (If you want wine, pick at the upper end, where you'll find such reasonably interesting items as Fetzer Barrel Select Zinfandel from California, Casa Lapostolle Cabernet Sauvignon from Chile or a Covey Run Cabernet-Merlot blend from Washington State. Wine didn't feel right with our dinner choices, though, so I went with strong, fresh iced tea ($1.99) while my wife indulged in a Mexican Tecate beer ($3.50 for a bottle) served with a heavy, unchilled glass mug.
After studying the menu for what seemed like a long time, my wife suddenly burst into a whine. "They don't have the flour cheese crisp any more! That was my favorite!"
Indeed, they don't. Perhaps this familiar old Tumbleweed appetizer - flour tortillas sandwiched with molten cheese, without further adornment - is considered too simple for the '00s.
We settled on a shared appetizer that looked like the closest approximation to her old favorite, though, a small quesadilla appetizer ($4.99; the regular-size model is $7.29), which proved to be a pair of small flour tortillas stuffed with shredded chicken, very mild white cheeses (Colby and Monterey Jack, according to the menu) and a little chopped tomato, toasted crisp and cut in quarters. It was accompanied by a mound of wan looking iceberg lettuce, sliced tomatoes, a dollop of sour cream and another of guacamole. The latter seemed homemade, chunky and thick, spiced with a surprisingly zippy dash of cayenne, possibly enough to startle those whose palates aren't attuned to spicy heat.
It pays to be aware of Tumbleweed's chips-and-salsa policy, by the way: This familiar Tex-Mex starter is available to diners for no charge if you ask, but it will not be offered unless you specifically request it. The menu does not impart this information, and we learned of this only by asking at the end of the meal, when we were full and didn't want any anyway.
Dinner salads (served with our meals as one of our side-dish options) were pretty good, a reasonable portion of crisp, cool iceberg lettuce topped by two pale tomato wedges, shredded white and yellow cheese, chopped carrot and red cabbage and finely shredded bacon bits that weren't very crisp. The house dressing is thick and, creamy with a good dose of the smoky, peppery fire of chipotles (smoked jalapeñoes). I liked it, and I liked the pretty turquoise earthenware crock that it came in.
Steak fajitas ($12.99) were served sizzling on a hot black skillet housed in a protective wooden base. Not the usual thin-sliced flank or skirt steak, these were thicker, lean rounds of something like sirloin, cooked about medium (as requested), served atop a pile of sauteed onions and garnished with a few thick-cut rings of green and red bell pepper, with a couple of toasted wheat tortillas and mild, rather bland converted rice and refried beans on the side. Just like the quesadilla appetizer, the dish was accompanied chopped iceberg lettuce, tomato wedges, sour cream and spicy guacamole.
The baby back ribs ($11.99), my dinner choice, were quite good indeed, perhaps explaining why the ribs have reportedly supplanted beef burritos as the biggest-selling item on Tumbleweed's bill of fare. Six large, meaty ribs were slathered in a thick, rather sweet red tomato-based sauce and, as advertised, cooked until the tender meat falls off the bone at the touch of a fork. Not bad, not bad at all! I made short work of them but left the buttered, whitebread "Texas Toast," which looked a lot like Wonder Bread to me. A side dish of baked beans was OK, tender-cooked in a tart-sweet tomato sauce.
A shared wedge of chocolate lava cake from the short dessert menu ($4.99) was particularly impressive - a good-size round of dense, souffle-like chocolate cake concealed a runny, creamy sweet molten chocolate center, surrounded by four small balls of vanilla ice cream, with swashes of strawberry and chocolate sauces to decorate the plate. My wife gave it two thumbs up, declaring it the best part of her meal and, to her pleased surprise, almost if not quite a match for this signature dessert at The Chef's Table in Old Louisville.
Our server seemed a bit inexperienced and tentative, but her cordial and friendly attitude and eagerness to please made up for it. Dinner for two came to a fairly pricey $42.88, plus an $8.12 tip. That's not much like the old Tumbleweed, either.
If you're in the market for genuine Mexican fare, Tumbleweed remains no match for the the region's growing cadre of real tacquerias and authentic Mexican eateries - none of which existed when Tumbleweed brought Louisville its first taste of Tex-Mex a generation ago. But in fairness, it no longer purports to be Mexican or even "Tex-Mex." As upscale family fare with a Southwestern accent, competing with national chains on the mass-market level, Tumbleweed performs well above the median. $$
(August 2004)
ACCESSIBILITY: The tables are fully accessible to wheelchair users, but booths are up one step.
<!REVIEW ENDS HERE!>