!REVIEW GOES HERE!>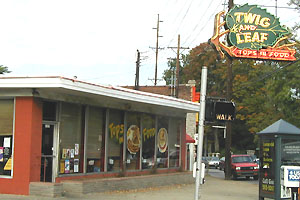 ** Twig and Leaf
2122 Bardstown Road
(502) 451-8944
Louisville is just a little far south to truly enjoy the "diner" phenomenon, and I can't honestly say that I miss it, except perhaps for the nostalgia of the thing. These steel, mass-produced eateries - long and narrow, with a row of stools along a serving bar, designed to resemble a railroad car - enjoyed a wave of popularity from the 1920s into the postwar era after World War II. You'll still find them around urban areas and highway stops, especially in New York, New Jersey and the Northeast.
You'll find a few near-diners around these parts, however. And with its steel, red-topped stools, glass-brick and chrome counter, formed wooden booths and white tile, Twig and Leaf comes about as close as it gets.
Like its Northeastern cousins, "The Twig" is probably at its best for breakfast - whether you're enjoying it while venturing out on a leisurely Sunday morning or heading home very late on a Saturday night - but offers little in the way of gourmet pretensions for lunch or dinner. It's a place to grab a quick, filling bite, and doesn't pretend to be more.
The long, affordable menu covers the full range of diner fare, from soups and salads to traditional deli sandwiches ($1.95 for grilled cheese to $3.50 for ham or turkey and cheese) and a list of "specialty sandwiches" including such treats as "The Original Twig" ($1.75), a quarter-pound burger that's much better than Mickey D's; a catfish po'boy ($3.75), a vegetarian Garden Burger ($3.50), Philly cheesesteak ($4.50), Kentucky Hot Brown ($4.95) and many more. A shorter list of entrees ranges from $5.25 to $6.25 for a half-dozen items like Salisbury steak, country-fried steak, fried chicken breast or farm-raised catfish, all with two sides and bread, plus a quartet of pasta dishes from $4.50 to $5.50. Non-alcoholic beverages are served, and the dessert and ice-cream bar features desserts and malts, shakes and sundaes, of course.
Breakfast is served all day and most of the night, with a full menu page reserved for fast-breaking selections from $3.75 (for a continental breakfast of dried cereal and milk, English muffin or toast, fruit and juice) to $7.75 (for a country ham platter with two eggs). Omelets are available in two-egg ($3.95) or three-egg size ($4.50) with your choice of up to three fillings, with a 50-cent surcharge for any from a dozen filling and topping ingredients - sort of like building your own pizza. Add a laundry list of a la carte breakfast items from 65 cents for a single pancake or 75 cents for an egg to $3.50 for a piece of country-fried steak, and you've got just about anything anyone could want to eat in the morning, or any other time of day.
We tried the breakfast quesadilla ($4.50), a well-crafted breakfast choice with a slight Mexican accent: Scrambled eggs and chopped-up bacon and mild cheeses were sandwiched between two flour tortillas and grilled until the cheese melted, then cut into wedges and served with a dish of sour cream and chunky, mild salsa.
A two-egg omelet with green peppers, onions and mushrooms ($3.50) looked appetizing, thick and golden, but suffered from an odd combination of slightly overcooked eggs and slightly undercooked filling ingredients. It was still pretty good, could have been better. (Perhaps the Twig has an institutional concern about cooking eggs less than all the way through; the menu discreetly notes that the management is "not able to serve soft boiled eggs.")
A couple of big mugs of strong, black coffee ($1) brought a filling breakfast to an affordable $11.03, plus a $2 tip. $
If you would like to read a little more about historic diners, here's one I found while doing background reading for this review: Two Lane Roads' Steel Diner Page, www.two-lane.com/diners.html.
<!REVIEW ENDS HERE!>
---