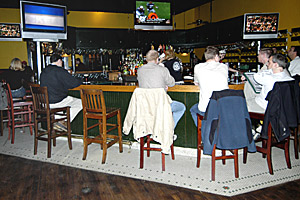 The 15-year-old Bluegrass Brewing Co. emerged from cosmetic surgery last week with a new look and an updated menu, including a hot bacon and spinach salad and fried polenta fingers. Photos by Robin Garr.
LEO's Eats with Louisville HotBytes
(Bluegrass Brewing Co.)
With a history that dates to 1779 and bragging rights as one of Louisville's first suburbs, St. Matthews owns a long-standing reputation as a quiet, family-oriented community, a safe and frankly conservative kind of place to bring up the kids.
Indeed, the community signaled its social conservatism way back in 1850, on the fateful day when its upright burghers decided to change the town's name from "Gilman's Point" (chosen in honor of the local saloon) to "St. Matthews" (in honor of a more "suitable" namesake, its then-new Episcopal church).
From that day to this, St. Matthews' churches and watering holes have co-existed in usually comfortable harmony. So it's no real surprise that you'll find at least three bars, a brewpub and a martini bar within an easy crawl of the intersection of Shelbyville and Westport roads and Chenoweth Lane, the exact corner where Gilman's Tavern once stood.

Two of those popular spots have undergone significant recent transformation, as the 5-year-old Cafe Emilie reinvented itself with a new name and image as 60 West Bistro and Martini Bar, while the 15-year-old Bluegrass Brewing Co. emerged from cosmetic surgery last week with a new look and a menu updated by BBC Fourth Street Chef Marshall Jewel.
Bluegrass Brewing Co., affectionately known as "BBC," is Louisville's oldest brewpub still standing, tracing its roots to the early days of the nascent American craft brewing tradition.
BBC's beer has always been estimable, and its food has always satisfied, although it has been through quite a few style changes over the years, shifting unpredictably from simple "pub grub" to more upscale bistro fare. It had gone back to the basics in recent months after a chef's departure (and, unfortunately, caught a Courier-Journal reviewer on a bad day last year; we're not sure whether he was having the bad day or BBC was).
Now, bouncing back after a week's closing, BBC is cleaned up, painted up and fixed up. Chef Jewel has spruced up the menu with some restored old favorites and a few new favorites, and with the help of consulting Chef Dave Clancy, late of the excellent Bistro New Albany, more menu changes are coming soon.
We dropped in the other night to check out the new decor and the grub. The interior changes are largely cosmetic – a quick paint job and some new furniture – but they provide a distinctly different and somewhat more upscale new look. Tasteful buff-color walls and dark-wood trim, woodgrain tables and stylish wooden chairs and lighting give a bistro feel to the main dining room, while a battery of big flat-screen televisions retain the friendly sports-bar theme.
The big windows that offer a view of the brewery's shiny brass fermenting vessels have been scrubbed clean; all the technical information about the beers that had been painted on the glass is now neatly displayed on a blackboard behind the bar instead. The main bar has been dressed up, too, in similar colors, and the last vestiges of years of cigarette smoke have been scrubbed away under the city's restored anti-smoking law.
The new menu restores some old BBC favorites such as brewhouse chili nachos ($7.99), shepherd's pie ($11.99) and BBC beer mustard ($4.99 with a German-style soft pretzel). New items include a hot bacon and spinach salad ($7.99); New Zealand green lip mussels ($6.99); a portobello burger ($8.99); a chicken parmesan sandwich ($7.99); and fried polenta fingers ($4.99).
That fried polenta may be my new favorite bar snack. Four logs of creamy, cheese polenta the size of small Magnalite flashlights were rolled in crunchy Japanese panko crumbs and deep-fried. The sizzling, grease-free result made such a toothsome combination of crunch and cream that I devoured them at warp speed, barely stopping to dip in the deeply flavored, textured marinara.
Stuffed mushrooms ($5.99) were another seductive starter, large white mushroom caps were over-stuffed with garlicky, herbal homemade Boursin-style cheese, sprinkled with a little panko and baked.
A curry chicken salad sandwich ($6.99) on sourdough toast was flavorful and filling, big chunks of tender white meat in a light curry mayo with red grapes and slivered almonds.
The shepherd's pie paid hearty homage to the British pub tradition: A broad bowl came straight from the oven, loaded with a flavorful mound of ground beef and lamb with vegetables and a whiff of warm brown spices, laced with mushroom gravy over mashed potatoes, topped with molten mozzarella and Parmigiano. Your KFC "bowl" was never like this!
With pints of BBC's excellent bittersweet, dark-amber American Pale Ale and light, delicate organic Kolsch, a filling dinner came to a reasonable $35 plus tip. The U of L game on the big screens was free.
Bluegrass Brewing Co.
3929 Shelbyville Road
899-7070
www.bbcbrew.com
Robin Garr's rating: 83 points