Older Archived Reviews
This is an older archived review. The Search Feature on this page may not work. To search this site, please return to our Home Page and try your search from there.
---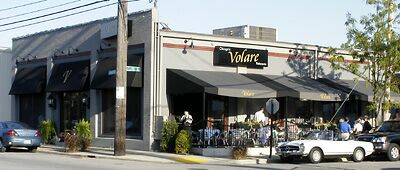 81

Volare
2300 Frankfort Ave.
(502) 894-4446

Volare Website (Chicago restaurant):
www.volarerestaurant.com/
<!REVIEW GOES HERE!> Volare, oh oh
Cantare, oh oh oh oh
Let's fly way up to the clouds
Away from the maddening crowds ...
"Maddening," as Sinatra and Dino Martin sang it, or "madding," as Thomas Hardy wrote it ... whatever ... one thing is certain about Volare, the glitzy new Italian entry on Frankfort Avenue: It's drawing sizable if not maddening crowds with the loudest buzz to accompany a new eatery in this town in recent months.
VOLARE ... THE SONG
If you think you heard this song just about everywhere during the '60s and '70s, that's probably because you did. Originally written in 1958 as "Nel Blu, Dipinto di Blu" by Italian composers Domenico Modugno and Franco Migliacci, it topped the Italian charts that year.



Mitchell Parish's English (in part) rendition reached our shores that same year as Dean Martin's version topped out on the U.S. charts at No. 33 in 1958. The McGuire Sisters also covered it in 1958, but their version reached only No. 80, well short of "Top Forty" status.



Bobby Rydell's version hit No. 4 in 1960, and Al Martino's cover reached No. 33 in 1975. Volare has also been sung by Frank Sinatra, Luciano Pavarotti, and such diverse performers as Chet Atkins, David Bowie, Lionel Hampton, Louis Armstrong, Nelson Riddle, Petula Clark, Ray Charles and Trini Lopez.


Play Volare for me!
Volare - the restaurant, that is, not the song - is the first Louisville outpost of a popular Chicago spot with the same name, whose proprietor, Benvenuto "Benny" Siddu, also owns another upscale Italian eatery in the Windy City that's named - get ready for this - "Cantare."
Opened early in August 2004, Volare replaces Salsa South Beach in much-renovated quarters that now boast a more upscale feel, dark oak and rippled glass and a massive wooden wine rack and oversize artificial-flower arrangement that dominates the main dining room. Up front the familiar square bar remains, dominated by an architectural mural of Venice's Piazza San Marco flanked with red-velvet curtains fringed in gold, serving a sleek, Ketel One-sipping crowd that appears to have been transported direct from the lovable Meteor Bar at the old Dietrich's just out the road a piece.
The food is high-end traditional Italian-American with a somewhat retro attitude; the pricing and the service befit a somewhat fancier place - I'd call it an effort to emulate a comforting Lentini's-style bill of fare in a slightly cut-rate Vincenzo's-brand environment, coming reasonably close if not quite matching either of these models.
We dropped by for dinner after about two weeks in operation and found a mixed bag of food, pricing and service that ranged unpredictably from so-so to very good indeed. Some minor service lapses can perhaps be attributed to training and experience issues in a new spot; more troubling was a fairly consistent pattern of something that looked an awful lot like cutting corners to save a buck or three.
As noted, they've pretty much ripped out all interior of Salsa South Beach (which in its turn was a gut renovation of a video-rental shop) and started over. Behind the hostess's station you can watch the cooks at work in the kitchen behind big glass windows. Dark wood shoulder-high room dividers topped with rippled glass mark off the central dining section, which has room for about a dozen rather closely spaced tables double-draped in heavy white cloth. Another half-dozen tables fill a narrower section near the Venice mural, and the bar section offers still more seating at high bar tables.
It's an interesting exercise to compare Volare's Louisville bill of fare with its Chicago menu: The selections are quite similar, and so are the prices, with small variations that seem to average out. The Insalata di Mare appetizer is $11.95 in Chicago, for instance, $10.95 in the Derby City. The lamb chops will cost you a dollar less ($27.95) in Louisville than in Chicago, but the Filetto di Manzo (filet mignon) at $26.95 will cost you two bucks more in Louisville than in our neighbor to the north. The Louisville Volare's signature Osso Buco ($21.95) and squid-ink risotto ($15.95) don't show up at all on the Chicago Volare's menu. Go figure.
The Louisville restaurant's dinner menu offers a good range of choices, most of them broadly defined "all-Italian" dishes familiar to Americans rather than authentic Italian regional cuisines.
Appetizers, many of them sufficient for a light main course or substantial bar snack, include six cold (Antipasti Freddi) and six hot (Antipasti Caldi) items. They range in price from $6.95 (for Crostini Mediteraneo, toasted Italian bread topped with grilled vegetables, basil pesto and shrimp; eggplant rolatini with ricotta and tomato sauce, or Italian sausage and peppers in garlic white-wine sauce, a dish that several reliable sources have reported to me as exceptional) to $10.95 (for the shrimp cocktail with fresh hot horseradish or the aforementioned Insalata di Mare, a seafood salad with octopus, mussels, clams, shrimp and calamari in a garlic olive oil and lemon dressing). Grigliata Mista, a mixed seafood grill, is $9.95.
Soups are $3.50 for Minestrone alla Toscana or the soup of the day, and five salads are $3.95 (for Insalata della Casa, the house salad, or for a half-order of the "traditional" Caesar) to $7.95 for the Insalata Volare for two.
Moving on to more substantial stuff, risotti and pastas - traditionally the primi piatti or "first plates" in a multi-course Italian meal, offered here as main dishes - include the Risotto Fattoria (made with four cheeses and green peas with chicken breast, $12.95) or the Risotto Volare (squid-ink risotto topped with mixed seafood, $15.95).
Hypothetically, you can have your choice of 72 pasta dishes by mixing and matching from nine pasta shapes in the left-hand column (homemade gnocchi, broad pappardelle, long linguine or spaghetti, short penne and more) with eight sauces in the right-hand column, which set the price of the dish from $11.95 for marinara sauce to $21.95 for frutti di mare. Sauces include traditional Italian choices like meaty Bolognese, creamy Alfredo, spicy arrabiata or leafy pesto (all $12.95) and New World offerings like vodka sauce (a Palm Beach special, $13.95) and salmonata (salmon in a pink sauce, $14.95).
About a dozen main-course dishes are subdivided into six Secondi Piatti ("Second Plates"), four fish dishes and four alla Griglia selections from the grill. They range in price from $13.95 (for chicken alla Parmigiana) to $29.95 (for a grilled veal chop).
Finally, a selection of contorni (side dishes) are $3 (for an order of meatballs or Italian sausage) to $4 (for asparagus). If you're craving something green, spinach or rapini (broccoli rabe, available in season) are $3.50.
Nine desserts are $5.95 (for cannoli or panna cotta) to $6.95 for several items including chocolate bread pudding for two, flourless chocolate cake or fresh fruit and a selection of Italian-style cookies.
That oversize wine rack that fills the dining room wall suggests a serious wine program, and Volare responds with a book-length leatherette volume with about 80 wines spread over seven pages. The list is about evenly divided between Italian and American categories with little from the rest of the world. It lists vintages on about half the wines but leaves this important data point untold for many, and in some cases provides only partical information that makes it difficult to specifically identify the wine.
The wine-by-the-glass page is short, uninteresting and overpriced, dominated by mass-market labels like the Italian Placido Pinot Grigio and Chianti and Camelot California Chardonnay, Merlot and Pinot Noir (all $6 a glass, $25 for a bottle). Beringer White Zinfandel is $5 for a glass, $22 a bottle, and a Principesa Gavi white and a Taverna Nova Montepulciano d'Abruzzo red are $8 and $25. In every case, these prices are set to recover the entire wholesale price of the bottle with the first glass sold; all the rest is gravy, and I don't mean long-simmered Italian tomato sauce.
The rest of the list is not quite as extravagantly overpriced, but it's on the high side, with bottle prices ranging from double retail (triple wholesale) upward. Worse, no bottle on the list sells for less than $30, a "barrier to entry" that seems intended to push more thrifty diners over to the high-markup wines by the glass.
At the top end, high-rollers may find satisfaction in an immature Angelo Gaja Renina Brunello ($225) or the pretentious and overrated Far Niente 2002 Chardonnay ($118). If you're really serious about enjoying a high-end wine with dinner, I suggest the Pio Cesare 1998 Barolo ($125) or the Antinori 2000 Tignanello "Super Tuscan," $150. If a celebratory bubbly seems like the thing, Veuve-Cliquot ($85), Taittinger ($82) or Perrier-Jouet ($82) are all genuine, non-vintage Champagnes, but take note that these prices are close to triple retail, 4 1/2 times the restaurateur's wholesale cost.
Bearing in mind that it was an Italian who first uttered the joyous saying, "A meal without wine is like a day without sunshine," you really don't want to skip wine here just to make a statement about the wine list.
My picks for a passable balance point between quality and value on Volare's list include whites: Collavini Pinot Grigio ($38), Chateau Saint Jean Chardonnay ($38), and Sonoma-Cutrer Russian River Valley Chardonnay ($42); and reds: Alasia Barbera d'Asti $35, Castello di Monsanto 2000 Chianti Classico Riserva ($42), and my choice with our dinner, Secco-Bertani Valpolicella Ripasso ($35), a light but intensely fruity wine from the Veneto hills above Verona, redolent of dried cherries with an intriguing back note of bitter almond.
A large, complimentary offering of warm bread came wrapped in a white cloth napkin in a silver-wire basket. It was passable if not up to the high standard set by local eateries that use Louisville's artisanal Blue Dog breads. One was a thick foccacia-style bread laced with rosemary and a bit of cheese. The other was a simple Italian loaf, rather dense and chewy, with a soft, tender crust. No butter was served, but there's a cork-stoppered Volare bottle of olive oil on every table to pour into your bread dish if you like. The bottle on our table was unappetizingly greasy, a minor but irritating issue that could have been avoided with more attentive maintenance. Tables are also provided with small shiny metal cheese dispensers filled with finely grated Parmesan-style cheese - not Parmigiano Reggiano, if my taste buds are any guide.
A shared appetizer, Rolatini di Melanzane ($6.95), was excellent, proving to be a highlight of a somewhat variable meal. Three thin slices of perfectly grilled eggplant redolent of good olive oil were rolled around rations of creamy ricotta cheese and carefully arranged at noon, 4 o'clock and 8 o'clock in an artful plate display; they were surrounded by a thick, textured fresh-tomato sauce decorated with circular swashes of sweet balsamic vinegar and topped with a mound of crispy fried "tobacco onions." The rich, earthy flavor of eggplant was nicely balanced by the gentle ricotta and sweet-savory flavors of the herbal tomato sauce and balsamic. It was especially good with the wine, although I had to hail a waiter to have our wine brought to our table before the appetizer was down the hatch.
We batted about .500 on the salads. The "traditional" Caesar ($3.95) was not bad, a good-size, middle-of-the-road rendition fashioned in the kitchen from crisp, rather finely cut romaine lettuce tossed with a creamy but mild Caesar dressing, topped with thin-shaven slices of Parmesan, lots of crunchy, golden toast croutons, and a single, undersize canned anchovy.
My wife's choice, a small portion of the Insalata Volare ($3.95 on the menu, $4 on our bill) left her vaguely cranky, muttering quiet imprecations about "truth in labeling." A bowl of finely chopped lettuce was tossed with crisp vegetables - broccoli florets, sliced white mushrooms, red onion, sliced radishes, shredded carrot and more, plus a few small dice of mozzarella or firm ricotta, just as advertised. But the artichoke hearts and hearts of palm that had caught her attention in the first place were just about as AWOL as Dubya's time in the Alabama National Guard. She eventually found a piece of artichoke heart about the size of a little fingernail; the hearts of palm never did show up. The vinaigrette was mostly vinegar and light on oil, a tangy mix that needed a little help from the greasy bottle of olive oil to make it palatable.
Service throughout the meal was attentive but sporadic. Roving teams of servers and bussers maintain an exceptionally high server-to-diner ratio, but in spite of this, water glasses often went unfilled and missing flatware unreplaced. Servers wear standard Italian-restaurant attire: Black slacks, white dress shirts with neat ties, and black aprons. One guy had his sleeves rolled up halfway to his elbows, a casual variation that we applauded for its democratic insouciance but that certainly made him stand out among his more formal peers.
At one point, a busser came by, looked at our half-empty bread dish and asked, "Do you want more bread?" When I said "Naaah, this is enough," he grabbed the bowl and quickly bore it away. Bussers also seemed overly aggressive about clearing dishes the instant you finish a course, sometimes interrupting conversations or reaching in front of us to grab a plate or saucer as soon as we polished off the last bite.
My wife's main-course choice, paillard of veal ($21.95, oddly dubbed with a French-menu name ... why not call it scalloppini?) was a large round of boneless veal, pounded to 1/8-inch thickness, marinated with a lot of lemon and a little oil (and maybe a distant whiff of capers, but no perceptible scent of the menu's promised rosemary) and grilled to delicate tenderness, prettily striped with parallel grill marks. It was grilled to perfection - no easy task with veal so thin - but the strong lemon flavor, while appetizing in its own right, made the dish an iffy match with wine. A mound of fresh arugula, dressed with a sourly tangy mix of a lot of lemon and a little oil (see the pattern here?) was served alongside, with a small scoop of excellent carrot-and-cauliflower puree, whipped into a creamy pale-orange blend with just enough texture to make it interesting.
My ossobuco ($21.95) was fine, a large and surprisingly meaty veal shank baked with a sweet, caramelized tomato glaze loaded with bits of celery, carrot and onion, topped with a sprig of fresh thyme and equipped with a tiny marrow fork, a utensil that you'll rarely see outside a Milanese restaurant. One small bit was on the tough side, the rest reasonably tender, although longer, slower cooking could have brought it to perfection. It was served in a broad, shallow bowl filled with a large portion of simple risotto that was just a tad too al dente, certainly edible but taken off the stove just a minute or two early, and a bit lacking in the flavor department; it was hard to discern the presence of any cheese or saffron.
Next came dessert, and with it the mystery of the missing custard. My wife was intrigued by the flourless chocolate cake ($6.95), which, according to the menu, comes "paired with our handmade frozen custard." The dish arrived, a rather dry, brownie-like wedge. No custard. We summoned our waiter. He looked mystified, then pointed uncertainly at my panna cotta. Uh, no. Then he went off to seek an explanation, returning to tell us that the frozen custard was the thin wash of crème anglaise that decorated the plate. Mmmm, I don't think so. We gave it up, since we didn't really need the custard, but this all seemed a little odd and left us with a bad taste that was neither chocolatey nor custardlike.
Speaking of my panna cotta ($5.95), it wasn't bad - a glistening white round of gelatinized cream, jiggly as it should be - but it was oddly rubbery, almost plastic-like, heavy on the gelatin and light on the cream. The dish was crisscrossed with a checkerboard squirt of sweet, brown-sugary caramel glaze, topped with half of a single fresh strawberry, and decorated with a single thin square of chocolate monogrammed with the script letter "V".
Summing up, a lot went right with this meal: The appetizer, much about the main courses, the specific wine plucked from the "sweet spot" on the list; the service, when it was "on," and the happy buzz about the place and its comfortably upscale feel. But too many near misses (and a couple of distant misses) take the edge off the high level that you have the right to expect from a place where dinner for two can easily reach the three-figure range. Our tab totaled $118.41, plus a $24.59 tip. $$$$
(August 2004)
ACCESSIBILITY: This completely renovated building is a model of wheelchair accessibility. Smoking appears to be limited to the bar area, although the menu bars only cigar smoking in the dining room. During our visit, no one smoked at the tables (and no ash trays were in evidence), and I detected only occasional incursions of smoke over the shoulder-high room dividers into the dining section.
<!REVIEW ENDS HERE!>