Older Archived Reviews
This is an older archived review. The Search Feature on this page may not work. To search this site, please return to our Home Page and try your search from there.
---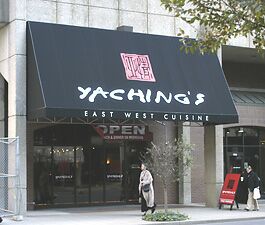 83

Yaching's East West Cuisine
105 S. Fourth St.
(502) 585-4005

<!REVIEW GOES HERE!> A bold black awning with a striking red logo that resembles the signature stamp on a work of Chinese art signals the arrival of a stylish new downtown restaurant whose owners pledge to bring together East and West in culinary "fusion."
After many years as the co-owner and manager of Wok'N'Stix and manager of Lajadi's Italian in the now-demolished Galleria Food Court, restaurateur Laura Tao has opened Yaching's, a venture in which she presents "an eclectic menu of contemporary Asian fusion cuisine," her proud daughter, Betsy, said in an E-mail message.
Fusion? Most of the dishes appear to be either all-Asian (fried rice, sesame noodles) or fully Western (Caesar salad, fettuccine Alfredo). Only a few are "fused" recipes that combine these disparate cuisines in one. But that's nitpicking: It's an attractive mix of East and West, sufficient to give just about everyone something to enjoy, regardless of which compass point attracts your taste buds.
Yaching's has filled in the ground floor of a sterile concrete parking garage with a much more stylish look. The good-size room - it appears to have seating for 70 or so - boasts tasteful pale-cream walls with black wood trim that confers a simple, spare Asian style. Large mirrors add light and open up the room; a few large, bold art prints appear to be expressionistic visions of Chinese drama with actors in colorful garb.
Here and there around the room stand black columns displaying art items in striking "beauty spots:" Chinese lanterns, impressive flower arrangements, a few seasonal pumpkins in casual piles. A stately black bar extends across the back, separated from the dining area by a long black banquette. The undraped tables and small, stylish side chairs are black, too, set with large, red polyester napkins to contrast and interesting place mats, woven from a rubberized material that stays where they're placed. The background music is pleasant, not loud enough to deter conversation, although if I could get my hands on it, I might crank it down a notch or two for ideal comfort.
Lunch is served daily on weekdays days, but Yaching is open for dinner only on Thursdays through Saturdays, when a more extensive and significantly more pricey menu comes into play, shifting it from an affordable lunch spot to a more pricey and distinctly upscale dining venue.
The lunch menu is fairly extensive, including a half-dozen appetizers, soups and salads from $2.95 (for a pair of ground beef or shrimp spring rolls) to $5.50 (for a creamy Caesar salad or the Yaching's house salad. Sixteen sandwiches, wraps and noodle or rice dishes are all $7.25 or $7.50 and, as noted, include West (a club sandwich, $7.25), East (Thai fried rice, $7.25), and mid-Pacific marriages (a wrap and a sandwich stuffed with Japanese-style tempura or something called "Chinese tortellini noodle soup," all $7.50). Another half-dozen lunch entrees are all $7.50 and feature mostly stir-fry dishes served with steamed rice.
The dinner menu includes quite a few of the same dishes but adds much more. Particularly interesting-looking dinner-only appetizers include Beijing-style pan-fried dumplings ($5), a black-tea-smoked chicken ($7), and garlic-ginger-infused mussels ($8). Dinner portions are larger, and the prices rise accordingly, with dinner noodle dishes ranging from $11 (for Chinese stir-fried noodles from the East) to $14 (seafood cappellini from the West). Dinner entrees range from $16 (for mandarin orange chicken or Yaching's Taipei chicken sauteed with green-onion/garlic/sesame sauce) to $24 (for an entirely Western selection, grilled beef filet with a Bourbon and black-pepper Béarnaise with mashed potato souffle and sauteed vegetables. A sesame-crusted wok-seared sea bass dinner with a spicy ginger-soy glaze is $22.
No liquor is served, but beer and a selection of wines are available from the bar.
Our lunch started with a shared order of Vietnamese summer rolls ($3.95). Two large rolls wrapped in translucent edible rice paper were carefully arranged atop a bed of mesclun lettuces. Light and fresh, the rolls were filled chock-full of a tasty mix of shrimp cooked just so, crisp bean-thread cellophane noodles, bean sprouts and shredded carrots, all scented with fresh cilantro and a touch of lime. They were accompanied by small metal tubs of sweet peanut sauce and a thin Vietnamese fish sauce with a piquant touch of hot peppers.
In the only serious service flaw, our main lunch courses were slow to arrive - it took about 30 minutes from the time we placed our order - and no explanation or apology was forthcoming. We weren't in a hurry, but a lot of diners would be in a downtown restaurant at weekday lunch. Explaining, and apologizing for, unexpected delays is always a good practice.
When they finally came, our sandwiches were served on large, off-white stoneware plates, garnished with high-quality potato chips, paper-thin and glassy-crisp.
My wife ordered a grilled portabello sandwich ($7.25). A juicy, meaty portabello mushroom cap was served like a vegetarian hamburger, dressed with lettuce and tomato and a schmear of dressing that was billed as "tomato-basil aioli" but seemed more like tartar sauce, a light mayo with fresh-chopped basil stirred in. It was served on a large, thin white bun that had been crisply toasted on the grill in the style of French pain grillé. I thought the flavors worked very well indeed, but my wife was a little irritated because the bun was literally twice the dimensions of the mushroom, a disproportionate presentation that left her feeling bread-heavy and mushroom-light, wishing that they had put two portabellos on.
My choice, Yaching's Bao-Bao ($7.50), a sandwich-style lunch based on the cloud-like puff of steamed white-flour bread filled with barbecued meat that's a dim sum favorite, was first-rate. It consisted of three thin ovals of the feather-light bao bread, gently folded over small portions of thin-sliced, tender roast beef flavored with a salty, appetizing hint of soy sauce and a wisp of spicy heat, each garnished with a fresh sprig of cilantro and a sprinkle of chopped peanuts. Alongside was a cup of "Asian au jus" for dipping, a salty hot liquid that seemed to contain beef broth and soy sauce, giving this "fusion" dish an intriguing cross-cultural resemblance to the Italian beef sandwiches at Binky's Chicago Style Deli. It was very good indeed, although the lunch portion wasn't over-large - I could have probably eaten a half-dozen more, popping them like Asian White Castles.
Hot tea ($1.95) was steaming and jasmine-scented. The unsweetened iced tea ($1.95) was strong and delicious, spiced with an elusive hint of something clove-like and eerily reminiscent of red-hot candies.
Lunch for two came to an affordable $19.77, plus a $4 tip. As noted, dinner could be significantly more. $$ (lunch), $$$ (dinner)
(November 2003)
ACCESSIBILITY: Fully accessible to wheelchair users.
<!REVIEW ENDS HERE!>