| | |
| --- | --- |
| | A USER'S GUIDE TO |
<!REVIEW GOES HERE!>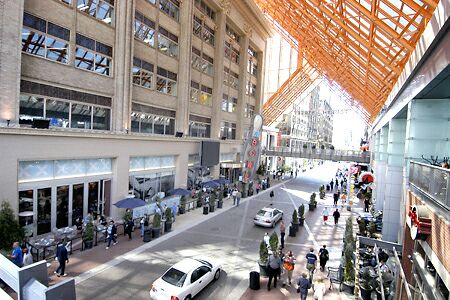 Those who have always judged Louisville's lack of downtown development by the shameful absence of a Hard Rock Cafe might be pleased - or might be embarrassed - to learn that Hard Rock Cafe Louisville was the chain's 117th property when it finally came to town on May 31, 2004. These mixed emotions pretty much tell the story of Fourth Street Live, which is either a tremendous success or a testimony to a vacuum of innovative thinking at City Hall, depending on your point of view.

To its credit, Fourth Street Live (see directory below) has breathed some life back into the downtown block of Fourth between Liberty and Muhammad Ali that long housed the shabby, failing Louisville Galleria (which, in its time, had also been hailed as downtown's salvation). But nay-sayers diss it as an outpost of bland suburbia dropped into the city, a sort of adult-theme Disneyland almost entirely dominated by franchised chain operations like Hard Rock and, for cripes' sake, T.G.I. Friday's.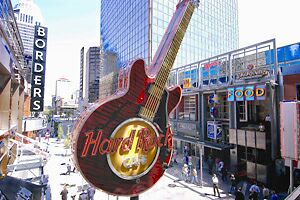 Critics - and I'm among 'em - would really rather see something uniquely local downtown, an entertainment zone modeled on Bourbon Street in New Orleans, Beale Street in Memphis or Duval Street in Key West - or even Baxter Avenue in Louisville's own Highlands neighborhood. Indeed, a good part of the local controversy surrounding Fourth Street Live seems competitive: There's also been some poor-mouthing going on about Fourth Street Live receiving massive local-government support in the form of tax breaks and subsidies while it sucked business and life out of the city's independent restaurant and nightclub community. Indeed, when longtime restaurateur Bobby Johnson abruptly closed his Steam Fire & Ice last year, he departed the scene with a noisy blast at the competition.
But by and large, though, the sounds of weeping and gnashing of teeth seem to have died down, and the Baxter and Bardstown strips appear to be thriving. Perhaps, much like the Kentucky Oaks versus the Derby, we'll eventually see Fourth Street Live luring in the tourists and separating them from their bucks, while savvy locals enjoy the more traditional entertainment community, with occasional forays downtown for a Hard Rock burger or a taste of Maker's Mark.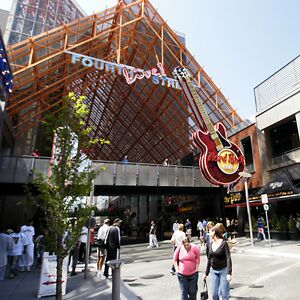 Shorn of the public-relations cheerleading that has colored much of the local newspaper's coverage, the story of Fourth Street Live is simple enough. Unhappy with the 1980s-era Louisville Galleria, a glassed-in urban shopping mall that had never really thrived, city officials decided to start over, knocking the sides out of the old glassed-in mall and restoring through traffic on Fourth, evicting the typical mall mix of stores and replacing them with a bright and bustling entertainment zone that would offer food, drink and music with plenty of bright lights and sufficient security to overcome suburbanites' fear of downtown.
They put out requests for proposals and ended up retaining Cordish Co. of Baltimore, a firm with much experience creating festive urban developments like the Power Plant in Baltimore and Bayou Place in Houston. A local company, Hogan Development Co., was signed as Cordish's "local partner."
Under the deal cooked up by then-mayor Dave Armstrong, the city purchased the Galleria from its former owner, Oxford Propeties, for $4 million, and sold it to Cordish for $1. Yes, that's One Dollar, cash on the barrelhead. Cordish also stands to reclaim up to $7 million over 10 years in tax rebates, provided that the project generates enough new sales tax revenue to cover them. Other non-cash incentives have included a somewhat controversial "arena license" that allows revelers to carry open drinks on the street within Fourth Street Live's confines on certain nights, and to use its private security forces to patrol the property, limit access and even enforce a dress code that, until a public outcry prompted retrenchment, would have barred hip-hop "gangsta" attire.
All these incentives were aimed at bringing free-spending crowds back downtown, ultimately paying benefits to the city as well as Fourth Street Live's merchants. But it's hardly surprising that overall generosity of the program was troubling to many independent local businesses who saw competitive businesses run by national chains receiving a wealth of freebies that they could only dream of.
Local merchants have fought back strongly, though, with a large number of independent restaurants forming Louisville's Originals, a local chapter of the Council of Independent Restaurants of America; and many more indie retailers joining the more casual ranks of http://keeplouisvilleweird.com.
Because of the dominance of familiar chains (even the Kentucky-themed Maker's Mark Lounge merely licenses the name of the Bluegrass country nectar to a Baltimore-based operation), I haven't conducted full reviews or ratings. As a reader service, however, here's a directory of Fourth Street Live tenants, listed alphabetically, with a bit of information about each.

Cold Stone Creamery
(502) 589-7447
http://www.coldstonecreamery.com/
The shtick at this franchise establishment (which also has Louisville properties on Baxter, Hurstbourne and in Springhurst) is the ice-cold stone surface on which the folks behind the counter chop "mix-ins" of nuts, fruit and candy to kick your cone up a notch, or several. Food court open seven days a week for lunch and dinner.

Felt
(502) 560-1400
What's the difference between billiards and pool? The pool hall was that nasty place your mother wanted you to avoid. Billiards, however, are classy and with-it. In Felt's cozy confines you'll find an upscale, high-end pool, er, billiards environment, enhanced with a bar, a sit-down dining menu, even - I am not kidding about this - a 1,000-gallon jellyfish aquarium. Open daily for lunch, dinner and all night until 4 a.m. closing time.

Hard Rock Cafe
(502) 568-2202
http://www.hardrock.com/
As noted, Hard Rock Cafe built 116 properties in other cities before finally blessing Louisville last year. You've surely seen one somewhere by now, and they're all pretty much the same: Upscale fast-food "Classic American chow" is served with classic rock in the background and classic memorabilia all over the walls and tables. And of course you can buy the T-shirt. Open daily for lunch and dinner.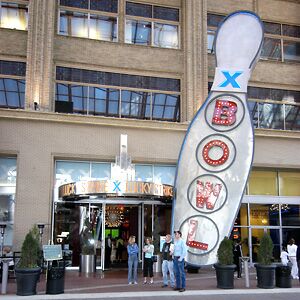 Howl at the Moon
(502) 562-9400
http://www.howlatthemoon.com/
Literally howling at the moon is discouraged by Fourth Street Live's rent-a-cops, but this nightspot encourages you to come close. It's billed as "a singing, clapping, stomping, dance on the piano, rock-n-roll show all centered around audience interaction and the world's most dangerous piano players dueling it out on two baby grand pianos." Open Tuesday through Saturday for dinner and into the wee hours.

Lucky Strike
(502) 560-1400
As Felt is to billiards, Lucky Strike Lanes is to bowling: Fourteen modern bowling lanes in a high-tech environment with upscale decor, libations and full-service dining. Open daily for lunch, dinner and all night until 4 a.m. closing time.


Makers Mark Bourbon House and Lounge
(502) 568-9009
Under a licensing agreement with the management of Fourth Street Live, Kentucky's Maker's Mark Distillery lends its name and its signature red-wax image to this stylish restaurant and lounge. The draw is a magisterial bar featuring more than 60 Bourbons (including the namesake brand, of course), along with a menu loosely based on upscale variations on traditional Kentucky fare. Open for lunch and dinner and until the wee hours Tuesday through Wednesday, lunch, dinner and until 4 a.m. closing time Friday and Saturday, and dinner until 4 a.m. closing time Sunday.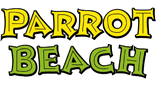 Parrot Beach
(502) 589-5336
A party spot with a beach bar feel, Parrot Beach begins the evening as a casual-upscale dining establishment, then as the shank of the evening wears on, it segues into a nightclub with a Top 40 dance format. Open Wednesday through Saturday from late afternoon until 4 a.m. closing time.

The Pub
(502) 569-7782
http://www.publouisville.com/
If you feel that a trip to Epcot satisfactorily replicates a visit to Italy or Japan, then you'll probably find The Pub a reasonable rendition of a British saloon. "Nouveau pub cuisine" is served, and you can wash it down with your choice of draught and cask ales from the British Isles, or, no surprise here, standard domestic brews. It's worth noting, though, that The Pub is less "chain"-oriented than most of its neighbors. Proprietor Nick Sanders, a Lexington native who lives in Cincinnati, calls himself "100 percent a Kentuckian." Sanders, who built and has owned deSha's restaurant in Lexington for 20 years, started his first The Pub in Cincinnati. This is his second, which makes it a mighty small chain. "I'm sure I wish I had 117 units, but we are a small independent operator," he said. Fair enough! Open for lunch, dinner and until the wee hours Monday through Thursday; lunch, dinner and until almost closing time Friday and Saturday, and dinner and until almost until closing time Sunday.

Red Cheetah
(502) 589-0695
Fourth Street Live's PR-meisters have spun a blurb that's such a stunning example of unintentional self-parody that I can't write anything any funnier than this: "Red Cheetah is Louisville's premier nightclub. Combining the country's best DJ's spinning the high-energy dance music in a beautiful and plush nightclub setting, Red Cheetah caters to the true V.I.P. demographic." Open late evening until closing time Thursday through Sunday.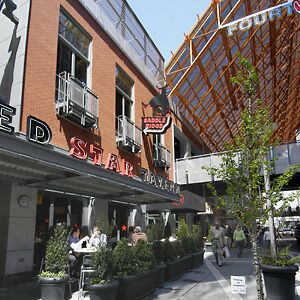 Red Star Tavern
(502) 568-5656


Billed as a "contemporary American tavern," Red Star serves a standard American-casual bill of fare featuring seafood, steaks and pasta, with a wide variety of libations to wash it all down. Open for lunch, dinner and until the wee hours Sunday through Thursday, lunch, dinner and until 4 a.m. closing time Friday and Saturday.


Rocky Rococo Italian
(502) 595-7510
http://www.rockyrococo.com
One of the fast-food options in Fourth Street Live's second-level Food Court, Rocky Rococo's Italian-American offerings include pan pizza by the slice, breadsticks, pastas and salads. Food court open seven days a week for lunch and dinner.

Saddle Ridge
(502) 569-3507
Rock and roll meets country at Saddle Ridge, which features national and local live bands, a DJ and "dancing bartenders" in its bid to earn status as a "rock-n-country saloon." Open for dinner and until 4 a.m. closing time Wednesday through Saturday.

Subway
http://www.subway.com/
With the addition of this Food Court outlet, the international sub-sandwich chain now boasts 23,243 restaurants in 80 countries around the world. Food court open seven days a week for lunch and dinner.

Sully's Restaurant and Saloon
(502) 585-4100
As The Pub is British, so is Sully's Irish. Corporate PR describes it as "a cozy Irish pub" offering food and drink, but I have a hard time squaring "cozy" with "state of the art technology including digital surround sound, a 13-foot projector screen and seven plasma TVs." Open for lunch, dinner and until the wee hours Sunday through Wednesday, lunch, dinner and until 4 a.m. closing time Thursday through Saturday.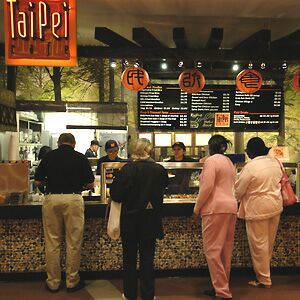 In here, it's always Friday. Well, here and in the other 759 Friday's located in cities and suburban strips around the world. You'll find the food and drink familiar, but management boasts that the Fourth Street Live property has "done away with the Tiffany-style lamps and red and white tablecloths in favor of a more contemporary look."

Taipei Cafe
My favorite Food Court option and just possibly the only independent local business in the block, Taipei Cafe offers well-above-average fast-food Chinese fare at reasonable prices, including familiar stir-fries and soups and a few more ethnic items including a selection of bao (steamed Chinese buns) and, in season, tapioca-studded Taiwanese "bubble tea." Taipei is usually my first pick for lunch when I'm in the neighborhood.


Wendy's
http://www.wendys.com/
Founded in 1969 with a single hamburger stand in Columbus Ohio, Wendy's may not quite dwarf Mickey D's, but it has grown into one of the world's major hamburger chains. You'll find the Fourth Street Live property by following the long lines into the second-level Food Court. Food court open seven days a week for lunch and dinner.
Retail services
Borders
Cool Shades
CVS
EBGames
Fashion Shop
Foot Locker
Ginny's Hallmark
The Louisville Store
Office Depot
T-Mobile
U.S. Postal Service
Parking
The Fourth Street Live parking garage, on the east side of Fifth Street between Muhammad Ali Boulevard and Liberty Street, offers free parking on weekdays after 6 p.m. and all day Saturdays and Sundays. Pay parking is also available at the Starks Building, Seelbach Hotel and Hyatt Regency/Convention Center garages and at the Cowger garage, Fourth and Market Street.
Valet parking is available for $5 at the corner of Muhammad Ali Boulevard and Fourth Street on Fridays and Saturdays from 6 p.m. until 4 a.m. The last car will be accepted at 3:30 a.m., and cars are available for pickup until 4 a.m.
(April 2005)
ACCESSIBILITY: The restaurants and bars appear fully accessible to wheelchair users, with elevator access to the second floor. The Fourth Street Live Website, however, is heavily graphical and not entirely accessible to blind or other text-browser users.
<!REVIEW ENDS HERE!>
---