!REVIEW GOES HERE!> 610 Magnolia opens balcony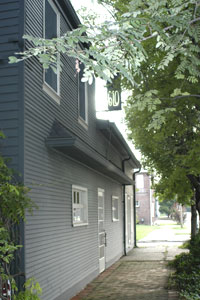 In an enhancement that makes one of Louisville's most attractive restaurants even more appealing, 610 Magnolia's new owner Edward Lee has renovated and opened to the public a balcony area that forms a small, intimate nook above the restaurant's main dining room.
Modest in decor, with the walls painted cool gray with dark wood trim, and a newly built skylight overhead, the space had been used for storage in the past. It is just large enough for a half-dozen tables, and may be used for private groups and special events, Lee said. Last week (Jan. 21) it was the scene of a by-invitation wine tasting, a program that may become a regular event at 610.
The tasting featured a selection of seven Cabernet Sauvignons from around the world, served with a seemingly unending stream of innovative appetizers from Lee's kitchen. Here's a summary of my casual tasting notes on the wines and the appetizers, more or less in the order I sampled them.
The wines
Conn Creek 2000 Napa Valley Cabernet Sauvignon - This offers a benchmark example of the Northern California style, perfumed dark cherry fruit with hints of chocolate and vanilla. Lean and tannic, with good fruit backed by sturdy acidity, it finishes with a distinct note of fresh dill, a flavor character that oak barrels impart. Reminds me somewhat of the popular Silver Oak.
Haras 2000 "Character" Maipo Valley Cabernet Sauvignon - This is a Chilean Cabernet, full of fresh cherry aromas and flavors and structured with lemon-squirt acidity. On the lightweight side, but an intriguing minerality adds flavor interest. Importer: Remy Amerique, NYC.
Golan Heights Winery 2000 "Galil" Galilee Cabernet Sauvignon - Made in Israel and fully kosher, this dry table wine breaks the stereotype of grapey, sweet American kosher wines, but it's hardly an impressive Cabernet. Faint in aroma and herbaceous in flavor, it's simple and soft, easy to gulp but essentially one-dimensional. Importer: Royal Wine Corp., NYC.
Wakefield 2001 Clare Valley South Australia Cabernet Sauvignon - Light and fresh, more delicate than muscular, a profile unexpected in a South Australian red, but it works, and sings a particularly pretty melody with a minty Middle Eastern-style lamb appetizer rolled in flatbread. Importer: Appellation Imports Inc., Columbia, Md.
Vinum 2001 Stellenbosch Cabernet Sauvignon - Appetizingly earthy blackcurrant scents lead into a big, ripe flavor, black fruit and licorice. So fruity it almost seems soft at first, but there's muscle beneath the fat. Good wine. Importer: Vinnovative Imports, Charlotte, N.C.
Torres 1999 "Gran Coronas" Penedès Cabernet Sauvignon - Ripe cherries and leather on the nose, soft, subtle dark-cherry fruit and soft tannins on the palate; a distinct floral note of roses develops with time in the glass. Good wine, probably will gain complexity with cellar time. Fifteen percent Tempranillo blended in with the Cabernet. Importer: Paterno Wines International, Lake Bluff, Ill.
Haut-Bages-Liberal 1995 Pauillac - I saved the sole Bordeaux, and the oldest wine, for last, and was glad I did as it made a fine ending to an interesting array of wines. Cassis (blackcurrant) and aromatic tarragon in the scent. Lean and a bit austere but well-balanced flavor, still showing substantial, but smooth, tannins. Very long and clean finish, still a youngster, particularly enjoyable with red-meat companions to tame the tannins, but will benefit from cellar time. Importer: Louisville Crown, Kentucky.
The appetizers
Spicy shrimp cloaked with a light, hot-sweet pomegranate sauce. To my surprise, the tart-fruity pomegranate flavor brings shrimp up to meet the Cabernet, and the delicately warming heat of the chile peppers doesn't war with the wine. In theory, I would have thought this dish a poor choice to serve with dry, tannic red wines, but in practice it works. Score one for Lee's outside-the-box cookery.
Foie gras wrapped in thin, tender chicken-breast meat, sliced into rounds and lightly napped with balsamic vinegar. Say no more.
Sweetbreads in bite-size chunks, sauteed crisp-tender and dipped in an Asian-accented garlic-ginger sauce.
Middle Eastern ground lamb and beef with yogurt and a touch of mint, rolled in paper-thin flatbread and cut into rounds.
Lightly pickled sweet-tart South African red cherry peppers stuffed with sweet ricotta.
Seared scallops in pomegranate sauce, another manifestation of a non-intuitive red-wine match made to work by the fruity pomegranate.
Rounds of chorizo sausage wrapped in short pastry, addictive if a little too spicy to be a great wine match.
Thin-sliced bites of rare beef in the style of an Argentinian parrillada, topped with a persillade aioli, a heady garlic-parsley mayo.
Crusty, chewy seeded baguettes from Louisville's Blue Dog bakery.
A final savory treat, in portions a bit larger than the previous bite-size appetizers, tender ravioli stuffed with mild Capriole goat cheese from Indiana and served in a smoky, seductive and remarkably grease-free bacon jus.

And, just to send us on our way properly fed ...
Decadent chocolate truffles, Valrhona chocolate elevated with heavy cream, touched with a dash of Grand Marnier.

For information about future tastings and the use of the upstairs section, contact 610 Magnolia at (502) 636-0783.

(Jan. 17, 2004)

<!REVIEW ENDS HERE!>
---