!REVIEW GOES HERE!>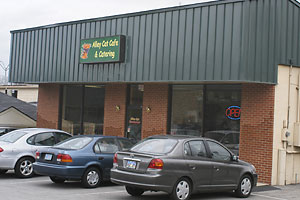 86

Alley Cat Cafe
11804 Shelbyville Road
(502) 245-6544

It took me a few minutes to decide whether I think "Alley Cat" is a reasonable name for this smallish lunch-only eatery at the back of a shopping center in Middletown. But reflecting on the really excellent meal we enjoyed there recently, I have to say that it works.
What is an alley cat? If you don't know your cats, you might not think the alley version amounts to much. They're scruffy, they fight and scream a lot, and rarely carry registration papers. But get to know one well and you'll find him a lovable creature, ready to share a quiet moment and a friendly purr.
Alley Cat Cafe doesn't overdo the theme - the cat motif is limited to a few ceramic knick-knacks on a curio shelf in a corner. But the free-standing brick cafe is located on a close suburban equivalent to an alley - a slanted, relatively narrow driveway that connects the shopping center on U.S. 60 with Middletown's Old Main Street. And the cat theme is underscored by a few hep-cats - colorful, funny cartoon-style drawings of jazz musicians (and a chef) that dominate the decor inside.
The scene is simple and inviting: The walls are colorful earth tones, Dijon mustard and coffee ice cream, with red terra-cotta tiles on a back wall. Look up, and things are a little more idiosyncratic. Lavender boards that look like house shutters dangle from the ceiling, and they're festooned with plastic ivy and bunches of plastic grapes and oversize chile peppers. A glass-enclosed counter at the back shows off desserts, and in one corner, an opening in the wall affords glimpses of the chef at work in the kitchen.
About 10 tables and three booths in a smallish room makes for a crowded scene when the place is busy, as it almost always is; and service can slow down a bit when the room is full. It's always cordial, though, and the food is well worth the wait. There are plenty of cello-wrapped crackers on the tables for nibbling, and once we finally got our order in, the food came out with proper dispatch.
For a small spot that serves only lunch, the menu is fairly extensive. Starters include "munchies" (from $4.75 for Cajun salmon dip with toasted corn chips to $5.50 for baked Brie in almond butter with fruit and French bread); salads ($3.25 for a small house salad to $6 for a large "Southwest Caesar" with spicy dressing; add $2 for chicken or $3.25 for salmon on either); and soups ($2.50 for your choice of soup of the day, broccoli-and-cheddar or Alley Cat's signature soup, Tuscan sausage-vegetable).
Ten sandwiches, all $5.50, are served on first-rate home-baked breads and include such goodies as a turkey BLT, basil chicken salad and the jazz-themed "Jazzy Reuben," with corned beef, Swiss and sauerkraut and the traditional Thousand Island dressing served on the side. A number of exceptionally appealing meatless sandwiches are listed, including my choice, the Milano panini (eggplant, portabella mushroom, roast peppers and cheese); the Roma panini (plum tomatos, artichokes, pesto mayo and Brie) and my wife's pick, an upscale variation on grilled cheese. Just about everything looked good, although the hot Madeira roast beef, with both a Madeira wine sauce and sweet mascarpone cheese, struck me as a little too much like dessert on a baguette.
Five hearty lunches, dubbed "Pastas and More," range in price from $5.25 (for a three-cheese vegetarian lasagna with Alfredo sauce or chicken pot pie topped with a biscuit) to $7.50 (for baked salmon with lemon caper sauce). The jazz theme returns in "The Leadbelly" ($5.75), a tempting if infelicitously named entree that features a large baked potato stuffed with onions and peppers, turkey, ham, Swiss and Cheddar. You can add a salad to any of these lunches for another $2.
A half-sandwich with soup or salad is $5.50, an offer that we found too good to pass up. It turned out to be a great deal, as the half-sandwiches were mighty near what most places would serve as full-size, along with full cups of very well-made soups.
The Milano panini ($5.50) was a sizable half-oval of warm, home-baked white bread laced with tangy Asiago cheese, layered with thin slices of earthy roasted eggplant and gently sweet red pepper, a slice of grilled portabella mushroom, a thin slice of mild provolone cheese, a bit of green leaf lettuce and a touch of pesto-flavored mayonnaise. It was an excellent sandwich, and whoever created it took the time to think about textures and flavors to come up with an appetizing combination that goes down just right.
The Tuscan sausage-vegetable soup enjoys a deserved local fame - it's something like an Italian rendition of burgoo, a country vegetable soup with a happy Italian accent. A rich reddish-brown chicken-tomato broth was thick with cooked tomato chunks, green beans and limas, peas, carrots, corn, celery, bits of mild Italian sausage and toothy-tender penne pasta cut in half, garnished with shreds of grated Parmesan. It's not so much long-simmered as fresh, with the veggies cooked through and sharing their flavors while holding on to their integrity. A very fine soup indeed, worth the trip out to Middletown just for a bowl of it.
The Alley Cat grilled cheese sandwich ($5.50) is a gourmet-style improvement on the down-home original, featuring a flavorful blend of mild deli-style Provolone, Swiss and Cheddar in place of the customary Velveeta, and the traditional Wonder Bread thankfully replaced by that tangy, crusty Asiago cheese bread. Lightly grilled, toasty and crisp and not at all greasy, with the thin-sliced cheeses warm and soft but not quite runny, it was a simple sandwich, and a good one.
The soup of the day, cream of asparagus and portabella, was almost a puree, a thick, rich and creamy pale-green soup with fine-chopped vegetables to give it texture. Fresh and springlike asparagus set the flavor melody, with a hint of earthy mushroom playing bass.
We admired but passed over delectable-looking homemade desserts, and our bill - with iced tea ($1.25) to drink - came to a surprisingly affordable toll of $14.31 for two, and overworked but still friendly and competent service earned a $3 tip. I'm hard pressed to think of any other local eatery that offers food of this high quality for a price this low. Highly recommended. $
(April 2003)
<!REVIEW ENDS HERE!>
---