!REVIEW GOES HERE!> *** Los Aztecas Mexican Restaurant
1107 Herr Lane
(502) 426-3994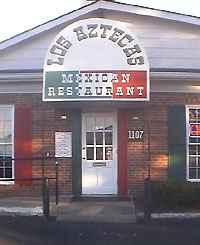 Here are three good ways to tell when you've found your way to an authentic Mexican restaurant:
* A poster in the lobby advertises telephone calling cards with attractive rates to Mexico, Honduras and Guatemala ... in Spanish.
* At least one of the television sets that form an integral part of the decor is tuned to Univision, the Spanish-language channel.
* They serve margaritas, but they don't make a big deal out of it.
Authentic Mexican cuisine has become a viable option in Louisville these days, as a small but growing corps of immigrants from South of the Border are opening eateries that offer a real alternative to the bland Americanized grub (with bathtub-size margaritas) that used to be Louisville's only option in this ethnic niche. Los Aztecas is far from the only excellent example, but it's a good one, with tasty Mexican fare good enough to lure us back again and again.
The decor of this free-standing shopping-center building is family style and rather spartan, with walls painted the color of lemon ice, decorated with serapes and sombreros, a few stylized murals of Aztec pyramids and a few posters advertising jalapeno poppers. Bare wood-grain formica tables, a row of sky-blue booths and sturdy dinette-style chairs add to the roadside-diner theme, but the place is invariably neat and clean as the proverbial whistle.
An extensive menu comes complete with a glossary to help the uninitiated distinguish among such goodies as quesadillas (fried flour tortillas with nacho cheese), chorizos (spicy pork sausage), chiles poblanos (chicken-fried hot peppers, to us Kentuckians), and much more.
A lunch menu (available 11 a.m.-2:45 p.m.) offers cut-rate plates that will fill you up for $3.85 (for several choices including the Speedy Gonzalez plate, an enchilada, taco and rice or beans) to $5.50 (for a sizzling fajita or carnitas, Mexico's answer to Western Kentucky barbecued pork).
Even if you miss lunch, you don't need to take out a second mortgage to dine heartily here. A huge selection dinner entrees, inscrutably divided among "Dinners," "Combinaciones," "Quesadillas Rellenas," "Especiales," "Especialidades el Azteca" and the very Aztec-sounding "Grande Tlaloc," begin for as little as $5.99 (for a number of vegetarian specialties and combination plates) and just about everything is under $9 except the shrimp fajitas ($12.50) and fajitas for two ($15.75). Light eaters may select from the a la carte section, where you can choose from a variety of standards from $1.50 for a taco for $6.25 for a pair of tostaguacs (a taco that they forgot to fold), a flat tortilla topped with beef, lettuce and a dollop of guacamole.
Basic mass-market wines are available by the glass or carafe, but there's no real wine list. I like beer with Mexican food anyway, and full bar service includes a variety of Mexican beers along with U.S. standards, as well as a selection of a half-dozen tequilas and the obligatory margaritas.
Our group of four cut a swath through the menu one balmy autumn evening, and we didn't find a thing to dislike.
Entrees are delivered on literally sizzling plates by strong-armed servers who carry a table-load at a time, wearing heavy insulated gloves and muttering, "Hot ... don't touch ... hot ... don't touch."
Complimentary chips and salsa come in generous portions, with refills freely available. The chips are fresh, flavorful and crunchy, and come with two salsas: The mild salsa is thick and lightly touched with peppery heat; the hot (it's the darker item, with chile-pepper seeds visible in the bowl) is spicy indeed, with a dark, brooding fire that will linger throughout dinner.
An order of jalapeno poppers (eight for $3.90) was enough for four to share. They appeared homemade, thick-walled jalapenoes stuffed with molten cheese (four of them a yellow, mild-cheddar type, the other four a deliciously earthy Mexican queso blanco), were rolled in cracker-crumb breading and fried to a crisp, grease-free dark brown.
The burrito deluxe entree ($7.25) featured two fat burritos, one each tortilla-wrapped chicken-and-bean and beef-and-bean, floating on a thick, more aromatic than fiery red-chile sauce.
A vegetarian special ($6.25) was a cheese-lover's delight, so generous a ration that it needed two plates: a bean burrito and cheese enchilada swimming in a pool of melted nacho cheese, and a crisp quesadilla, a tortilla wrapped around more cheese and fried to a crisp.
Steak tampequena ($8.75) is not a rendition you'd be likely to encounter at Ruth's Chris, but it's just about as good: A sizable thin-sliced skirt steak is marinated in exotic spices then grilled to a smoky turn, served with hot tortillas and rice and beans.
Chicken enchiladas de mole ($6.75) feature the famous Aztec sauce (pronounced "mo-lay"), the best excuse I've ever found for eating chocolate without having to wait for dessert. Juicy, tender bits of chicken breast were rolled into three tortilla logs and topped with the classic sauce, a delicious, thick concoction of chile peppers and dark, bitter chocolate; not at all sweet and hard to identify as chocolate, it's both seductive and addictive, one of my favorite Mexican items.
There's a limited selection of desserts including fried ice cream ($2), flan (Mexican custard, $1.50) and sopaipillas (the Mexican version of state fair "elephant ears," served with honey, $1.50), but we were too full, so we lingered over the last of the Carta Blancas and watched Univision until it was time to leave.
Dinner for four, including a round of Carta Blanca Mexican beers, came to an affordable $42.29, rounded up to $50 to cover a well-earned tip. $$
Another location: 530 W. Main St., (502) 561-8535 <!REVIEW ENDS HERE!>
---