!REVIEW GOES HERE!>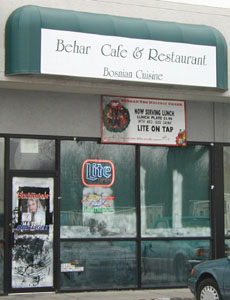 ** Behar Cafe
5600 National Turnpike
(502) 368-5658
I'm sure you've had the experience of entering a neighborhood tavern, where as soon as you open the door and walk in, every face in the room turns and looks at you. Behar Cafe is sort of like that, but everyone speaks Bosnian ... and when the "regulars" see you, they smile.
Although the dining room of this shopping-center storefront just off Third Street Road in the South End is pretty, with white tablecloths draped diagonally over green and attractive bud vases on every table, most of the action appears to be around the bar at the back of the room, which is obviously a popular after-work gathering spot for the city's growing community of immigrants from Bosnia.
While I can't say that a couple of strictly English-speaking locals weren't made to feel welcome on a recent evening visit, our dinner did seem faintly awkward, as we were the only couple at any of some 20 tables in the largish room, and although our server's English was more than adequate to the task, I couldn't get over a sense that she felt uncomfortable about having to communicate in a language not her own. In contrast with the region's other new Bosnian eateries, Papillon and Rufad's Kebob, Behar appears to target primarily a Bosnian audience seeking a comfortable place to get a drink and a sausage, rent a Bosnian video, and feel at home.
The menu is in English, though. It's brief, with about a dozen choices, and some of those blacked out. Bosnian fare, as presented here, seems to be a blend of reasonably familiar Eastern European dishes with a Mediterranean accent from nearby Turkey and Greece: Grilled sausages, kebabs, stuffed peppers and cabbage, with everything on the menu going for an affordable $7.50 (for kebab with fries) or less.
We ordered beers to quench our thirst while pondering the menu, and found that "large" ($3) gets you a very large mug, so big you almost need to hold it with both hands to drink from it. A regular-size mug is $2. The choice is limited to mass-market American beers and Heineken; I asked for the latter, but I'm not 100 percent convinced that my request made it across the language barrier; our beers were so featherweight that I suspect we were given domestic "lite." But they were cold and fresh and served to wash down the food.
Stuffed cabbage rolls ($3.50) proved to be an unmatched pair, one the size of a baseball and one the size of a golf ball, both delicious. Soft, salty cooked cabbage leaves were wrapped around a filling of rice and ground meat filling with a salty, hamlike flavor and served swimming in a reddish-brown, paprika-laced gravy and accompanied by a generous mound of dense, rich mashed potatoes with a dollop of butter.
My choice, grilled sausages ($6) were apparently formed from bulk-type sausage into bite-size, burger-like squares. It had a good beefy, earthy flavor, with a generous serving placed sandwich style between the cut halves of a round of Bosnian bread. The menu indicated that it's "similar to pita," but I thought it was more like an oversize, grilled whole-wheat English muffin. That's not a complaint: It was tasty bread, and it made a good foil for the hearty, mild sausage meat, along with the chopped sweet onions served alongside.
For dessert we shared a single order of baklava ($1.50), two good-size diamond-shaped slices, rich phyllo pastry surrounding chopped almonds and honey, and Turkish coffee ($2) served in a copper pot with a long handle. Let the grounds float to the top and settle to the bottom, then enjoy the strong, clear brew, dunking blocks of white sugar if you wish. We relaxed, enjoyed the coffee and the Near Eastern-sounding Bosnian background music, and eventually settled up for $18 (plus $2 tip), a fair price for a tasty, filling dinner and a pleasant visit to Louisville's "Little Bosnia." $$

<!REVIEW ENDS HERE!>
---