!REVIEW GOES HERE!>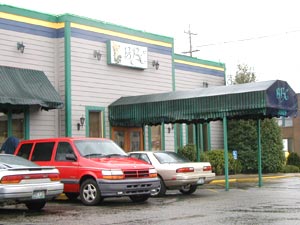 *** Bluegrass Brewing Co.
3929 Shelbyville Road
(502) 899-7070
Web: www.bbcbrew.com

For beer lovers, Louisville's Bluegrass Brewing Company has become a must-stop destination on the national artisanal-brew trail, not least because of Brewmaster Dave Pierce's reputation as one of the country's leading craft brewers.
But BBC is more than just a brewpub: Since its opening in 1994, management has paid serious attention to both liquid and solid fare, and under the current tutelage of Chef Mikki Rice, this fine establishement is on top of its form in both departments. It's a good place to drop in for a beer, dinner, or both.
BBC's large building, which originally housed a decent but commercially unsuccessful seafood restaurant "concept" of the Chi-Chi's chain, has found a happier life as brewpub. Facing Shelbyville Road, a small but efficient working brewery is jampacked with copper and stainless steel fermenters and vats with a high-tech tangle of hoses, pipes and flashing computerized displays, with big glass windows on both sides so you can watch the brewing action from the restaurant or the street.
The public area is divided into two large rooms with a compact, see-in kitchen between them: On the left as you enter is the large, noisy bar, a full circle with the usual big-screen televisions, happy, noisy and smoky crowd enjoying full-bar service focused on BBC's own wares.
Wood tones dominate the dining room side, with off-white walls and lots of historic photos and posters, wooden paneling and floors, varnished plywood tables on heavy bases; oak straightback chairs and sturdy but comfortable wooden booths down one side of the room. You're served on simple white plates with paper napkins and everyday flatware in a setting that's not fancy but pleasant. Artificial plants sprout from wooden dividers and dangle from the industrial-style ceiling with its orange-painted air-conditioning ducts and functional, factory-type hanging lamps.
The large menu offers lots of munchies as a bar-style restaurant should, and many of the dishes feature beer as an ingredient or flavoring. Seven appetizers range from $2.25 (for a German-style oven-baked soft pretzel with beer mustard) to $7.95 (for a ploughman's platter, a British pub tradition with Gouda and pepper jack cheeses and homemade sausage). BBC's Bluegrass chili, an award-winning beef-and-pork concoction, is $2.50; a dozen Cajun chicken wings are $6.50.
A trio of salads are $1 (for a small house salad) to $6.95 (for a grilled steak salad). A variety of sandwiches are $5.95 (including the BBC Burger and a classic Reuben) to $7.25 (for a fried fish sandwich with altbier batter).
Entrees are divided into "Chef Mikki Specials," which change seasonally and generally offer more creative fare (currently featuring such goodies as New Zealand mussels in altbier broth, $5.95, spiced apple-pecan salad, $6.29, and a "wintry pork loin" crusted with coriander and ginger, $11.95), and standard "Brewmaster's Favorites," which stay on the menu year-'round and include standards like chicken pot pie ($9.25, $5.25 for a small lunch order), fish and chips ($9.95) and a New York strip steak ($15.95).
Beer Tasting
There's no better way to get to know the BBC beers than a sampler, a $4.25 taste of all the pub-made brews currently on tap, including both the regular line and seasonal specials. Small tumblers of each - a little over 2 ounces per glass, making the entire tasting the moral equivalent of a pint - are neatly arranged on a paper mat with details about each so you can taste and compare. Here are my quick notes on the current offerings:
Kölsch - Amber gold in color, malty sweet, nice pleasant mild hops bitterness. This is the beer that BBC recommends to people still uneasy about making the leap from bland mass-market American lagers; it's a pleasant, nicely balanced brew.
Altbier - Reddish-amber, it's a little sharper and a little more hoppy-bitter than the Kölsch.
Nut brown - This one has a mellow roasted malt flavor that I like, a toasty light bitterness that's pleasant.
Porter - A dark-brown, almost black beer with an appetizing bitter-chocolate flavor, sweet dark roasted malt.
American pale ale - Dark copper-amber with fruity ale flavors and aggressively bitter hopping, this is a classic American ale in the California style, a worthy competitor to such well-known beer names as Sierra Nevada and Red Tail Ale.
Becky's Belgian Blonde - Very sweet and rather strong, a pale-gold, full-bodied brew that's true to the Belgian abbey style.
Oatmeal Stout - A rich and filling black beer with a bit more body and structure than the Porter.
They were all quite good, but I couldn't help noticing that the Nut Brown Ale passed the ultimate enjoyment test - it was the first glass I finished.
Dinner
Our appetizer was a longtime BBC signature dish, artichoke and kale dip ($4.95). A mild but pleasant creamy dip, it's made of artichoke hearts chopped to a paste in sour cream, with just a hint of dark-green kale and bits of red pepper and onion and Parmesan cheese whipped in, served with a few bite-size chunks of bread (they look like slices from a tiny baguette) and a generous portion of crunchy bright-red corn chips. "In honor of U of L?" I asked the server. "Indiana," he cracked back.
The Pitt Beef Sandwich ($5.95) said to be a Baltimore specialty, featured a good portion of thin-sliced roast beef topped with crisp, mild white onion slices on thick ovals of marble rye bread, discreetly spread with spicy horseradish mayo and beer mustard. It was a fine combination of flavors and definitely enough for a light dinner. It came with an exceptionally good slaw, fresh, crisp cabbage with a few bits of shredded carrot and scallion in an appetizingly creamy, not-too-sweet sauce.
My choice, the pizza of the day ($9.95) featured an odd mix of Italian and down-home style: Tart-sweet dark-brown barbecue sauce replaced the usual tomato sauce in a pizza topped with diced, tender chicken and sweet browned onions, topped with plenty of creamy mozzarella. The BBC pizza crust is a favorite, thin and crisp, with the addition of subtle herbs and "spent" grains left over after brewing to lend an appetizing crunch. The main-dish pie was about a 12-incher, large enough that I left about one-third of it to put in a box to take home.
BBC offers excellent desserts, although a filling meal and pint or two of beer rarely leaves me room to try them. Such was the case on our recent visit, where a delicious repast, first-rate beers and friendly, competent service resulted in a $29.35 tab and a $5.65 tip. $$ <!REVIEW ENDS HERE!>
---