!REVIEW GOES HERE!>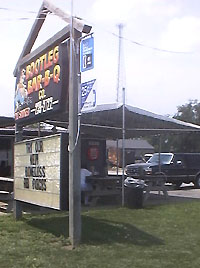 ** Bootleg Bar-B-Q
9704 Bardstown Road
(502)239-2722
It's getting more and more difficult to break out of Louisville's urban confines for a run to a rustic little barbecue joint out in the country for an old-fashioned repast. In times past, Bootleg's location way out Bardstown Road toward the Bullitt County line would have qualified easily as "out in the country," but this definition is harder to sustain now that the Gene Snyder Freeway cuts its swath across the region and strip shopping centers and imposing subdivision manses are filling in what used to be forests and corn fields.
But Bootleg Bar-B-Q still manages to provide a touch of rusticity, and a good helping of country hospitality, as it dishes out hearty portions of well prepared and affordable smoked meats and fixins.
You order from the walk-in counter, where you can choose takeouts or enjoy the choice of a table in a small, air-conditioned eat-in area or larger alfresco dining section under an awning. Eat-in choices range from $1.50 for a hot dog or bratwurst to $7.95 for a half-rack of baby back ribs in a dinner order with two side orders. Barbecue sandwiches are $2.95 for your choice of "pulled" pork, beef brisket, chopped chicken, Cajun smoked ham or mutton); make it a barbecue sandwich plate with two side orders or baked potato, and it's $4.49. For larger appetites or family-size takeout orders, "Family Paks" range from $12.95 for a pound of barbecue to $16.95 for a full slab of ribs, with side orders and rolls included.
I couldn't resist a mutton sandwich, a Western Kentucky delicacy from Owensboro and Paducah that's not widely available in Louisville. The meat was tender and full-flavored but mild, almost more like lamb than old-fashioned mutton, pulled into tender shreds and long-cooked with tangy barbecue sauce. It made a delicious sandwich. A half-order of ribs were good if not great, meaty and tender with no more fat than you'd expect of this non-dietary treat. Side orders were all up to standard, including meaty baked beans and long-simmered, salty green beans.
A good, filling lunch for two came to a reasonable $15.29. $
<!REVIEW ENDS HERE!>
---