!REVIEW GOES HERE!>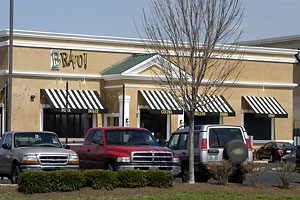 75

Bravo!
206 Bullitt Lane
(502) 326-0491

Website: http://www.bravoitalian.com/

MEMO to the management, Bravo! Development Inc., owners of Bravo! Cucina Italiana, Brio Tuscan Grille, Lindey's Restaurant and BON VIE Bistro, operating 26 multiple full-service restaurants in 10 states:



Lose the exclamation point!



Actually, now that I think about it, it might be best to change the name of your new Louisville-area eatery from "Bravo!" to something more along the lines of "Okay."



Management describes the Bravo! "concept" as "a fun, white-tablecloth casual eatery ... positioned between the fine-dining and casual chains," which seems to mean "a step up from Olive Garden." A recent visit revealed fair-to-middling Italian-style fare made for Middle American taste buds, with decent appetizers and first-rate grilled meats, but not much else to write Rome about, served up in the renovated free-standing building adjacent to Oxmoor Center that had previously housed the forgettable Hops Brewery.



Gone is the brewpub scene, replaced by a standard faux-Italian setting that Bravo! describes as "Roman ruin decor." This is accomplished with plaster columns in the Corinthian manner, topped off with replica plaster beams that appear to have been broken off in a Pompeii-like disaster. Roughened antique-look beige plaster walls and scattered chunks of plaster bas-relief wall decorations accentuate the ancient-Roman look. A few big potted palms and heavy circular hanging lamps add a hint of the 19th Century; track lighting in the no-smoking section (inefficiently separated from the smokers) is carefully positioned to illuminate the tables, a helpful touch.



An open kitchen, shiny in stainless steel and glass, gives diners a view of the chefs at work; their busy hollering adds a distinct note of controlled chaos to the restaurant's otherwise discreet background music. Sturdy tables are draped in white cloth covered with protective butcher paper (and a few Crayolas for the kids to draw with), and youngsters are also given yellow balloons in this child-friendly place.



An unopened bottle of Chianti is placed on every table as a decoration and, perhaps, to encourage wine sales, although somewhat to our surprise, instead of the usual invitation to cocktails, our server led with "Can I get you started with a Pepsi or something?" Well, no, thanks.



Bravo! makes a point of training waitstaff to provide exceptional service, a process that seems to yield spotty results. Our server was friendly and cordial (and earned a decent tip), but she seemed to do her job from a script rather than by observation. She was careful to explain the menu in almost painstaking detail, and checked - almost too often - to see how we were doing. But our water glasses went unattended throughout the meal, and we were left to handle our own wine refills (a function that I'm just as happy to serve without assistance anyway).



A bit uneasy with the wine ritual, she got the cork out of our Chianti after some struggle, then neglected to offer a taste before filling the glasses up to the brim. Nor did she think to ask how we wanted our steaks and chops cooked - a lapse that I fortunately noticed, intervening with a bid for rare rather than risking chef's choice.



Speaking of wine, the list is relatively impressive for a "casual eatery," featuring more than 60 selections by the bottle (and a dozen by the glass) on a worldwide list that tilts toward Italy but also ranges from the U.S. to South America to Down Under. Bottle prices range from $16 (for Stival Pinot Grigio) to $99 (for Argiano Brunello di Montalcino; the top white is Staglin Family Vineyard Chardonnay for $75), with plenty of good choices in the teens and $20s range. Wines by the glass are $5.25 to $8.95 and appear to be priced at one-third of the bottle price, which makes a bottle seem like a better buy for parties of two or more.



One of the less-expensive wines on the list looked like the best bargain: Renzo Masi 2000 Chianti Rufina (from an often neglected satellite of the Chianti region near Florence). At $18 for a bottle, $5.95 a glass, it's not badly marked up over the $13 local retail shelf price for the '98. There's nothing fancy or elegant about this wine - hey, it's a Chianti! But it's soft and so fruity it almost seems sweet, simple but approachable, with warm dark cherry and plum flavors and plenty of acidity to go with food.



If you prefer something stronger, there's full bar service, including grappa, single-malts and a half-dozen martinis from the O-shaped bar that's off to the left as you enter.



The menu is fairly extensive and covers a range of mostly familiar Italian and Italian-American dishes. Appetizers are $3.95 (for Italian wedding soup or the soup of the day) to $8.95 (for baked cheese ravioli under cheesy Alfredo sauce or the redundantly named "shrimp scampi"). A signature starter is artichoke and spinach cheese dip with flatbread, $7.95.



Side salads (included with dinner entrees) are $3.25 to $4.95 a la carte; dinner salads are $8.95 to $9.95. Pizzas and flatbreads from the igloo-shaped Italian wood oven - too large for an appetizer, our server advised - are $6.95 to $8.95.



About 25 main-course options are subdivided among Specialita della Casa ("house specialties"), Pasta, Bistecca ("steaks"), Seafood and Specialita di Grilia ("grilled specialties"), and range in price from $8.95 (for spaghetti Bolognese, spaghetti with meat sauce in the style of Bologna, Emilia-Romagna) to $19.95 (for an 8-ounce beef filet topped with Gorgonzola cheese). The catch of the day, not available at the time of our visit, is market price.



Complemintary foccacia bread - made on the premises, the server said - was served warm in an attractive wire basket lined with paper napkins. It was light and crumbly with a pleasantly crisp but not chewy crust, heavily laced with dried herbs, served with a splash of olive oil flavored with sun-dried tomatoes and more dried herbs.



The soup of the day, cream of mushroom ($3.95) was served in a white porcelain cup that looked a bit like a baptismal font for a doll. A Roman doll, of course. The soup was good, rich with cream, full of brown-mushroom flavor and a pleasant nutty nuance - perhaps a dash of walnut oil - garnished with chopped parsley and a dollop of fruity, peppery green olive oil dribbled on top. Served hot it would have been perfect; lukewarm service knocked off a few points.



Pepperoni "Tasca" ("pocket") flatbread ($6.95) made a hearty appetizer, enough for two to share or to be a light dinner course. This pizza-style starter consisted of a half-circle (four slices) of crisp flatbread with large, thin rounds of pepperoni captured between two layers of thin, breadlike crust, baked like a pizza and topped with thin-sliced onions, bits of canned Italian-style tomato and shavings of hard Italian-style cheese. It came with a wide ramekin of standard-issue marinara sauce with a pool of granular white cheese that looked a little like cottage cheese but was probably crumbled feta.



In a pleasant touch, salad forks and plates (as well as dessert spoons) come to the table cold, stored in a wine cooler box, the server said.



Chopped salad ($3.25 a la carte, $2.55 with pizza or pasta, included free with entrees) was chopped all right - a mound of crisp lettuce, tomato, cucumber and black olives chopped into small bits and tossed together with a sweetish dressing.



The Caesar salad (same price structure) was a little better, a standard presentation of crisp, cold romaine lettuce cut in squares, topped with a creamy Caesar dressing (no whole anchovies but there's a slight, pleasant whiff of them, probably from Worcestershire sauce), and dressed with plenty of grated Parmesan and small, crunchy croutons made from toasted foccacia bread.



Some of the pasta dishes looked tempting in a comfort-food way - I wavered over "Mama's lasagna, ($10.95); but grilled meats evoke Tuscany, a Northern Italian region more focused on the grill than the pasta pot, and we decided to indulge.



The wood-grilled double-cut lamb chop ($18.95) was a full rack cut into two four-bone sections, ordered medium-rare and served dead rare, it came to the table pale pink and just barely warmed through. It's a good thing we don't mind it like that. Excellent lamb indeed, it was tender enough to eat with a spoon.



Twin filets scampi style ($18.50) featured two petite (4-ounce) filet mignons of equally high quality, criss-crossed with grill marks, seared on the outside and warm pink medium-rare in the center, just as ordered, served on what looks like a red-wine reduction atop a then, herb-butter sauce on the plate. It was garnished with three fair-size grilled shrimp on a skewer, which looked appetizing but proved otherwise: The shrimp were mushy and overcooked and short on flavor.



Both dinners were served with "Tuscan" mashed potatoes (dense and thick, studded with fine-minced scallions) and string beans that someone in the kitchen apparently mistook for haricots verts - they needed a half-hour of simmering and apparently got about 30 seconds of blanching, coming to the table bright green, woody and raw - topped with a small ration of diced tomatoes.



We passed on richer desserts in favor of ice cream and sorbet, which came in oversize portions on large plates, garnished with a triangular sugar cookie and a pretty good strawberry considering the season. Mocha crunch gelato ($3.95) was really good, creamy and flavorful, with a distinct coffee flavor and crunchy bits of bittersweet chocolate to add textural interest. Lemon sorbetto ($3.95) was dense and snappy with tart lemon flavor. It seemed a bit heavy for a sorbet, but we had no objection to the taste.



You wouldn't ask for a coffee drink with milk in Italy any later than breakfast, but hey, this is Louisville, and big cups of frothy cappuccino ($2.65) made a warming finish to the evening.



Nothing was really bad except the beans, but the overall experience, as noted, left me more inclined to mutter "OK" than jump to my feet yelling the restaurant's name. For a dinner that came to $82.20 with a very modest wine and rounded up to just a buck under $100 with a $16.80 tip, I expect a little more excitement. $$$
(March 2003)
<!REVIEW ENDS HERE!>
---