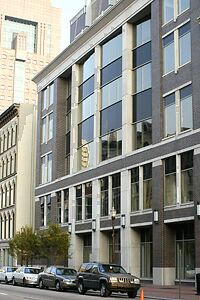 The Bristol Downtown, 614 W. Main St., occupies much of the first floor of a new office building that filled in a vacant lot.

86

Bristol Bar & Grille Downtown
614 W. Main St.
(502) 582-1995

Website: http://www.bristolbarandgrille.com


<!REVIEW GOES HERE!> Boasting more than 25 years of local history, the original Bristol in the Highlands helped kick off the Bardstown Road restaurant renaissance as one of the city's first upscale-casual modern eatery-and-watering-holes. Its addictive green-chile wontons, a Bristol signature dish, have become as much a part of Louisville culinary lore as the Hot Brown or Benedictine.

For a while there, it seemed as if the city's evolving restaurant scene had passed the Bristol by. Always reliable but rarely exciting, for many local "foodies" it had long since fallen off the "A list" of places to dine. But recent visits to the Bristol's relatively new downtown establishment on West Main Street have recalibrated my attitude. Under the supervision of Scott Harper, who manages the downtown branch and oversees the Bristol's wine program, it stands out for food, service and enticing beverages that rank well above the median.

Like the Highlands original and the Bristol's East End outpost on Hurstbourne, the Main Street eatery is a casual American bistro with an excellent bar. It occupies much of the first floor of a stylish limestone-and-brick office building designed by K. Norman Berry Associates, Architects, a new structure with a genial character that fits in well with its historic neighbors on West Main Street, which is said to house the largest collection of 19th century cast-iron storefronts west of New York City's SoHo.

The Bristol's dining room is stylish, too, wrapping in an L-shape around two sides of the large, inviting bar. The walls are mixed earth tones of dark forest green, pale sand and adobe with red-clay-color trim and a dark-green recessed ceiling above. Artsy illuminated glass sculptures double as indirect lighting sources and separate the dining room from the bar. A few booths line the back end of the L, but most seating is at undraped black tables furnished with small black wooden chairs and set with standard flatware and white polyester napkins.

The Bristol's bill of fare offers a wide and eclectic mix of soups, salads, burgers and sandwiches and similar light bites, along with a shorter but still diverse list of more substantial entrees. Soups and salads range in price from $2.95 (for the soup of the day or a house salad) to $7.95 (for the top-end salads, including a Caesar topped with grilled chicken, a Bibb lettuce and Stilton cheese salad, or a spinach salad with grilled chicken, or Rhonda's white chili or a full order of the famous green chile wontons.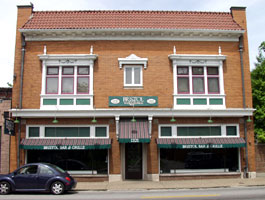 This is the original Bristol Highlands at 1321 Bardstown Road.

The signature Bristol Burger is $5.95; add Swiss, blue, Cheddar or hot pepper cheese for $6.25, or top it with cheese and bacon for $6.50. A Santa Fe garden burger doctored up Bristol style is also $6.50. Four pasta dishes go from $9.95 (for linguine Pietro with mushrooms and sun-dried tomatoes) to $12.95 (for shrimp Rockefeller over short penne pasta with spinach and Pernod cream). Or mix-and-match ethnic cuisines with linguine shrimp al ajillo with garlic cream ($11.95) or Teresa's linguine with cream and Thai sweet-chile sauce topped with blackened chicken ($10.95).

A baker's dozen entrees are subdivided into "Chef's Specialties" with international accents, ranging from hot-and-spicy Thai chicken stir-fry over rice ($9.75) to a 10-ounce char-broiled New York strip steak with Henry Bain sauce or a steak Forestière with mushrooms (both $17.95). A classic Louisville Hot Brown is $9.95. Four more main dishes are billed as "Bristol Classics," from $11.95 for pork Dijonnaise or a steak sandwich to steak au poivre for $17.95. The Asian-accented filet mandarin, marinated in soy sauce, honey, gralic, ginger and orange mandarin liqueur, is $16.95.

Scott Harper's beverage skills (he is studying for international certification as a Master Sommelier) shine through in the book-like drinks menu, which features a vast range of aperitifs, vodkas, gins, rums, tequilas, whiskey, Bourbon, rye, Tennessee whiskey, single-malts, Scotch and Irish, Cognac, Armagnac, brandy, Calvados, liqueurs, Calvados ... and, of course, wine, with both a standard list and a "Reserve" list.

Happily, even the high-end list is relatively affordable by local white-tablecloth standards, with three pages of intersting wines categorized by grape variety. A few goodies crack the $50 mark - a first-rate Burgundy, the 1998 Volnay Hospice de Beaune Premier Cru Santenot is a steal for the well-heeled at $80, and Sonoma-Cutrer "The Cutter" Chardonnay is fairly priced at $50 - but even the "Reserve" list stays mostly safely under $50.

The regular wine list - printed on the back of the food menu - tops out at $40, with many decent choices available at $25 or less for a bottle and $5 or less for a glass. The beer list is interesting, too, with imports like Hoegaarden White from Belgium, Pilsner Urquell from the Czech Republic and Newcastle Brown Ale on draft in your choice of 10-ounce or 20-ounce servings from $2.75 (for a small glass of Pils) to $5.95 (for a 20-ounce glass of the Hoegaarten). Bottled import beers are mostly $3.25 to $5.95; the oversize Chimay Trappist Ale from Belgium is $13 for the 750 ml bottle, the size of a wine bottle, plenty big enough for two.

In addition to the beverage lists, table cards offer specials, including some intriguing options - "tasting flights" of wines or bourbons that offer small samples of each so you can compare and contrast as an educational experience.

This is a praiseworthy beverage program, consistently affordable and carefully selected by an expert who knows his drinks and picks out interesting items that don't just mirror every other eatery in town.

We couldn't resist starting with a ration of the green chile wontons ($4.95 for a half-order) and were rewarded with a quartet of nicely deep-fried items, crunchy golden brown and sizzling, with an addictive creamy filling laced with just enough green-chile heat to warm you up a bit, hot enough to put your throat on notice that they've been there, served with a creamy, mild mayo-based avocado guacamole dip to cool you back down again.

Warm bread baked on the premises was a special treat, a French-style epi loaf made to resemble a stalk of wheat - fluffy and light, warm from the oven, with a good crust you can get your teeth into.

Salads were served in large, shallow bowls. A small Caesar ($3.50) featured a generous portion of fresh romaine under a more-than-generous ration of mild grated white cheese. Its simple dressing offered a whiff of Worcestershire, although there wasn't an anchovy in sight. Large, fresh toasty croutons added crunch.

A small version of the Bibb and Stilton salad ($3.95) consisted of deliciously crisp and delicate fresh Bibb lettuce, nicely composed on the plate, decorated with mandarin orange segments and walnut halves topped with plenty of blue cheese in a rather sweet, slightly tangy balsamic dressing.

The Bristol Burger ($6.25 with the cheese option) was excellent, served openface with good tangy blue cheese crumbled on the large, juicy and not overcooked burger. My wife gives two thumbs up to the Bristol's tradition of serving it on a good English muffin in place of a boring bun.

My choice, the pork Dijonnaise from the "Bristol Classics" list, consisted of a boneless piece of tender pork sliced diagonally into thin slices, then reassembled. I give it an A in the flavor department, although it was a bit dry, cooked somewhat past the point of juiciness. (This is a tough call in the restaurant business, where many diners will recoil in horror if there's a hint of pink in the pigmeat.) The accompanying potatoes were particularly interesting, sliced into perfect rounds and dusted with a peppery spice mix before frying. They're addictive.

I chose a hearty, earthy and "rustic" French red wine to accompany the meal, the 2000 Perrin Reserve Cotes-du-Rhone. This is a regional wine made by the owners of the sought-after Chateau de Beaucastel, and an excellent value at $17 (not available by the glass). I was a little disappointed to have it served in a smallish glass, filled to the top, but Harper later told me in E-mail that customers are welcome to request good-size, classy Riedel glassware. This is another tough call for restaurateurs, as "wine geeks" want big glasses with plenty of headroom to swirl and sniff the wine, but a lot of customers feel that they've been shorted if they don't get a full glass. I'm satisfied to know that the option exists, and will ask for a big glass with a low fill next time.

After all that good food and wine, we didn't really need dessert, but the Bristol's Café Maximilian ($2.95) turned my head - in fact, it made my head spin like that memorable scene from The Exorcist. It's a big scoop of creamy, dense coffee ice cream with just a taste of coffee liqueur to add java flavor and sweetness. To its credit, I didn't get the hot blast of alcohol that often accompanies liqueur-laced desserts; shreds of bitter chocolate shaved on top added another flavor dimension, as did a small billow of sweet whipped cream.

A cappuccino passed muster, too, a good-size cup of rich espresso and hot steamed milk with cinnamon dusting its foamy top.

Dinner for two came to $53.38 including a bottle of wine, a pretty darn fair price for a filling dinner for two downtown; a tip for eager and pleasant service rounded the total up to $65. $$$

OTHER LOCATIONS: 1321 Bardstown Road, (502) 456-1702; 300 N. Hurstbourne Pkwy., (502) 426-0627.

ACCESSIBILITY: The downtown property is fully accessible to unassisted wheelchair users.

(February 2004)

<!REVIEW ENDS HERE!>
---