!REVIEW GOES HERE!>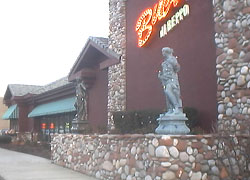 85

Buca di Beppo
2051 S. Hurstbourne Parkway
(502) 493-2426

I let my belt out one notch, took a second helping of linguine with white clam sauce, and repeated for the third time how happy I was that I didn't let the conventional wisdom keep me away from Buca di Beppo.
Frankly, I would have dropped by this new spot sooner, but the conventional wisdom put me off: I have little faith in eateries run by franchise chain operations; and Louisville's suburban-sprawling, traffic-jammed Hurstbourne corridor has little to offer but franchise chains.
Buca di Beppo, a Minneapolis-based chain of 33 operations, breaks the pattern, though, as evidenced by its nomination as "hot dining concept of the year" for 1998 by both Restaurant Industry News and Bon Appetit.
What makes this concept hot? Buca di Beppo's recipe has all the necessary ingredients: Huge portions, excellent food, prepared from fresh ingredients and served with flair, for prices that seem high only until you realize that one huge entree is enough to serve four.
What's more, the Buca scene is more fun than you might expect. In a conscious parody of family Italian-American restaurants of the 1950s, they've divided a large building into at least a dozen rooms decorated with flocked-velvet wallpaper and covered floor-to-ceiling with a gallery of pictures in mismatched frames - all Italian, ranging from family photos to portraits of Italian-American luminaries like Frank Sinatra and Sophia Loren to Cardinals of the Church and even Popes.
(The "Pope Room," a tongue-in-cheek feature that's reportedly the centerpiece of all 33 Buca properties, is a circular room with a fair reproduction of the Sistine Chapel ceiling overhead, an oil portrait of Pope John XXIII on the wall, and a life-size plaster bust of Pope John Paul II in a plastic case in the center of a huge round table that seats 20.)
An adventure at Buca di Beppo (Sicilian dialect for "Joe's Basement") begins, in Disneyland style, with a short trip through the restaurant's kitchen, where sous chefs and dishwashers greet you with friendly waves and chirpy hellos. Then you're seated in one of the merrily crowded dining rooms, at a table covered with a red-checked tablecloth (of course), with Italian arias and folk songs set just loud enough to accompany without drowning out the buzz of a room full of happy diners.
Our server managed to greet us with his name and act like a long-lost pal without seeming hokey or insincere. He described the specials, ascertained our preferences about garlic and anchovies (we love both), and advised us up front that one portion really does serve two ... or three, or more.
Large menus are strategically posted on the walls, between the Sinatra and Pope pictures. They list a suprisingly large array of what the management calls "Italian immigrant" standards. With a dozen appetizers and salads, nine Sicilian-style (deep-dish) pizzas, a dozen pastas ($8.95 to $18.95) and nine dinner entrees ($15.45 to $19.95) to choose from it's easy to overdo, but the servers will warn you if they think your eyes are bigger than your stomach.
The wine list is short and mostly Italian, nothing particularly fancy but affordable despite a high markup, with house wines starting at $3.95 a glass and many good bottles in the $20 range. Caution: The signature vino - Chianti in old-fashioned wicker-basket bottles - is a bit on the high side at $24.95 for a liter to $59.95 for a three-liter jug, a bottle large enough to handle the entire Pope's table.
Wine snobs take warning: The vino is served in tall tumblers, trattoria-style, not your persnickety stemmed glasses. We enjoyed a Straccali 1995 Sangiovese di Toscano Vino da Tavola ($23.95), a dry red so fruity and spicy that it even went well with seafood.
With the server's guidance, the two of us shared one appetizer, one salad, one pasta dish and one dessert and still took home twice as much as we were able to eat, neatly packed into one of Buca di Beppo's trademark brown grocery bags.
Our appetizer order, roasted red peppers ($6.95) covered a large oval dish with a blanket of mild peppers covered with lots of garlic, minced fresh basil and olive oil, garnished heavily with anchovies as requested. It came with a basket of light, palatable foccacia-style bread.
The Caesar salad ($9.95 for the "small") was first-rate. They ask if you want the anchovies, and of course we did. Crisp, fresh romaine was cut in squares and coated with a creamy, garlicky Caesar dressing, ample to coat the lettuce without pooling at the bottom of the bowl; crisp, oversize croutons were made from fresh Italian bread. It was a better Caesar than you'll get at many of the city's white-tablecloth restaurants.
Our main course, linquini with white clam sauce ($15.45 for the so-called small size, a mere 1 1/2 pounds) came in a large bowl mounded over the top with perfectly cooked linguini topped with a good if simple white sauce of minced clams briefly cooked with white wine and garlic, parsley and oregano and a piquant shake of hot red-pepper flakes.
A vegetable side dish, sauteed escarole ($7.95), was cooked until wilted but still bright green, with abundant onion and garlic and lots of olive oil.
We shouldn't have had dessert, I guess, but it's all to easy to get into the food thing at Buca di Beppo. Bread pudding caramello came in a gargantuan portion, the size of a box of Velveeta: Four layers of Italian bread were baked in a pan with raisins and brown sugar and a chocolate-chip topping dusted with powdered sugar, served with a gravy bowl filled with thick, burnt-sugar-sweet caramel sauce. We ate a little off the end and packed the rest to go.
With two cups of excellent espresso ($2.65), the total for the evening came to $78.98 (plus a $15.02 tip), which covered a meal that would have easily served four and provided enough take-home leftovers to last for two days. $$$ <!REVIEW ENDS HERE!>
---