!REVIEW GOES HERE!>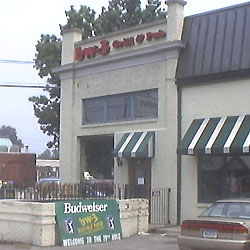 ** bw-3 Buffalo Wild Wings Grill & Bar
3900 Shelbyville Road
(502) 899-7732
More of a sports bar than a restaurant, the scene at this St. Matthews eatery is dark and dominated by a large bar, high tables and big-screen television sets tuned to sports channels. The whole place smells like an ashtray that needs emptying.
This description may not sound like the kind of place I'd like, but it has one saving grace: Particularly by the standard of a national franchise chain with 100 properties (many on college campuses), it offers surprisingly good snack-type fare, including a wide variety of the chain's trademark Buffalo chicken wings.
The bw-3 chain started almost 20 years ago with an Ohio State University shop, founded by two pals from Buffalo who allegedly missed their home town's wings and "weck," the local name for a seeded kaiser roll. They named it "Buffalo Wings and Weck," a name that gradually segued to "bw-3" or "Buffalo Wild Wings," apparently after tiring of having to continually explain what weck is.
The St. Matthews branch has been around for a couple of years, holding down the corner spot in the St. Matthews Station mini-mall at the corner of Shelbyville Road and Breckinridge Lane.
We stopped in the other day for wings and ended up trying a few other items as well.
The wings here are pretty good, maybe not quite as soulful as those at Wangs & Thangs in Old Louisville but well above average. We split an order of 18 ($5.75), including six with lemon-pepper sauce and 12 with the traditional hot sauce. Both sauces were thick and slightly pasty, seemingly flour-thickened. The lemon-pepper sauce was mild and gently tangy. The hot was a standard Buffalo-wing style, straight red-hot sauce; they're not dripping with butter like the originals from Buffalo's Anchor Bar, but the American Heart Association will thank them for that.
Potato wedges ($2.69) were first-rate: Steaming hot potato bites, tender strips of spud in a crunchy fried casing.
A pair of Thai Buffalitos ($5.79) from a special menu made an exotic departure from bar food: Chicken fingers, a slice of pineapple and a sweet-hot peanut sauce over standard Taco (Bell) lettuce, tomato and shredded American cheese were served on a pair of soft flour tortillas.
All this lunch was plenty, really more than enough for two, and with a pair of soft drinks came to an affordable $18.77. $
OTHER LOCATIONS: 12901 Shelbyville Road, (502) 254-9464; 6801 Dixie Highway, (502) 935-1997. <!REVIEW ENDS HERE!>
---