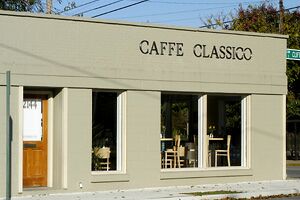 80

Caffè Classico Espresso Café
2144 Frankfort Ave.
(502) 894-9689

www.caffe-classico.com
<!REVIEW GOES HERE!> When I first noticed yet another coffee shop on Frankfort Avenue, my initial reaction was to wonder whether there are enough espresso lovers in the metro area to provide a market for them all.
But a closer look at Caffè Classico, followed by a second, third and a fourth, have made it clear that this place is not just another funky neighborhood coffee shop.
Sleek, modern and very European, it may serve espresso drinks, teas and pastries similar to its neighbors, but it varies dramatically in mood and personality from the downscale style of Heine's, Java Brewing, Nancy's and other coffee shops along the Frankfort Avenue strip.
Start with a stunning space that looks as much like an art gallery as a coffee shop - a sunny storefront with big plate-glass windows overlooking the corner of Frankfort at Clifton.
UPDATE: PANINI, AND A BOTTLE O' BEER
Caffè Classico's short selection of pastries and cookies got a boost recently with the addition of estimable Italian-style panini sandwiches, made on the premises.



They're all served hot on Italian ciabatta bread, pressed flat and ridged with appetizing brown ridges from the sandwich press. We sampled two from a half-dozen selections and enjoyed them both, once they cooled enough to touch. Panini caprese ($5.25) consisted of a simple ration of fresh basil, wan winter tomato slices, molten mozzarella and olive oil. A Panini Italiano ($5.95, as are all the other panini on the list) featured a deli selection of thin-sliced salami, pepperoni and mozz' with a spinach leaf, roasted red peppers and olive oil.



With a large latte and a Coke, a quick and tasty lunch for two came to $16.01, plus a couple of bucks for the tip jar.



Caffè Classico also serves beer, offering a mostly imported selection of bottled beers from $3.50 (for the Italian Moretti Rosso Doppio Malto or French Kronenbourg, or, if you must, the mass-market imports Heineken, Amstel, Beck's and Harp) to $6.50 (for the excellent Duvel Belgian ale). Kaliber non-alcoholic beer is $3.50 also. $

(February 2004)

Add blond wood tables and shiny light floors to catch the sunlight, and pale-cream walls discreetly adorned with bold art works. A simple serving counter backed with an imposing Italian espresso machine, and a couple of shelves offer bags of European specialty coffees, teas and preserves and a couple of pricey home espresso makers. (As best I can determine, the coffee shop operation - Caff&egrave Classico, grew out of a retail coffee-and-accessories business called Coffee Classico.

The bill of fare is brief and basic, featuring Segafreddo coffee by Zanetti, a familiar Italian brand. Well-crafted espresso drinks include the usual suspects, from $1.50 for a single shot of espresso to $3.50 (for large cappuccinos, lattes and the like). Regular coffees, teas and a tempting selection of pastries are also available - we've become addicted to polvorosso, rich, crisp shortbread rounds dusted with powdered sugar, three to an order.

The sunny, crisp environment, the daily New York Times and Gannett Courier-Journal and a handful of magazines make this an exceptionally comfy place to enjoy a coffee drink and a pastry. It's a welcome addition to the neighborhood. $

(October 2003)

<!REVIEW ENDS HERE!>
---