!REVIEW GOES HERE!>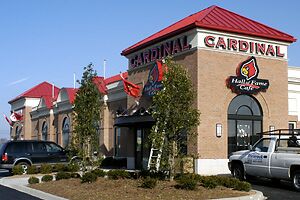 76

Cardinal Hall of Fame Cafe
2745 Crittenden Drive
(502) 635-8686

You don't have to be a University of Louisville fan to enjoy dining at the new Cardinal Hall of Fame Cafe, but if your heart bleeds blue, you might get a little edgy about the overwhelming red-and-black decor at this oversize dining hall at the Fairgrounds.
But Cardinal boosters will groove on this scene, whether they start with Pitino and Petrino or go all the way back to the days of Wes Unseld or even Johnny Unitas. (If you're old enough to remember Unitas, you might want to ask about a senior-citizen discount.)
The Hall of Fame occupies a large, freestanding building in front of the new Hilton Garden Inn just off I-65 on Crittenden Drive at the (now-closed) Gate 4 of the Kentucky Fair & Exposition Center, just a short hop from U of L's basketball arena in Freedom Hall and from Papa John's Cardinal Stadium. It opened just in time for college hoops season.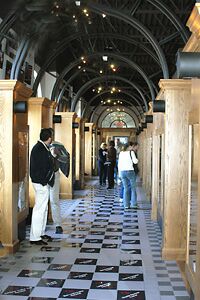 It celebrates U of L sports with a lofty, almost shrine-like "Walk of Fame" paved with the names of university sports stars and lined with display cases loaded with awards, photos, historic jerseys, game balls, bats, hockey sticks, golf clubs and lots more Cardinal memorabilia. There's also a gift shop where you can buy anything from a gimme cap to a stadium jacket, as long as it's Cardinal red and black.
There's nothing fancy about this place, which somewhat resembles a large, improved manifestation of Denny's with sports added. But a fun scene, excellent service and at least passable fare makes it a worthy addition to the city's casual-dining niche. It does for U of L sports what Hard Rock Cafe does for rock, with the advantage that the background music is discreet.
Hundreds of fans can dine in two large dining rooms - an oversize large bar and smoking section with a squadron of big-screen televisions, and an equally cavernous non-smoking dining room with just a couple of TV screens. A smaller semi-private room at the end of the Walk of Fame holds a big table for 12. The main dining room is lined with large booths framed in oak, plus shiny wood-and-gray-laminate tables set with fairly comfortable wooden side chairs. The walls are lined with framed U of L sports photographs and a few poster-size shots of university stars on simple beige walls under a black industrial ceiling.
The bill of fare features everything from a "Cardinal burger" to steaks and prime rib, with sandwiches, soups and salads from $5.95 to $8.95, plus pasta dishes and a dinner menu that runs from about 10 bucks for fried chicken to $20 or so for prime rib.
The busy bar offers full drinks service, including the bright-red signature cocktail, "The Hall of Fame Bacardi Hurricane" and a magisterial list of small-batch and single-barrel bourbons, plus martinis and cosmopolitans, cordials and liqueurs, and a rather short beer list featuring mass-market import and domestic brands.
The wine list is short and mostly mass-market, too, but comfortably priced, with about two dozen selections from $12 for Montevina White Zinfandel ($4.50 a glass) to $42 for Robert Mondavi Napa Cabernet (not available by the glass). Many selections are $28 for a bottle and a spendy $7.25 for a glass, including the Columbia Crest Grand Estates Pinot Noir, Chardonnay and Merlot from Washington State, wines that retail locally around $12 and are available to restaurants at a wholesale price around $7, which makes the $28 price tag a bit on the cheeky side. There's also Pitino Grigio, of course, a surprisingly quaffable white wine bottled as a novelty label by a local firm, a reasonable buy at $21 a bottle.
We dropped in for lunch the other day and got a so-so burger - ah, Cardinal burger - and fish sandwich, and a better-than-so-so Asian-style "lettuce wrap" appetizer that was as good as you'd get at a South End Vietnamese joint.
Iced tea ($1.75) was excellent, freshly brewed and transparently clear, served with lemon in a tall, heavy tumbler. Flatware is sturdy, shiny stainless with a good man-size feel, rolled in good-size white polyester napkins. Our server was cordial and helpful, introduced herself but didn't go out of her way to try to establish a personal relationship.
Lettuce wraps ($5.95), as noted, approximated the real thing. A pile of spicy chopped chicken laced with sesame flavor, aromatic but not fiery, was served with julienned carrot, yellow squash, zucchini and bell peppers and a sweet-fruity-spicy chili sauce. It was served with a half-head of iceberg lettuce to roll your own wraps.
Timing became almost too aggressive at this point as waitstaff struggled to keep up with a large lunch crowd. Our sandwiches arrived while we were still in the middle of our appetizer, forcing us to watch them cool while we finish the wraps.
The beer-battered cod sandwich ($7.95) consisted of two smallish pieces that were frankly more appealing to the eye than the taste buds. An appetizing golden-brown coating proved to be thick and cooked only partway through, leaving a soggy layer of moist flour between a rather leathery coating and the fish. And once you got to the fish, it was flavorless and bland, with a mushy texture that had apparently done time in the freezer on its way from the sea to my plate. It was a lackluster sandwich, frankly, and I abandoned it after dutifully plugging about halfway through. It was served open-face on a forgettable white bun with green leaf lettuce, red onion and a surprisingly spicy cayenne-laced tartar sauce on the side to dress your own.
The Cardinal Burger ($8.45) had its problems too. It looked good on the plate - a plump burger mounted on an oversize white bun with fresh leaf lettuce, wan winter tomato, a thick slice of red onion, a thin slice of mild Swiss-type cheese, crispy bacon, roasted peppers and sauteed mushrooms. In spite of my wife's request for medium-rare, however, it came fully well-done, on the dry side and just about as flavor-free as the fish. French fries were better, homemade and sizzling hot.
This simple repast for two, with iced tea and a Diet Pepsi, came to a hefty $27.40 plus a $5.60 tip. Despite the friendly service and the fun of the university sports theme, this is no bargain, and I would be hesitant to consider it for a more expensive dinner. $$
(January 2004)
ACCESSIBILITY: Modern building appears fully compliant with Americans With Disabilities Act requirements.
<!REVIEW ENDS HERE!>
---