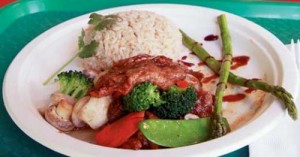 People talk about "restaurant rows" all the time in this food-crazed town. We've been marking them with highlighters on the city map for the last 25 years or so, since Bardstown Road started to solidify as the city's first such culinary concatenation with the arrival of the Bristol, Jack Fry's and their neighbors in the late 1970s.
It didn't take Frankfort Avenue long to get into the act, when the Irish Rover, El Mundo and Heine's followed Deitrich's and the original incarnation of Lynn's onto the streetscape. And then came St. Matthews, and NuLu;, and before long they're all probably going to start running together into one mass restaurant zone.
And now, out on the bustling northwestern corner of the U of L campus, we may have the city's first purpose-built restaurant row. If you don't get out to this area often and still have in your mind the image of the old barn-like venue that long housed Masterson's, get set to recalibrate: The entire southern end of the block along Cardinal Boulevard (née Avery) between Third and Fourth streets is now filled in by a hulking Cardinal red building that includes fancy apartment housing for 540 students … and, at ground level, a spanking-new urban block of spiffy storefronts that's chockablock with quick-service eateries. Now, that's a restaurant row!
Clearly geared to student interests, this row focuses on simple dining, fast and cheap. Not that there's anything the matter with this. You might stereotype it as geared to student tastes, too. You've got subs (Qdoba), burgers (Home Run), vegetarian (Green Leaf), wings and such (Cluckers), coffee (Quills), Vietnamese-Chinese (Saigon One), pizza (Papalino's), more sandwiches (Jimmy John's) and, for dessert, a delicious bowl of ice cream (Comfy Cow).
You'll find no upscale bistros here, no pricey white-tablecloth dining; but it's a good mix of attractive alternatives, and applause to Louisville's Grisanti Group (with its ties to local dining through the old Ferd Grisanti's) for offering a number of local operators space among the chains. Not to mention such other attractions as J. Gumbo's, Bazo's, Bearno's, Santa Fe Grill, La Tapatia, and the iconic Wagner's Pharmacy, among many more in the campus-Papa John's Stadium-Churchill Downs zone.
The Cardinal Towne strip proved more than ample for us the other day, though, as I felt the siren song of good quick and cheap eats calling my name from every doorway we passed at lunch time. We finally settled on a three-course progressive dinner that began with perhaps the quirkiest of the bunch, Green Leaf Natural Vegetarian Bistro.
The shtick here is that everything is vegetarian and much of it vegan; and posters and flat-screen videos in this shiny, green room hammer on the health and general goodness of a meat-free lifestyle. The menu straight-facedly offers dishes like caramel ginger chicken, steak burgers, BBQ pork and, mm, mm good, ribs, but it's all ersatz, of course, using soy-protein analogues in place of meat. This vegetarian alternative outraged Louisville Cardinal critic Nathan Douglas, who savaged the place in a review earlier this year, demanding to know why "… one would put themselves through eating imitation meat, which at Green Leaf, has the consistency and taste of wet paper towels."
I like the kid's style – he might have a future as a restaurant critic – and if he got a little too harsh, he wasn't really far off in his overall assessment. While I didn't hate the meat analogues – the "ribs" had a chewy meaty texture and good salty flavor, and the "chicken" bits were soft but tasted as much like chicken as, say, rattlesnake or bunny rabbit does.
I wasn't overwhelmed with the preparation, though. Both our dishes, house special citrus "rib" ($6.50) and roasted salted "chicken" ($6.75) came in seemingly identical combos with broccoli, pea pods, onion strips, zucchini, green pepper and a few wizened bits of button mushroom and soy sauce in "stir-fries" done on a grill top with rice on the side. I've had better Chinese food with more smiling service at storefront chopsticks houses all over town, and much better vegetarian at Roots, Heart & Soy, Zen Garden and just about every Southeast Asian eatery in town.
I doubt I'll be back, but at least it was a decent deal, $17.18 for two with a tall glass of bubble tea ($2.95), and the change out of a $20 for the tip jar.
Green Leaf Natural Vegetarian Bistro
309 Cardinal Blvd.
637-5887
greenleafbistroky.com
75 points
Hoping to bounce back from a less than satisfactory experience, we continued lunch at a sure bet, Papalino's NY Pizzeria, whose Cardinal Towne branch offers the downscale mood of an off-campus pizza pub. Giant slices, one with spinach, goat cheese and roasted tomatoes, and the other with roma tomatoes on chipotle cheddar, made us happy and got us out for about 10 bucks plus tip. (I rated the original Papalino's 88 points upon opening on Baxter Avenue in 2010.)
Papalino's NY Pizzeria
337 W. Cardinal Blvd.
365-1505
papalinospizza.com
Of course we couldn't leave without a quick dessert at Comfy Cow, whose Cardinal Town branch sticks with the mini-chain's antique ice-cream parlor look and ice cream that we'd scream for. "Arnold Palmer," a lemonade-iced tea sorbet with a whiff of ginger, was strangely good. Caramel mocha was just plain good. Two "kiddie scoops," $5, which probably works out to about 1 cent per calorie.
The Comfy Cow
339 W. Cardinal Blvd.
409-5090
thecomfycow.com