!REVIEW GOES HERE!>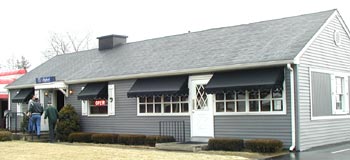 *** Clarksville Seafood
916 Eastern Blvd.
Clarksville, Ind.
(812) 283-8588
Most weekday afternoons on the busy commercial strip that is Clarksville's Eastern Boulevard, a strange thing happens: Toward the middle of the afternoon, a hungry crowd forms. A short backup occurs with a line of cars waiting to turn left. Then the doors of the little gray cottage fly open, and the hordes rush in, demanding hot fried fish.
I have never understood why a place as popular as Clarksville Seafood keeps such odd hours: Except for its 11 a.m.-3 p.m. Sunday schedule, it opens only in midafternoon, 2 p.m. Thursday through Saturday and 4 p.m. Tuesday and Wednesday. Yet within minutes of opening time, the place is invariably full.
If the hours are strange, the fish is not. As the only surviving descendant of Louisville's old Cape Codder chain, Clarksville Seafood upholds a long and honorable tradition. The menu here is simple - fried fish and fried seafood, served to go or to eat in on paper trays - but it is consistently excellent ... and affordable.
Its building, a Cape Cod-style house as the former corporate name implies, is trim and neat. A long, narrow waiting area and service counter opens into two large dining rooms with pale blue-and-gray tile floors and wood-paneled walls, with a few pieces of K-mart art and a huge mural, divided by a window, of a slightly faded mountain scene that might be the Rockies and might be Provence. It's a casual, comfortable setting that wouldn't be out of place in a split-level home in a Clarksville subdivision.
The menu, as noted, is basic: Fried fish, shrimp, oyster and scallop dinners (with fries) are $5.20; Deviled crab and clams are $3.80. In the unlikely event that you show up at Clarksville Seafood and don't want fish, you can get a burger for $1.50 or chicken tenders for $3.25. Add a short list of side orders and non-alcoholic drinks, and you've got a menu that can - and does - fit on a black wall chart with movable white letters.
In a recent visit, I chose the basic fish dinner and got a really fine specimen, as good as you'll find at any fish shop in town and better than most: A generous slab of white, flaky fish was served sizzling hot from the frier, crusted with a crispy, thin and grease-free coating.
The fried oysters were delicious too, a $5.20 dinner offering a generous portion of smallish oysters, seabreeze fresh and juicy, each encased in a dark-brown, crisp cracker crust.
The crinkled fries are institutional in style, edible but uninspiring. I was much more impressed with the onion chips (not rings), which are shredded, dredged in flour and lightly fried, rich with onion flavor.
Also worthy of note is Clarksville Seafood's trademark dipping sauce, which is not the usual tangy ketchup-based cocktail sauce but a spicy mustard mayonnaise. The tartar sauce is homemade and creamy, with a hint of something pleasantly spicy like nutmeg.
It's a great place for a good fried-fish dinner, well worth the trip to Southern Indiana ... if you don't mind waiting for a late lunch. Our filling meal, with iced tea and a diet cola, came to a very reasonable $12.29. $
<!REVIEW ENDS HERE!>
---