!REVIEW GOES HERE!>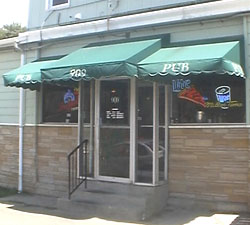 *** Come Back Inn
909 Swan St.
(502) 627-1777
Website: www.swanstreet.com/comeback.htm
This cozy little place is hardly a secret ... its reputation has spread far and wide among the city's knowledgeable food lovers.
But on first glance, a first-time visitor to Come Back Inn could certainly be excused for failing to anticipate its surprisingly tasty and affordable Italian-American fare and friendly environs.
Located in one of Louisville's more interesting urban neighborhoods, the northern tip of Germantown-Paristown - a mix of light industry and well-kept shotgun houses in a few compact blocks that look a lot like blue-collar Chicago - it looks pretty much like any other urban neighborhood saloon.
But unlike most Louisville neighborhood saloons, this one houses a family Italian spot that wouldn't be out of place in Chicago or Brooklyn ... and that's a compliment.
What's more, while Come Back Inn certainly hasn't forgotten its blue-collar roots and qualifies in every reasonable way as a local watering hole, it's dressed up just enough to be reassuring to visitors from outside the nabe. Two large rooms - a smaller front room with a beautiful antique bar and back bar, tall tables and stools, and a larger, comfortable back room, separated by an open arch, chockfull of booths and heavy wood tables - can accommodate a fair-size crowd, and usually do. A gallery of old Louisville photos and shots of famous local and national figures (along with a few strategically placed neon beer advertisements) highlight the wood-paneled walls. There's no non-smoking area in this bar setting, but good ventilation (and air-conditioning cranked up high) keeps the air surprisingly fresh.
Come Back Inn brings just about everyone together in hungry harmony - business types in shirt and tie, worker types in denim, gimme caps turned backward; housewives and retirees and the postman on his rounds.
They all come for the hearty, affordable Italian-American fare, and believe me, it fits both criteria. I don't believe anything on the menu is over $10, and most items (antipasti, soups, panini sandwiches, pizzas and entrees) are around $5 or $6. There's full bar service, and the mostly Italian or Italian-style winelist, while short and limited to everyday table wines, is rationally marked up, with few wines going for more than $15 a bottle.
We didn't hit a disappointing note on either of two visits. The trademark Chicago-style Italian roast beef sandwich ($4) was perfect: A generous ration of thin-sliced, well-done roast beef was piled high on a hoagie bun, then set swimming on a shallow oval plate filled with gently spicy broth; a topping of Provolone cheese (35 cents) made it perfect. There's no lifting this sandwich -- it's soul-comforting knife-and-fork fare -- and yes, it's supposed to be soggy.
A daily special chicken club sandwich ($5.50) included a crisply grilled boneless chicken breast with lettuce and tomato on a toasted bun; it was more than enough for one, and came with a generous portion of what may be the best French fries in town, crunchy-crisp on the surface, mealy and steaming within, dusted with delicious herbs and spices.
On another visit, a single appetizer order of Italian won tons ($2.50) brought two fat ovals larger than golf balls, stuffed to bursting with melted mozzarella cheese studded with herbs and bits of prosciutto, fried golden-brown and remarkably grease-free; the accompanying marinara sauce was chunky and deep in flavor, combining long-simmered tomato sauce and herbs.
A bowl of linguine with Bolognese sauce ($5.50) was another delight, although it might have been more suited to a cold winter night than a simmering Louisville summer afternoon. A sizable bowl bore a huge portion of al dente pasta - it looked more like fettuccine than linguine to me, but that's picky - topped with a generous portion of lightly spicy tomato sauce and dense, flavorful chopped meatballs and a good ration of grated Parmesan. On the side, looking like nothing so much as an oversize cigar perched on a big ash tray, came a light, crusty bread stick lightly coated with herb butter. Perfect!
Come Back Inn reportedly has good desserts, but we never seem to have room to try them after these gargantuan portions. A hearty lunch for two on one visit was just over $21 plus tip; a solo return visit yielded a lunch large enough to fill me and a takeout box for $10.54 plus tip. $$ <!REVIEW ENDS HERE!>
---