!REVIEW GOES HERE!>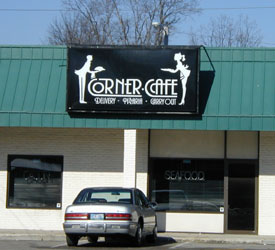 *** Corner Cafe
9307 New LaGrange Road
(502) 426-8121
E-mail: cornercafe86@hotmail.com
It's hard to believe that the Corner Cafe and Pizzeria has been around for 15 years. I still remember fondly its opening in 1986 in smaller quarters, before it moved out the road to its longtime and current location in the Whipps Mill Center between Lyndon and Anchorage, and it came as a surprise when an E-mail from co-owner Robert Frederick reminded me how long it has been since my last visit.
So we slipped into anonymous mode and drove out for dinner recently, and I'm pleased to discover that this old favorite is wearing well.
There's nothing fancy or overly elegant or fancy about this neighborhood spot, but the term "eclectic" fits it well, as does the rank of neon signs across its front windows listing its fields of specialization: "Italian, Cajun, seafood, pizza and subs AND MORE!"
Enter through the large, open bar into the rather more intimate dining rooms, and you'll feel right at home with the rosy mauve walls, dove-gray trim and framed paintings by local artists, creating an atmosphere that wouldn't be out of place in the dining room of a suburban split-level. Basic black dinette-style chairs surround large, sturdy tables topped with glass over white tablecloths and set with white cloth napkins, heavy colonial-style flatware and votive candles in cut-glass holders. It's all straightforward, pleasant without being fancy, a cozy place ... a neighborhood eatery for a suburban neighborhood.
The menu is large and, as noted, eclectic, with starters, salads, subs and sandwiches and about two dozen dinner items categorized among entrees ($11.75 for vegetable enchiladas to $19.75 for Hollandaise tenderloin); pasta ($6.75 for a petite size order of spaghetti with veggies, sausage or meatballs to $15.75 for a Greek style pasta with shrimp, artichokes and feta over penne with Greek flavors); and an array of Neapolitan-style, "gourmet" or whole-wheat pizzas from $8.50 to $22 depending on size and toppings.
The beer list offers a nice collection of standard domestic and more interesting import and microbrews, from $2.50 for Bud & Co. to $4.75 for Sam Smith's Taddy Porter. The wine list isn't long, a couple of dozen items, but the selections are nicely chosen and fairly priced, from $12 for Sutter Home White Zinfandel to $40 for Penfolds Bin 389 Shiraz from Australia, with a number of good choices in the $25-$30 range. (Note, however, that the more interesting items are available only by the bottle; the by-the-glass selection is limited to mass-market brands.)
Tijuana egg rolls ($5.50), billed as an appetizer, was almost a meal in itself, a pair of oversize cylinders almost as big as flashlights, crisp and oversize fried egg roll pastry surrounding mild cheese studded with chopped green chiles and served with a thick, spicy chile-pepper cream sauce.
A baby field greens salad ($5.25) was a generous portion in a large white bowl, featuring plenty of crisp, pleasantly bitter frisee with fresh spinach and redleaf lettuce, topped with smoked Gouda cheese, chopped pecans and hearts of palm with a thick, brown, sweet-tart balsamic-vinegar sauce.
A salmon cake ($7) sandwich was a crunchy round, very much like an old-fashioned salmon croquette, served on a dark brown wheat bun with sliced tomatoes, red onion and lettuce and a lightly spicy mayo-based sauce.
Since I love pizza and Mexican food, my head was turned by the Carne Asada Pizza Mexicana ($8.50). It was a fair-size (7-inch) pie served on a thickish, chewy whole-wheat crust topped with shredded beef with a smoky, hot-sweet and quite spicy chipotle pepper sauce and lots of mild yellow and white cheese with sour cream and salsa. It wasn't bad, but the mixed Mexican-Italian marriage took a little getting used to.
With a couple of pints of Bass Ale ($3.50) to wash it down, a filling and satisfying dinner for two came to $38.96, plus an $8.04 tip. $$$
<!REVIEW ENDS HERE!>
---