!REVIEW GOES HERE!>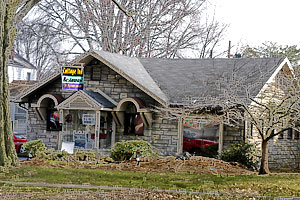 90

Cottage Inn
570 Eastern Parkway
(502) 637-4325

Now, this is down-home dining. Tucked away under big shade trees on the corner of Eastern Parkway and Bradley, not far from the University of Louisville's Belknap Campus, Cottage Inn has been happily doling out excellent food for more than 70 years.

A gentleman named Harvey Board opened a deli in this little stone house in 1929, the menu says, back when the nearby St. Joseph's Infirmary (now only a memory) was only three years old, and the imposing Eastern Parkway Baptist Church across the parkway was just a tiny congregation in a small house.

"Cottage Inn has always been family owned," it adds, listing its full genealogy from Mr. Board through Milford Horton, Jim Horton, Michael Fee and Jim Boardman down to the present owners, Cliff and Sheila Meadows. (Cliff Meadows "got national publicity by foiling a bank robbery attempt" on July 8, 1998," it adds. See the sidebar for the details.)

It's called Cottage Inn because it is a cottage, a sturdy old stone house with two dining rooms separated by a pair of open arches. The decor is simple but attractive, with old-fashioned farmhouse wallpaper, beige with a simple design of twining vines and fruit. An oversize picture window in the back room offers a view of an attractive rock garden in the front yard, with evergreens and a small goldfish pond.

Lots of tables are jammed in to accommodate a busy lunchtime crowd, but it doesn't seem cramped or more noisy than it should be. The tables are draped in maroon, green and blue oilcloth with an abstract, vaguely American Indian design, and a short serving bar in the front room holds a neat row of old-fashioned cake stands with glass domes that bear out the restaurant's theme, "good ole home cooking."

It seems more old-fashioned and homey than Kaelin's, but I like it the better for that. You can sit in this cozy old place, enjoy the advertised "Southern comfort food preserving a Louisville tradition, great food, great service," and feel a sense of connection with the generations of Louisvillians who've been dining here since 1929.

The extensive menu actually offers a good mix of old-fashioned "comfort food" and somewhat more modern choices. A half-dozen appetizers range from $4.49 (for fried okra, about which more anon) to $6.29 (for a sampler platter), and include such munchies as Italian cheese sticks and jalapeño poppers (each $5.79) and spicy wings ($5.99). Soups of the day are $2.69 for a small bowl, $4.99 for a large; dinner-size salads are $$5.49 for a tomato stuffed with chicken salad or tuna salad, $6.29 for chef's delight or greens topped with fried chicken tenders or grilled chicken breast.

A dozen "classic" sandwiches range from $3.99 (for a BLT or grilled cheese on buttered Texas toast) to $6.19 (for country ham); the Cottage double club sandwich (dubbed "best in Louisville"), a fried chicken club or chicken Malibu sandwich with cheese and ham are $5.99.

An extensive choice of entrees (two side dishes and bread included) and pasta dinners range from $5.99 (for numerous selections including baby beef livers, chicken livers, a dark-meat fried-chicken quarter or spaghetti and meatballs) to $9.99 (for a full 16 ounces of Porterhouse steak). Linguini in creamy cheese sauce is $6.29 (with grilled chicken it's $7.29). Fried or baked white fish is $6.29, country-fried steak with country gravy is $7.29 and frog legs are $7.99.

Looking for an even better deal? Hearty lunch specials are available daily for $5.99 (with two side orders and bread), and dinner specials are also $5.99 ($7.99 for all-you-can-eat fried chicken on Wednesdays and Saturdays); or you can put together a hearty vegetable plate from a grocery-list of side-dish options for $3.99.

We started with an appetizer order of fried okra ($4.49), accurately billed as "enough to share with your friends." A brown plastic basket lined with wax paper came loaded with a gigantic portion of perfect fried-okra rounds - 50 or 60 of them - bite-size jewels the size of marbles, fresh okra lightly breaded with cornmeal and fried crisp and sizzling hot. We thought we might want a box to lug the leftovers home, but ended up munching them all.

Is that a Glock in your pocket, or ...
The Cottage Inn menu mentions in passing that on July 8, 1998, owner Cliff Meadows "got national publicity by foiling a bank robbery attempt."



The Courier-Journal later summarized the events. In a story two years later about Kentucky's law permitting citizens to carry concealed weapons with a permit, reporter Andrew Wolfson wrote:



"In the most publicized case, Clifford R. Meadows, the owner of Cottage Inn restaurant on Eastern Parkway, reached into his car on July 8, 1998, pulled out a .22-caliber revolver and exchanged fire with a man who had just robbed a bank on South Preston Street. Meadows hit the man once in the neck, and the robber and two accomplices were arrested near Midway, Ky.



"Police said they were grateful Meadows tried to foil the robbery but that his actions were nonetheless dangerous and ill-advised. Ronald T. Bolden, 20, was sentenced earlier this year to 370 months in prison for armed robbery, conspiracy and using a gun in a federal crime.



"Meadows said he got a permit in the first month after the concealed-carry bill became law in November 1996 because he carries restaurant cash.



" 'It gives me more security,' he said."


---


Cliff Meadows is also listed as Vice President of the Kentucky Firearms Foundation, Inc., an organization whose motto is, "The right to bear arms in defense of themselves and of the State."

Fried chicken appears to be a specialty, and it's prepared to order. The menu instructs you to allow 15 minutes cooking time, adding, "It's worth the wait!"

Indeed it is. Perhaps even better than the excellent bird fried at the temporarily defunct Chick Inn (which, we're told, will return in rebuilt quarters this spring or summer), a breast quarter ($6.49) was remarkably juicy and tender, simply dredged in spiced flour to achieve a crisp, thin crust that made a pleasant break from The Colonel's heavy breading without any sacrifice in flavor.

French fries appeared to be standard-issue but proved exceptional, thin and golden and served sizzling hot. Green beans were outstanding, long-cooked country-style but not mushy, with plenty of salty bits of pork.

A good-size slice of baby beef liver ($5.99) was fresh and flavorful, cooked through but not overcooked, still just rosy at the center, full of flavor and served with plenty of cooked onions. The white gravy, left off the liver at my wife's request but served in a small pool in the deliciously creamy and rich mashed potatoes, was surprisingly good, thick and slightly tangy. Stewed tomatoes were fine, too, another old-fashioned side dish prepared simply but with obvious care.

The breads served with the meal were the only disappointments in an otherwise outstanding lunch. A corn muffin was sweet as cake, tasting mostly of sugar, and a wheat dinner roll was a bland item straight from the grocery bag, served with tiny tubs of "Country Crock" spread.

Desserts, however, returned the meal to its four-star moorings: Pound cake was dense and rich, topped with a perfect caramel icing and laced with a hint of almond. Coconut pie was creamy and light, with only a few points off for a less-than-inspiring crust.

A more than filling lunch and on-the-spot service that was both friendly and exceptionally competent came to a fair $24.65, to which we added a $5 tip. $$

(March 2003)


<!REVIEW ENDS HERE!>
---