!REVIEW GOES HERE!>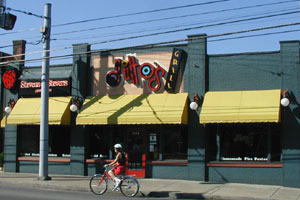 *** Ditto's Grill
1114 Bardstown Road
(502) 581-9129
When is a burrito not a burrito? When it's Ditto's Chinese burrito, of course!
I got my culinary comeuppance when I ordered this signature treat. Our friendly server showed up with a sizzling skillet, trailing savory clouds of steam, and popped it at my place with a smile and a short stack of tortillas.
"Hey!" I objected. "I ordered a burrito, not a fajita!"
"This is a burrito, buddy," she cracked. "You roll your own."
Actually, considering the sizzling Asian stuffing and the hoisin sauce dip, it's really more akin to the mu-shu specialties that were all the rage at the Chinese eateries of the '80s. But call it a burrito or call it a fajita or call it mu-shu, I call it good. And that's consistent with the fare at Ditto's, which almost never disappoints. We reacquainted ourselves with this popular Bardstown Road eatery the other night, and left stuffed and happy with everything we tried.
Ditto's occupies a large storefront, stretching so far back from the street that it looks as if it might extend all the way over to Baxter. On first glance it gives the impression of a neighborhood tavern, but one that's cleaned up substantially; with booths down the sides of the room, heavy tables of maroon and green inset in blonde wood, flashy art, and, oddly, a pair of massive corinthian columns holding up the center of the room. With a high black ceiling and dark wood floors, the overall impression is bold but not flashy.
The same terms might describe the bill of fare, which offers a large and eclectic selection of dishes that range from bar-food munchies to an appetizing mix of exotic items and down-home dishes like Mom used to make.
Seven starters ranger from $4.29 (for mozzarella sticks) to $8.99 (for a full order of Thai chicken wings, $4.99 for a half order). Ten soups and salads are $2.99 (for red chile, onion soup or soup of the day) to $7.79 (for a grilled chicken salad).
Entrees and sandwiches proliferate to the extent that the menu is subdivided into categories ... "House Specialties" from $8.29 (for the aforementioned Chinese "burrito") to $10.79 for Thai salmon) ... "Something More" (from $10.29 for shrimp stuffed with crabmeat to $14.99 for Kansas City ribs ... "Pizzas" from $5.99 for traditional cheese to $7.79 for grilled veggie with goat cheese ... "Noodle Dishes" from $7.99 for bowtie pasta and broccoli ($5.29 for a half order) to $8.99 for blackened chicken alfredo ... "Sandwiches ($4.99 for a gardenburger, hot ham and swiss or chargrilled cheddar burger), to $6.29 (for batter-dipped whitefish and tartar sauce). Many items are marked with a symbol for low fat and cholesterol.
But wait! There's more! A separate sheet features "Mom's Home Cooking, comfort food at its best," a collection of comfort food from chicken and dumplings for $9.99 to Ditto's real ribeye steak for $14.50.
There's full bar service, including a short wine list of mostly popular, budget-priced items starting at a fair $17 for a bottle, $4.25 for a glass. Beers include imports and microbrews, primarily mass-market stuff like Heineken and Corona, but a Sierra Nevada Pale Ale ($3.50) caught my eye and palate.
The beers came quickly, along with a basket of warm, soft white rolls, served coated with melted butter ... and still more foil-wrapped butter pats on the side.
We started with an appetizer, the Crabmeat Quesadilla ($5.99), a pair of flour tortillas making a sandwich with earthy white provolone cheese and crab, served with shredded lettuce, sour cream and a fruity salsa. It would have been a hefty starter for one, but shared by three, it was enough to get us started without filling us up.
A small order of Thai wings ($4.99) was even more generous. A dozen fat wings coated with a spicy sweet-hot Thai peanut sauce were served on a mountain of "tobacco onions," shredded white onion lightly dusted with flour and crisp-fried. If this is a half order, I'd be scared to see a whole one, but they were delicious, and really would be enough to make a dinner.
A half-size Chinese burrito ($5.79), as mentioned, was served fajita-style on a searing-hot black griddle, full of chicken and tiny shrimp with Asian stir-fry vegetables - bok choy, red and green bell pepper, water chestnut, black mushroom - with a couple of flour tortillas and a tub of sweet hoisin sauce. The flavor and texture combination was just right ... there's a good reason why this is one of the restaurant's most popular dishes.
My mother was with us and chose from the Mom's Home Cooking menu, naturally. Her chicken and dumplings ($9.99) was a large bowl with tender, country-biscuit-style dumplings under a thick and comforting stew of tender chicken bits and long-simmered veggies. It came with a servicable Caesar salad that featured crisp romaine lettuce in a creamy, garlicky dressing with crunchy croutons and, oddly, a few sweet-glazed peanuts.
My wife's dinner choice, blackened salmon and caesar salad ($10.29) was a large, fresh and attractive boneless salmon filet served on a bed of salad. The fish was first-rate and the coating was pleasantly spicy but not painfully fiery. The blackening fell a bit short, though, a lightly toasted coating that might better be called "brown-en'd" than the Cajun-inspired blackening procedure that Chef Paul Prudhomme made famous.
Too full to go on, too tempted to stop, we finished with a shared slice of Derby Pie ($3.99), the trademarked original, with a scoop of ice cream.
A filling dinner for three came to an entirely reasonable $50.50, plus an $8 tip for helpful, friendly and competent service. $$
<!REVIEW ENDS HERE!>
---