!REVIEW GOES HERE!>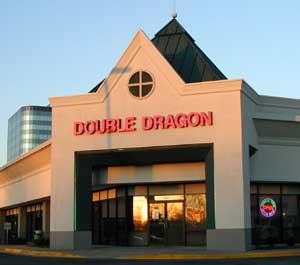 ** Double Dragon Buffet
233 Whittington Parkway
(502) 339-8897
If you've been following this column for any length of time, you know I have a hard time resisting the impulse to stop in and check out the latest all-you-can-eat Asian buffet, a culinary genre that seems to be proliferating in our town.
Double Dragon, a sizable buffet in a chic strip just off Hurstbourne and Shelbyville Road, is still new enough to have the customary "Grand Opening" emblazoned on its takeout menus.
With just four serving tables, it's not one of the larger selections; and unlike most of our town's Battling Buffets, it makes no claim to be. But there's a good range of Chinese treats - and a few American-style items - that generally seem prepared with attention and care, and the shortfall in total menu items mostly appeared to occur on the salad bar, which was limited to lettuce and a few dressings. I rate Double Dragon well above the median for the genre, if not quite up with the market leaders. My wife faults them for a shortage of vegetable choices, and I'd nitpick a few dishes left in the heating trays long enough to lose their crispness.
Like virtually all its competitors, Double Dragon shows a fancy, upscale and even glitzy face to the world, with a high, domed ceiling over chrome-and-glass buffet tables; heavy, oversize dining tables topped with glossy Asian scenes - some feature a pretty Chinese scroll painting of stylized mountains and clouds, others show Technicolor vistas of noble bald eagles in flight. Attractive black lacquered wood chairs with turquoise upholstery offer comfortable seating, and the glitter is enhanced by waist-high room dividers topped with shiny cut glass and chrome-plated rails.
As with most Chinese buffets, you can order from a standard Chinese-restaurant menu featuring more than 100 items, just about all under $10, but you never see anyone choosing this option when the buffet tables beckon. The buffet is $5.50 for adults for lunch, $7.75 for dinner Monday through Saturday, and $9.25 all day Sunday, with reduced prices for children under 12.
I counted maybe 50 all-you-can-eat items, and we tried quite a few of them during a leisurely evening meal, sticking with the Chinese delicacies and passing by such American favorites as salmon fillets, cheese potatoes and golf-ball-size baked potatoes wrapped in foil.
Hot-and-sour soup was very good, as good as I've had at a buffet, with real depth of flavor, tangy and hot and filling. Fried corn was fine, crisp and sweet, although it's frankly kind of hard to tell the fried corn from the fried shrimp from the fried scallops from ... well, you get the idea. Shrimp balls were less appealing, doughy and tepid and without much shrimp flavor. Butter shrimp reprised the breaded-and-fried theme; I'm not sure where the butter came in.
Crab rangoon was crisp and crunchy, generously stuffed with hot, melted cream cheese although there wasn't much evidence of crab. Hong Kong shrimp were velveted with cornstarch, then lightly stir-fried with tender-crisp broccoli in a sweet, thick sauce. Teriyaki chicken was tender and flavorful, infused with soy sauce that's not syrupy sweet. Fried chicken wings were kept warm in broth, an odd treatment that turns their breaded coating soft, not crunchy, but adds good flavor. One rather odd seafood item, a sort of Cantonese "surf and turf," was shrimp and chicken, a shelled shrimp rolled in a boneless piece of chicken and held in hot broth. I passed on crab legs but was impressed to note that this favorite isn't reserved for the more pricey weekend seafood buffet but is served daily.
Egg foo yung, an old Chinese-American favorite that I remember from the old days (before we knew what "Szechwan" or "Hunan" meant) was a light, eggy pancake with bean sprouts and peas, completed with a pale-brown, creamy cornstarch sauce.
Mussels and oysters on the halfshell seemed fresh despite it being Monday, worst day of the week to try fresh seafood (due to the lack of weekend deliveries). Steamed mussels swimming in warm broth were somewhat overcooked by this treatment but were still palatable. Shrimp in the shell were fine. Just one style of sushi is offered, "California roll," vinegared rice wrapped around crab "shapes" and rolled in edible seaweed.
Several stir-fried dishes were all passable or better. Shredded beef was pleasant, featuring long strips of tender beef stir-fried with julienned carrot and celery. Seafood delight consisted of rather tough squid pieces, tasty tiny shrimp and stir-fried broccoli. Szechwan chicken was stir-fried with carrot strips, zucchini, bamboo shoots and green peppers with tender chicken bites in a light, slightly spicy brown sauce.
The dessert bar, like the salad bar, is relatively limited, offering almond cookies, palmiers, macaroons, chocolate pudding, cubes of orange jello. I grabbed an almond cookie on the way out ... it was OK.
The most appetizing thing about buffets in general is the price: A very filling dinner for two, with hot tea, came to an affordable $20.74, plus a $3.26 tip. $$
<!REVIEW ENDS HERE!>
---