!REVIEW GOES HERE!>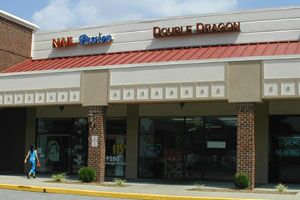 *** Double Dragon
1255 Goss Ave.
(502) 635-5656
Those of us who've been watching Louisville's food scene for any length of time can trace several generations in the development of the city's Chinese eatery scene.
In the early '70s, Hoe Kow and Oriental House were about all we knew. "Chinese" meant "chop suey," and the idea of eating with chopsticks seemed as exotic as a trip to the moon.
Then toward the end of that decade, a couple of exciting new spots like House of Hunan and Szechwan Garden introduced us to hot-and-spicy Chinese regional fare; the Empress and Emperor of China brought in luxury and relatively authentic Cantonese banquet dining. We loved it, and some of us even learned to pick up our food with wooden sticks.
The '80s saw a proliferation, as each of the major spots spun off descendants, a cook or waiter saving his money until he could open a place of his own. By the end of that decade, I counted more than 50 Chinese restaurants in the metro area.
Then the '90s saw another development as the wave of upscale Chinese spots ebbed a bit, but just about every shopping center and strip mall in town added a fast-food Chinese eatery. These restaurants, generally operated by hard-working recent immigrant families, offer quick, inexpensive fare to take out or eat in, and they all work with menus, facilities and decor so similar that I suspect they all get support and business advice from some central Benevolent Chinese Restaurant Association.
But they do differ. Cooks move on, trade jobs, open their own places, others come in to replace them, and quality can shift markedly from day to day. Deciding which ones offer the most interesting and tasty fare can be like trying to hit a moving target.
As of this writing, though, Double Dragon is hitting on all cylinders, turning out consistently well-prepared and flavorful fare. A storefront in the Germantown Square Shopping Center on Goss Avenue just north of Eastern Parkway, it's well worth a visit for eat-in or take-out.
No apparent kin to the Double Dragon Buffet near Hurstbourne (which represents yet another trend, by the way, in which just about every end of town is getting its own well-capitalized, glitzy all-you-can-eat Chinese buffet), this Double Dragon looks very much like all the other fast-food Chinese places in town. It's a standard-size storefront, sparkling clean, with a few tables in a front room and a large open kitchen behind a counter where you can watch the chefs at work. In an intriguing ethnic touch, a paper wall poster features a modest Chinese maiden with a puppy, a souvenir of the International Noodle Company. It seems more like the kind of thing you'd see in a little restaurant in Manhattan's Chinatown than in Louisville's Germantown.
White wallpaper, shiny gray granite-style wall tiles and a huge wall mirror with an Asian theme add a bit of style, and there's a large, lighted overhead menu showing the usual color photos of entrees on their plates. Four dining tables are draped in green oilcloth with a gold diamond pattern. Plastic utensils and paper napkins, a water pitcher and teapot are self-service, and the staff's functional, if heavily accented, English is more than sufficient to get the job done. Service is straightforward, not unfriendly but brusque; dishes get shuttled to your table when they're ready, whether your companion's meal is ready or not.
The menu is larger than many of the fast-food spots, with a couple of dozen dinner combination plates from $5.75 to $6.50; twenty "House Special" Hunan and Szechwan dishes from $7.75 to $10.25 (about six of them marked in red as hot-and-spicy); and more than 120 other entrees subdivided into 15 categories, from $1 (for a roast-pork egg roll) to $8.95 (for a couple of seafood dishes featuring scallops). As a convenience, most dishes are available for takeout by either the pint or the quart.
We arrived at midday and tried a couple of the lunch special plates (served 11 a.m. to 3 p.m. Monday through Saturday, including fried rice and egg roll but not soup, a variation from the usual fast-Chinese norm).
Egg rolls were crisp and sizzling, generous in size, stuffed with crisp shredded cabbage, anonymous but serviceable ground pork and a pleasant light anise whiff of the Asian flavoring called "five spice."
Moo Goo Gai Pan ($4.25) was very well-made, showing a skilled hand at the wok. Thin-sliced chicken breast meat pieces were "velveted" with cornstarch and stir-fried tender, tossed with crisp-tender pea pods, the crunchy stems of bok choy cabbage, fresh zucchini and decoratively cut carrot slices, water chestnuts, button mushrooms and canned baby corn in a light, delicately garlicky sauce. We could do without the corn, which invariably adds a "canned" flavor to stir-fry dishes; the rest was fine.
I couldn't resist War Soo Gar ($4.25), an old favorite that takes me all the way back to Hoe Kow in the '70s, when it was still at Bowman Field. The Chinese equivalent of Kentucky Fried Chicken, this dish features oversize chunks of tender chicken breast encased in a thick but flavorful breading, deep-fried until golden and crunchy, served pale-tan cornstarch-thickened sauce, anise-accented and salty. The service was a bit odd, as this traditional dish is usually served over crunchy iceberg lettuce with the sauce poured on; instead, it came with no lettuce and the sauce in a styro tub on the side. Still, it was as addictive as well-fried crunchy things can be, hot from the fryer and not at all greasy.
White rice, served at our request instead of the usual fried, was fine, standard Chinese-restaurant fare, tender yet sticky enough to hold together on the chopsticks.
Lunch was just $9.01, making this one of the cheapest deals in town. $
(August 2001) <!REVIEW ENDS HERE!>
---