!REVIEW GOES HERE!>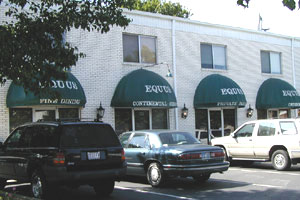 90

Equus
122 Sears Ave.
(502) 897-9721

Website: http://www.equusrestaurant.com/
(See below for a review of the associated Jack's Lounge.)

"Equus" is Latin for "horse," and it's hard to imagine a much more appropriate name for this stylish favorite, a comfortably elegant dining room that discreetly shows off its Kentucky roots with just a hint of an equestrian theme.

Pleasant if unassuming in appearance, with its main entrance around the corner on the end of a modest shopping center building on a side street in St. Matthews, Equus and its proprietor-chef Dean Corbett have built a solid reputation and a loyal following since it opened in 1985, turning up on just about everyone's list of favorites. You'll rarely find a disappointment on the bill of fare, which takes advantage of seasonal specialties and generally manages to be adventurous without tipping over into weird.

Equus's L-shaped main dining room holds about a dozen good-size tables, with room for more in a second room. A renovation has toned down the room's "horsey" theme a bit: The gallery of horse prints has been replaced by a few artsy equestrian drawings, the background colors have segued from green to beige, and the already elegant table settings have been replaced by even more upscale fine china and crystal. The rooms are pleasantly, even romantically dim, but I'm delighted to see that they've carefully spotted the track lighting to bathe every table in light sufficient to read the menus and see what's on your plate.

Tables are double-draped in heavy white cloths to match the ample napkins; flatware is heavy and fine, and so is the simple, elegant Lenox china, off-white with a narrow gold band. Wine glasses are high-quality Riedels, making the statement that this place is serious about its wine. A single rose and a spray of heather in a simple crystal vase makes a simple but pretty arrangement on every table, along with a tiny crystal votive candle holder. A wine rack and lighted liquor cabinet by the maitre d's station are not merely decorative but functional.

The menu changes seasonally (and unfortunately is often not promptly updated on Equus's otherwise attractive and informative Website). It is typically split almost evenly between appetizers - many of them sufficient for a light main course - and entrees, an eclectic selection that's hard to categorize but might be described as "creative American cookery with international touches."

A recent winter menu included 10 appetizer, soup and salad selections from $4.50 (for the mushroom fumé soup, a menu standard) and $4.95 (for the organic field mix with quinoa salad) to $12.95 (for braised Hudson Valley foie gras over apple bacon, fall apple and shallot confit with a Port wine drizzle).

The entree menu for our March visit offered about a dozen selections, ranging in price from $19.50 (for a braised center-cut pork chop) to $28.50 (for my choice, a center-cut prime New York strip steak with white-truffle butter). For what it's worth, this represented a small but significant reduction in price range from the winter menu that's still shown on the Website as of this writing, on which the entrees ranged from $22.95 to $32.50. Special five-course and seven-course tasting dinners are also offered, but the entire table has to agree to take this option.

And now for a brief digression by the editor: I don't like to be picky, but it bothers me when a restaurant at Equus's four-star level lets a significant number of careless spellings and typos sneak in to the menu and wine list. "Proscuitto," "Madiera," "Rissoto" and "Chantrelle" may seem like small matters, and grammar and spelling certainly don't affect the taste of the food. But when you're dining at this level of price and quality, small stumbles attract more attention than they might at Joe's Diner.

I was delighted to see that Equus has significantly improved its wine list since my last visit, when I dinged it as "unadventurous." It's now one of the city's better lists in terms of selection, with nearly 100 bottles, many of them well-chosen and interesting. You'll find a few of the "usual suspects," but the list benefits from a good choice of unusual and artisanal wines. Some are pricey - Antinori 1998 Solaia is $250, a price driven by a lofty Wine Spectator rating but, frankly, not worth the toll - but you'll find plenty of interesting wines in the $30 to $40 range and a few good choices under $30, along with several half-bottle options and a good selection by the glass from $7 to $10 (mostly at a fair one-fourth of the bottle price). We found the servers helpful and knowledgeable, a definite plus for any restaurant wine program.

Our group of five wine enthusiasts went through four wines during the course of the evening, beginning with a celebratory aperitif in honor of our guests, who just bought a home in Louisville: Gimonnet non-vintage Brut Blanc de Blancs ($70) was a straightforward Champagne, crisp and appley with a whiff of rising bread dough.

After complimentary Blue Dog levain bread with fresh butter, we enjoyed a variety of appetizers. The soup of the day ($7.95) was a delicately aromatic tomato-saffron bisque with a tiny phyllo boat "floating" in the center of a broad, shallow dish, carrying a tablespoon-size cargo of sweet crab salad. The mushroom fumé ($4.50), my wife's favorite, was the usual simple but seductive puree of mushrooms and heavy cream with a distinct note of black pepper. Veal sweetbreads with fresh mushrooms in a Madeira demi-glace ($8.50) were tender and earthy, with a smoky hint of bacon in the sauce.

With the appetizers we chose Penfolds 2001 Eden Valley Reserve Riesling from Australia ($36), a piney and citric white wine, crisp and limey, bone-dry and rather full-bodied.

A tempting red Burgundy at an attractive price somewhat limited our dinner options, prompting everyone in our group to go with red meat. The New York strip ($28.50) was a sizable chunk of tender steak, a good 1 1/2 inches thick; it was pinkish at the center but a bit past medium-rare and well beyond the rare I had ordered. It showed a distinct note of the desirable earthy-funky scent of well-aged beef (which was glorious with the Burgundy), and was topped with a sizable round of butter scented with white truffle oil. It was served on a small mound of tiny, perfect sliced new potatoes in their skins and what appeared to be a simple red-wine reduction, garnished with a few thin, crisp haricots verts, a small ration of wonderfully light corn pudding formed in a disk and toasted on the grill, and a delicious bite of fried eggplant garnished with sweet caramelized onions.

The rack of New Zealand lamb ($26) was a sizable four-rib piece of tender, flavorful meat. It was cooked medium-rare, exactly as ordered, and came with similar garnish and accompaniments.

The wine moved into the pricier part of the list but offered excellent value for the dollar: Maurice Ecard 2000 Savigny-les-Beaune 1er Cru Les Serpentières ($54) was a fine young Burgundy, showing forward, appealing red fruit that gained complexity in the glass with herbal and spicy notes and a discreet, pleasant hint of "barnyard."

Chess cake ($9, up from $6.50 at our last visit), is a rich and delicious signature dessert, a vertical presentation of genoise, chocolate and ice cream. My wife's choice, a delicate honey-lemon sorbet, made a lighter, cleansing finish to a fine meal.

Our dessert wine, Chateau Guiraud 1997 Sauternes (half-bottle price not noted) was still young but drinking nicely: honey and apricot, butterscotch and caramel and lovely brown spice made for a memorable dessert wine.

Espresso ($4) appeared to be a double shot, well-made, chocolatey and rich, with a proper golden "crema" foam on top.

Our group of five split the food bill evenly and divvied out the cost of the wines. Our share for two, including part of the Riesling and Burgundy, came to an expensive-but-worth-it $126.09, with a $25.91 tip for always efficient and skillful service. $$$$

(March 2003)
---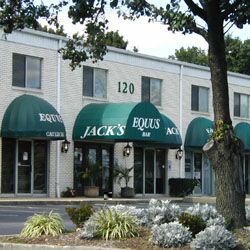 Jack's Lounge
122 Sears Ave.
(502) 897-9026
The first time I visited Jack's Lounge, dropping in with the idea of enjoying a civilized glass of single-malt after dinner at Equus, I didn't make it past the foyer, driven back by a wall of second-hand smoke that billowed and swirled like a very bad-smelling summer storm.

But after recently praising Bim Deitrich's Red Lounge, despite an equally murky level of eye-stinging haze, fairness dictated that I return and give Jack's another try.

So we took several deep breaths (my wife wouldn't let me don a WWII-surplus gas mask) and went back the other night, determined to check out the food and the atmosphere of this popular and upscale spot.
SMOKE-FREE UPDATE:
In the spring of 2003, Jack's added a full non-smoking room, an enhancement that significantly improves the situation described here. Similar to the main bar room if a bit more severe in its beige decor, it features comfortable furniture and the same friendly service and appetizing selection of small dishes and light bites as the main room. An hour or two spent at Jack's is just about as comfortable as sitting around someone's living room enjoying a drink and a snack. A very good snack.



That being said, it should be noted that the new room is separated from the smoking section only by a large open archway, and non-smoking seats close to the door may still catch a whiff of smoke. If this is a concern, I suggest asking for a seat as far as possible from the doorway.



On a recent visit we sampled the soup of the day, white asparagus bisque ($4.95), a pale, creamy and very rich puree, more creamy than asparagus-y but deliciously warm and consoling. Equus crab cakes ($7.50), a signature dish, were fine examples of the genre: Two smallish rounds, crisply breaded and deep-fried dark golden-brown, boasted a good, clean and sweet crab flavor, plated on a creamy remoulade with attractive green and red bell pepper dice.



With a couple of cool pints of draft beer (Bass and Harp, $4 each), relaxing on a comfortable sofa for two, chatting and noshing and watching CNN, we enjoyed a relaxing break that sufficed as a light dinner for two and came in at a modest $21.20, rounded up to $25 to cover pleasant, competent service. $

(January 2004)

On balance, I'm glad I did. The smoke count was still elevated enough to send us home with clothes and hair reeking of cigarettes (although owner/chef Dean Corbett says he has renovated and improved the establishment's ventilation system since the early days and banned cigars and pipes). But the food - an appetizer list based on the fare at next-door Equus - is very good indeed ... the drinks are beyond reproach ... and the atmosphere (well, not the atmosphere, if you get my, er, drift, but the ambience) is casually elegant and pleasantly relaxing.

Under the same management as Equus, Jack's Lounge is next door in the same building. Corbett spoke of the place with obvious affection in an earlier E-mail: " ... named after my late father who died in '99 and gave me my start in ownership of Equus, it is truly a dream come true for me," he wrote. "It is unlike anything else you will experience in Louisville, you'll feel like you are in New York."

Clubby and decidedly upscale, Jack's is a generational gap from RED Lounge: That's Gen X, this is Baby Boom. It's an intimate room, with gold-tone wallpaper and mahogany trim; an old oil painting of a Parisian street hangs on one wall, a semi-abstract on another, and a sculpted pair of horse heads exuberantly tossing their heads on a third to convey the "Equus" theme, with lighting provided by tasteful brass lamps and discreet spotlights. The style of the place is something like the Seelbach's Oakroom writ small, an impression diminished only slightly by three large television sets tuned to sports channels and CNN. A hip-high divider topped by a shiny brass bar separates the seating area with its small tables and comfortable armchairs from the cozy mahogany bar with a back bar that displays its wares on lighted glass shelves.

Along with full drinks service, the entire Equus wine list is available, and wines by the glass range from $5 to $14. To feed the inner person, a short list of nine appetizer plates (plus daily specials) ranges from $3.95 (for mushroom fumé) to $10.95 (for Yankee pot roast with mashers and gravy). Other interesting goodies include "Dino's ultimate nachos" ($6.95), hot corned beef and provolone ($7.50), fried calamari with caponata ($7.95), a Parmesan-coated sea bass sandwich ($9.50), and, of course, a burger, specifically a 6-ounce certified angus beef burger with provolone gratin ($7.50).

Our server, an amiable guy named George who managed to be both laid-back and efficient, described the special as a mushroom paté wrapped around duck ($8.95). Couldn't quite figure what he meant by that, but we like mushrooms and we like duck, so it sounded like as good a place as any to start.

It proved to be a terrine, a rich, buttery mushroom paté formed into a loaf with slices of rare, chilled duck breast at the center, lined top and bottom with a thin layer of something that looked like pure pork fat in the dim light but that proved to be crisp and much more healthy vegetable matter - perhaps a blanched cabbage leaf. A thick slice of this paté was attractively plated with dabs of tangy tomato-based chile sauce that added a pleasant piquancy to the pate's deliciously earthy flavors. It would have matched nicely with a Pinot Noir, had we gone the wine route rather than cleansing pints of Bass Ale and Harp Lager ($3.50).

Curried asparagus bisque, the soup o' the day ($4.95), was just about perfect, a creamy and rich asparagus puree lightly touched with just enough curry to provide a pleasant accent without dominating the flavor dance, topped with a sprinkle of minced chives. It was served with three thick slices of crusty, chewy sourdough wheat bread and fresh butter.

Our final plate, prosciutto-wrapped shrimp ($9.95) featured two of the biggest shrimp I've ever seen, tightly wrapped in glovelike sheaths of paper-thin prosciutto and grilled to tender but not rubbery perfection, then perched with interlocked tails on a cool "rustic tomato sauce" of coarsely chopped asparagus, onions (and maybe other anonymous veggies) and fresh-tomato concassé over a creamy disk of fresh mozzarella. It was hard to discern whether that appetizing hint of smokiness came from the shrimp or if the asparagus had been grilled before it was incorporated in the pleasant "salsa cruda," but either way, it was delicious, and a great foil for the shrimp.

A light but ample dinner, with two rounds of beers, came to $39.28, and excellent service earned an $8 tip. $$ <!REVIEW ENDS HERE!>
---