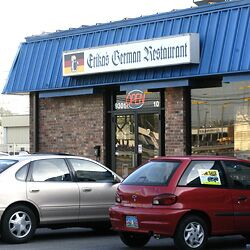 86

Erika's German Restaurant
9301 Hurstbourne Park Blvd.
(502) 499-8822

<!REVIEW GOES HERE!> "Gemütlichkeit."
This amiable German word isn't easy for monolingual Americans to pronounce or to comprehend. What's it mean? "Warmth, hospitality, a welcoming and friendly mood." Where can you find it? A relaxing evening and filling meal at Erika's German Restaurant would be one excellent place to begin your quest.
Recently moved from exurban Simpsonville to larger quarters just off the I-64/Hurstbourne interchange (formerly the home of Bali Hai Chinese), restaurateur-hostess Erika Masden, who hails originally from Nürnberg in Germany's Bavaria, has done a fine job of converting a fast-food space into a lovingly authentic expression of a German Gasthaus or inn.
IF YOU GO:
Erika's is open for dinner only on Wednesdays through Saturdays, and lunch only on Sundays.



Drivers and their navigators should note that this short street just off Hurstbourne can be a bit difficult to get into. If you're coming east on I-64, take care to split off on the "Local Access" ramp, not the main ramp for southbound Hurstbourne, or you'll miss Erika's. Turn right at the foot of this ramp, and watch for the turn in to Erika's before you reach the traffic light at the main ramp.



If you come north on Hurstbourne, you'll have to get past I-64 and make a U-turn to come back south, as there's no access from the far side of Hurstbourne. In this case, a picture is worth a thousand words. Here's a map from Yahoo.com:



Map of 9301 Hurstbourne Park Blvd
Louisville, KY 40220-2339





A counter at the back of the large room boasts a line of oversize ceramic beer steins hanging around the top. Delicate white lace adorns the tops of large windows shaded with narrow blinds, and a gallery of German beer advertisements and travel posters adorns the simple cream-color walls.

Tables are draped with soft, thick beige white cloths with small squares outlined in red and blue, a pattern that my wife instructs me is called "tattersall.") Tall dark-brown lacquered chairs appear to be left over from Erika's Chinese predecessor. Dishes are served on sturdy off-white earthenware with functional paper napkins and basic flatware. Old-fashioned German oom-pah music plays in the background, not overly loud.

The menu features German fare in German, but provides English translations for those unfamiliar with this hearty, filling cuisine. A trio of appetizers, all $4.95, include Kartoffelpuffer (potato pancakes), Hochzeit Zuppe (Franconian wedding soup) and Gulaschzuppe (goulash).

Eleven German main dishes range in price from $10.95 (for the Bratwurst platte, three fat brats with potato salad and sauerkraut) to $16.95 (for the not-entirely-German-sounding Cordon Bleu, a breaded pork loin stuffed with ham and Swiss cheese).

To read the menu, it helps to know that a "Schnitzel" is a cutlet of veal, pork or chicken breast, pounded thin to tenderize, lightly breaded and crisply fried. Many of the entrees are $13.95, including the Hänschenschnitzel Jäger art (chicken schnitzel hunter style with mushroom sauce) or Hänschenschnitzel Wiener art (Vienna-style Wienerschnitzel with chicken substituted for the usual veal or pork), beef Sauerbraten and beef Rouladen. Pork Jäger Schnitzel with mushroom sauce and Zigeuner Schnitzel (Gypsy-style Schnitzel with red and green bell peppers) are both $14.95.

I can't imagine dining at Erika's and not having German fare, but if you must, two "American favorites" are also available, fried pork chops ($11.95) and jumbo butterfly shrimp ($14.95).

All the German entrees except the bratwurst plate are served with your choice of one side dish, dinner salad and the thin-sliced, dense German rye bread called Holzofenbrot.

The wine list is short but fairly interesting, and very reasonably priced. Its entries gain value from brief but informative descriptions of each entry. Seven German wines, most available by the glass, range from $3.95 a glass ($17 a bottle) for Dr. Beckerman Piesporter Michelsberg to $30 (bottle only) for Friedrich Wilhelm Gymnasium Bacher Himmelreich Riesling Spätlese. A German sparkling wine, Schloss Biebrich Trockener Sekt, is $21.50 (bottle only). There's also a short list of U.S. wines in a similar range of prices, from $3.50 for a glass of Campus Oaks White Zinfandel (a low-cost brand from the Gnekow Family Winery in California's Central Valley, $14 a bottle) to $5.25 a glass ($21 a bottle) for the good-value Trentadue Old Patch Red from California's Alexander Valley.

I'd just as soon have beer with German food, though, and preferably German beer. Happily, Erika's offers a half-dozen by the bottle, all $3.50, including St. Pauli Girl, Warsteiner and our choices, Paulaner Hefe Weizen (12 oz), a classic Weizen (wheat beer), a hazy golden color with a thick, creamy head and good yeasty aromatics of clove and lemon, and Tucher Dunkles Hefe Weizen (pint), a rich, hazy mahogany-colored dark wheat beer with a thick, frothy head and good wheaten tang, and a delicate, unsweet "roasty" flavor reminiscent of chocolate and black coffee. They're served with sturdy, tall Pilsener-style glasses that suit the beer just right. (Mass-market domestics are also available at $1.75, but why?)

Our meals came with dinner salads, which are composed of iceberg lettuce, but no matter, it was crisp and fresh, a sizable portion in a white vessel the size of a cereal bowl, with a thick tomato wedge perched on top. American-style salad dressings are available, but we went German with the house dressing, a sweet-sour bath infused with aromatic herbs (marjoram, maybe). With Holzofenbrot ("wood oven bread"), a dense and flavorful, seedless sour rye, and whipped butter in plastic tubs, it made an appetizing starter.

The Franconian Wedding Soup ("Hochzeit Zuppe," $4.95), was a salty beef broth filled with tender hand-cut noodles and a pair of meatballs the size of golf balls. Very well made meatballs, they were a beautiful pink inside and feather-light, with an earthy beefy flavor that made us suspect there might be a bit of liver in the blend. Not that there's anything the matter with that. A big bowl disappeared fast, with a little discreet dipping of rye bread to sop up the last of the broth.

Kartoffelpuffer ($4.95) comprised 10 silver-dollar-size pancakes fashioned from finely shredded potato, lightly dredged in seasoned flour and perfectly fried, golden-brown and crusty. Cold, smooth applesauce made a fine accompaniment; I reluctantly counted calories by passing on the sour cream.

Dinners came in oversize portions, enough to fill us up and send us home with two styro boxes full of leftovers.

Schnitzel Wiener art (also known as Wienerschnitzel, $13.95) consisted of not one but two large schnitzels, not the Viennese veal but just-as-good tender pork pounded thin and cloaked in a crispy, not-too-heavy breading and fried to golden, grease-free perfection. It was served Vienna style ("Wiener Art") with only the simplicity of lemon wedges for garnish.

My wife declared her sauerkraut perfect, and it seemed homemade. Soft and tender and appropriately sour, it was served steaming hot.

My choice, Geschmorter Sauerbraten (literally "braised sour beef," a German classic, $13.95) was just as generous. Two thick slices of falling-apart tender beef - marinated for three days, they say, before long, slow roasting - came coated with and surrounded by a perfectly clear, glistening reddish-brown sauce, strained and thickened, a perfect balance of slightly sweet and gently tangy flavors. I chose the only possible side dish for Sauerbraten, a mound of comforting Spätzle ("SHPETZ-lee"), homemade German flour noodles pressed through the holes in a colander into simmering water to make short, tender spaghetti-like strands.

Desserts are made on the premises. I was attracted to a slab of Black Forest cake to carry on the German theme, but my wife insisted on coconut cream pie, a childhood favorite, and I'm glad she did. An oversize wedge proved as good a slice of pie as I've ever encountered. Crisp, short crust was filled with a rich, coconutty chiffon filling, sweet but not cloying, so light it seemed likely to rise from the plate and float to the ceiling. It was topped with billowy whipped cream and a quick crisscross of chocolate sauce more as decoration than flavoring.

Service was friendly but casual, and seemed a bit overwhelmed at times - this is a family operation with a the owners doubling as chef and hostess, and only two servers for a busy room. Count on service with a smile, but expect periodic apologies for delays when they're trying to do too many things at once.

A really fine German dinner for two, with a refill on the pint of Tucher Dunkel, came to an entirely appropriate $55.39, plus an $11.61 tip. $$$

(April 2004)

ACCESSIBILITY: No smoking in the restaurant. Entrance and restrooms are fully accessible to unassisted wheelchair users, but cars are allowed to park on the curb ramps in the small parking lot, which could pose an entry problem.

<!REVIEW ENDS HERE!>
---